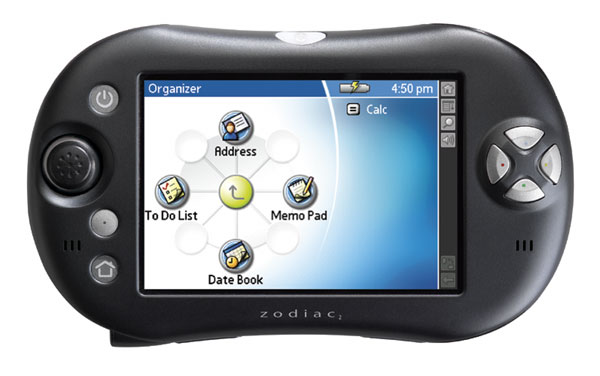 Move over N-Gage and Game Boy SP, there's a new player in town: the Tapwave Zodiac. Tapwave, the company, was founded by Peng Lim, Bryon Connell, and many ex-Palm employees with a goal to create a new product that could fill a perceived market gap for a system that will cater to young adults who want a PDA with advanced gaming capabilities. Currently only available for pre-order at Tapwave.com, the Tapwave Zodiac has titles such as Activision's Tony Hawk's Pro Skater 4, id Software's DOOM II, and Midway's SpyHunter, among others. On the up and coming list, we have Neverwinter Nights and several classic Sega Genesis titles that will be available in the coming months, as well as Duke Nukem Mobile, which is a brand-new title expected to come around January 2004. Tapwave expects to start shipping systems and software to consumers by the end of October. The Zodiac will ship with a "full suite of entertainment software," as evidenced by the two titles that are packed in: Stuntcar Extreme by Vasara Games and AcidSolitaire by Red Mercury. Each will give users a small sample of what's in store for them with the Zodiac.
The console will be have two models: the Zodiac1 rolls in $299 with 32MB of internal RAM and the Zodiac2 has 128MB of RAM and will retail for $399. According the company, the system was design specifically for games, music, pictures, and video - unlike the N-Gage, which appears to be a bit confused as to its true nature. The Zodiac runs the enhanced version of Palm OS 5.2T, providing instant access to thousands of existing applications.
The unit weighs in at 6.3 ounces with a full analog controller (joystick) and multiple action buttons. It has built-in stereo speakers and a headphone jack (thank you for not being proprietary) for listening to audio. You can add up to a gigabyte of memory via expansion ports using SD flash cards. The system also supports SDIO peripherals (like the Veo Digital Camera). The screen has impressive specs, with a 480 x 320 backlit color display that's suitable for both indoor and outdoor use. According to Tapwave, the screen boasts four times the resolution of the either the Nokia N-Gage or the Game Boy Advance.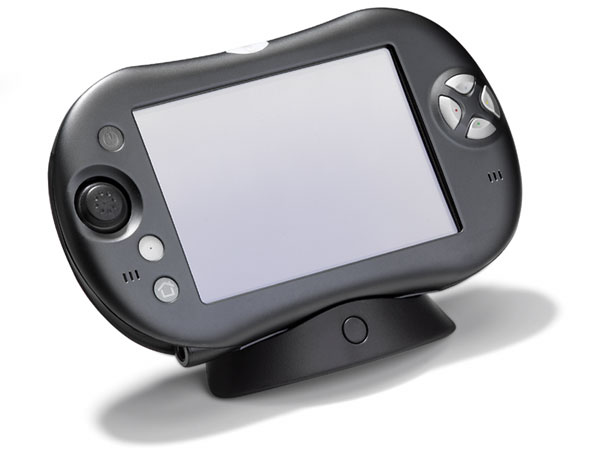 At its core, the Zodiac has two processors to make the wheels turn: the Motorola i.MX ARM9 and the ATI Imageon W4200 graphics accelerator with 8MB of dedicated memory.
As an MP3 player, the unit will sport a rich graphical interface that should be easy to use. You can create custom playlists by dragging and dropping songs. You can even use the system as an alarm clock and wake up to your favorite music (or perhaps you might prefer to record a rooster and make an MP3 from that) or listen to it on the train on your way in to work. The Zodiac will also ship with The Kinoma Producer, which allows you to convert and load videos to your machine (formats: MPEG1, MPEG2, QuickTime, AVI, and DIVX) and watch them with incredible clarity. You can share photos and create slide shows from JPEG images. These can be easily transferred to the PC using Palm Desktop Software or uploaded via SD cards. The Zodiac can connect to a Bluetooth phone or Bluetooth access point to surf the Net or send messages with the bundled Web browser and SMS application. Of course, the Palm OS means you'll have the familiar Date Book, Address Book, To Do List, Memo Pad, Word Processing, Graphing Calculator, and more.
Games will be available for purchase or downloaded on special cards. There will be an online community for high scores, prizes, downloadable game demos, and for meeting and sharing information with other users. The Web site will also provide software development tools and support forums for aspiring programmers and developers. Tapwave offers a fully customized version of the X-Forge 3D game engine for rapid prototype development. The company is seeking to aggressively support independent game development by keeping the platform open and providing an easy distribution channel - good news for gamers. Since Tapwave announced the Zodiac, more than 500 game developers have signed up for the development program and requested the SDK (software development kit).
The company lists these titles as being in development and ready at system launch:
| | |
| --- | --- |
| Activision's Tony Hawk's Pro Skater 4 | Assume the roles of legendary skateboarder Tony Hawk and thirteen other athletes as they skate through enormous free-roaming levels. Choose from 190 progressively harder goals and build your character's skills to perform fourteen of the greatest skateboarding stunts of all time. |
| Atari's Neverwinter Nights | A hideous evil has awoken in the Forgotten Realms. Now, in order to save the inhabitants of the town of Neverwinter you must uncover a sinister conspiracy, unmask your mysterious betrayer, and complete an epic struggle to defeat the powerful forces that seek to halt your quest and unleash an evil your people would surely never survive. |
| Midway's SpyHunter | Get behind the wheel of the G-6155 Interceptor for high-speed, mission-based racing in exotic locales, all the while being relentlessly pursued by hordes of air, ground, and water enemies. |
| Galactic Realms | With the recent expansion into space, several factions have continued their struggle for dominance in the dark void. The United Nations has set up a council to govern and monitor the new colonies, but there are those who prefer only chaos. With the new rebel threat, the UN council has no choice but to declare war and start building its own battleships to eliminate the rebel menace. You have been selected to command the UN fleet, but the rebels will prove to be a formidable opponent, and a new unknown threat has yet to be unveiled. |
| Phantom Strike | After stumbling upon an ancient artifact, archeologists inadvertently open a portal to another dimension, causing them to transform into horrible beasts with incredible powers. Using a variety of martial arts, you must master the techniques of fighting these creatures to protect all of humanity, and ensure that the remaining artifacts remain safe. |
| Handmark's Warfare Incorporated | A breakthrough action-strategy game with state-of-the-art graphics, animation, and sound effects. Control the planet Icarus, with its mineral riches and mysterious alien technologies, before your competitors. |
| id Software's DOOM II | This classic first-person shooter delivers fast-paced action, timeless characters, and awesome firepower in one of the most widely played and critically acclaimed games ever released. Play alone or against up to three friends using Tapwave Zodiac's Bluetooth wireless capability. |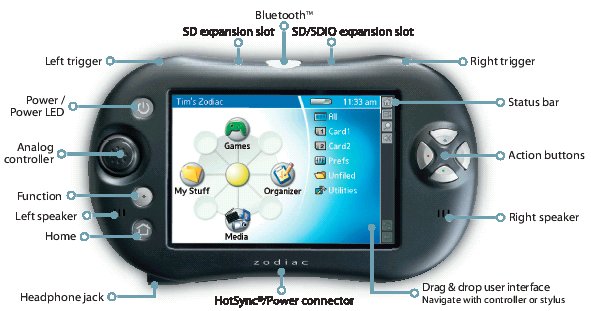 Quotables:
Of interest to Sega fans: Tetsuji Ishii (General Manager, Mobile Business Dept., Sega Corp.) commented that "Sega is very excited to work with Tapwave to bring our classic Genesis titles to the Zodiac. The Zodiac is the first mobile gaming device powerful enough to run our Genesis titles. With its ultra-clear transflective screen gamers can enjoy their favorite Sega Genesis titles both indoors and outdoors.
Steven Crane, Executive VP of Development, Midway Games, wrote that ". . . Zodiac's excellent graphics allows Duke to display more attitude, more action, and more firepower. Carnage on the go! Come get some."
CEO of id, Todd Hollenshead, adds, "Whether you want to battle the forces of Hell alone in the award-winning single-player game, or go toe-to-toe with up to three other competitors in an intense deathmatch using the built-in Bluetooth, DOOM II on the Tapwave Zodiac is the ultimate mobile gaming experience."
Well, that remains to be seen. We are looking forward to getting our twitching fingers on one of these for a full review shortly. This is shaping up to be a product that should be seriously considered by anyone interested in a portable gaming device that knows what it is. And it ain't a phone.
Zodiac Specs:
• 200Mhz Motorola i.MX1T ARM 9 CPU
• 32MB or 128MB internal DRAM (NOTE: 12MB is reserved for system stack)
• ATI Imageon W4200 2D graphics accelerator with 8MB VRAM - includes MPEG-4 and JPEG hardware decoding functions
• 3.8 inch, 480 x 320 transflective backlit LCD display with touch screen and "Virtual Graffiti" functionality, 16-bit (65,536 colors)
• Yamaha Sound Chip, with 16-channel polyphonic wavetable MIDI synthesizer
• Built-in stereo speakers and standard 3.5mm headphone jack
• Analog thumbstick with push-button functionality
• Four primary game buttons in SNES layout, with 2 shoulder buttons
• Power, Function and Home buttons
• Built-in rumble effects for game feedback and vibration alarms
• Built-in Bluetooth wireless functionality and Bluetooth communication button, allowing up to 8 Zodiacs to connect wirelessly with a 30 foot range - can also be used in conjunction with a Bluetooth-enabled cell phone to surf the Net
• Infrared transceiver, capable of all typical Palm "beaming" applications
• 2 SD card slots: one accepts MMC or SD, the other accepts SD or SDIO (for peripherals like cameras, radios, etc.)
• Custom USB connector - pin layout may or may not be PUC (Palm Universal Connector) compatible to some degree
• Full PalmOS 5.2.6 functionality, including portrait and landscape modes
• Built-in MP3 player
• Built-in JPEG viewer
• Dual lithium-ion rechargeable batteries - total 1540 mAh, non-removable - supposedly able to deliver 16 hours usage per charge
• Size/Weight: 5.6" (143mm) x 3.1" (79mm) x .55" (14mm), 6.3 ounces
• Power Supply: AC adapter/battery charger (120 volt AC, 60 Hz)