The excitement of a game...
The mind of a computer!



News Archives »
2014-12-08
Ralph H. Baer, 1922-2014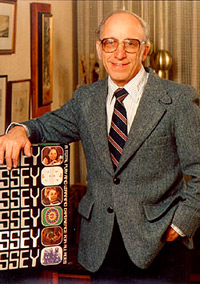 Video gaming lost one of its luminaries this weekend when Ralph H. Baer passed away on Saturday, Dec. 6, 2014, at age 92. I'm sure that anybody reading this site knows that Ralph was the inventor of the first home video game system – the Magnavox Odyssey – forerunner of the Odyssey&sup2. He came up with the idea of using a television set to play games all the way back in 1966. This was before Pong, before Atari, before just about everything. True, others had independently been using electronic displays to play games before, but Ralph's vision was the one that stuck, thanks in no small part to his hard work and meticulous focus. His early efforts directly led to the multi-billion-dollar industry we all take for granted these days.
I communicated with Ralph twice, and met him in person once. It still amazes me that the first time we talked, he reached out to me. This was in the late 1990s; The Odyssey² Homepage! had been online for only a couple years at the time. In those days, Ralph's name wasn't as well known as it is now, even among classic game fans. Nolan Bushnell and Atari tended to get most of the limelight. (Not to take anything away from Bushnell – his company established video games as a cultural force and his ability to market them was second-to-none.) Ralph – the technical guy, the engineer – didn't get as much credit back then. There weren't a lot of sites dedicated to video game history yet, and mine was one of the very few that discussed the Odyssey line in any detail. Ralph came across it one day and dropped me a line complimenting my site for reporting accurate information, which he felt was in short supply. It was a surprise and an honor for me, one that still makes me feel proud.
The second time I spoke with Ralph was in person at Classic Gaming Expo 2000. I worked for GameSpy then, and was covering the event for ClassicGaming.com. I had a chance to speak to Ralph shortly before he gave his keynote lecture. He remembered who I was, and was friendly and still whip-smart, despite being in his late 70s at the time. What I remember most about that encounter was that he was looking for some soldering equipment to fix the Brown Box – the legendary Odyssey prototype that's now in the Smithsonian. He was planning to hook up and play the Brown Box as part of his lecture, but a connection had come loose and needed to be repaired. That image always stuck with me. Sure, he's the Father of Video Games, one of the most prolific inventors of our time, but he's also just an engineer looking for some solder. (If you're curious, the Brown Box did get fixed in time for his lecture.)
It's rather breathtaking that in just a few years, the recognition of video game history has gone from a situation where the guy who invented the medium was scrambling for solder at a small convention, to a place in the Smithsonian. Along the way, Ralph went from being a virtual unknown, to being the subject of niche articles and interviews, then to winning the National Medal of Technology in 2006, finally emerging as an international figure, eulogized by many web sites and media outlets over the past couple of days. Today has been a surreal experience, as I've heard several national radio broadcasts dedicated to a man I personally met and talked with, albeit briefly. The credit for "rescuing" Baer's name must go to others – Len Herman, Michael Thomasson and David Winter to name a few – and to Ralph himself, of course. But if my site contributed in even a small way, then I'm happy.
Rest in peace, Ralph. You made this world a more enjoyable place.
If you haven't read Ralph's book Videogames: In the Beginning, I urge you to do so now. You will never read a more informative book on the subject.
2014-11-17
Happy Bird Coming in Dec.; Contest Underway Now!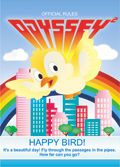 2600 Connection has announced their latest Odyssey² homebrew project, the system's first obligatory Flappy Bird clone: Happy Bird! by Rafael Cardoso. A limited run of 100 numbered, boxed copies will be produced, each with a professionally-styled manual. Happy Bird! is compatible with both Odyssey² and Videopac systems, and displayed enhanced graphics when played on a Videopac+ G7400 console. The price is only $25 plus shipping. More information and screenshots can be found on the official Happy Bird! page.
In an effort to secure donor carts for more homebrew games, 2600 Connection is holding a contest. To enter, mail a used Odyssey² cartridge, working or no, to the contest organizers. Each cartridge you submit counts as a contest entry. On December 15th, one cartridge will be selected at random, and the winner will receive Happy Bird #1 of 100! More information is available in this forum post.
2014-10-08
Interview: Videopac Programmer Göran Öhman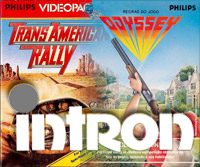 A little while ago, a download called VpacApp appeared on the Google Play Store. It was a Videopac emulator for Android. That alone made it interesting, but what really made it stand out was that Philips had given permission for some game ROMs to be distributed with it.
Upon contacting the author, I learned why. Göran Öhman programmed some of those games back in the day. In fact, he could well have been the last original Videopac programmer. As an employee for Intron AB, a small firm based in Stockholm that developed Videopac games for Philips, he programmed Trans-American Rally and Clay Pigeon, which were among the last games released anywhere. He also helped with the Videopac translation of Frogger.
I asked Mr. Öhman a few questions about his time at Intron, which he was kind enough to answer. I have now placed that conversation online. Unfortunately, in the time since then, VpacApp has disappeared from the Google Play Store. I don't know why, but here's hoping it returns soon. In the meantime, please read the interview to learn about the stories behind the final Videopac games.
2014-09-25
Interview with Odyssey² Legend Ed Averett
Ed Averett
As I posted here a few days ago, Ed Averett, who programmed nearly half of the original Odyssey² library, made an extremely rare appearance at Classic Gaming Expo 2014. There, he held the first public presentation he's ever given on the Odyssey². It was an extremely informative hour, filled with stories and details of the early days of our favorite console. Before the talk though, I was able to sit down with Ed for a quick interview. We touched on a number of the same topics that would later be covered in his talk, but some additional details can be found in our conversation. I have now transcribed the interview for all to read.
I'd like to once again thank Ed for appearing at CGE and sparing a few minutes to answer my questions. I could have asked a hundred more if there had been time. Still, I'm grateful for the opportunity to finally speak to the man so responsible for the video game system I grew up playing.