The excitement of a game...
The mind of a computer!



News Archives »
2013-12-08
Enjoy O2EM with a Hot Cup of Java
Philippe Ventrillon has announced jo2emLauncher (Java O2EM Launcher), an open-source Java-based frontend for the premier Odyssey² emulator. This project is currently in beta, and has the stated goal of eventually supporting multiple platforms. The first target is Linux.
Philippe also maintains a blog related to Videopac emulation. Several posts are available in both English and French.
2013-11-19
Terrahawks: The Second Assault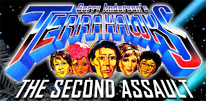 Classic Consoles Center has announced the release of a long-lost Videopac title. The history of this game requires some explanation.
As you may know, the American Odyssey² game Attack of the Timelord! was released in Europe as Terrahawks – a tie-in with Gerry Anderson's science-fiction TV series. However, in 2011, Robbert Jansen from the Videopac / Odyssey2 Forum obtained some prototype games from a former Videopac programmer. One was labeled "Terrahawks," and even though it features action set in space, it is a different game entirely than what Americans know as Attack of the Timelord!.
This "new" Terrahawks seems to be mostly complete. Perhaps it was a planned sequel, or maybe it was an original game developed in Europe for the Terrahawks license, and was dropped in favor of re-branding Attack of the Timelord!. We may never know for sure. Regardless, Classic Consoles Center has rechristened the game Terrahawks: The Second Assault, issued it Videopac number 70, and produced a limited run of 100 cartridges.
Importantly, due to technical reasons, the game will NOT run on NTSC consoles.
The game is 29 Euros + shipping. You may order it at Classic Console Center's web site.
2013-09-30
Protect the Seven Seas on the High Water Patrol!
Odyssey² and Videopac homebrew publisher Videopac Is @live has announced a new release for October: HIGH WATER PATROL by Rafael Cardoso. Here are the details:
HIGH WATER PATROL: Your goal is to patrol the Seven Seas, seeking out and destroying enemy submarines. For this mission, you get a powerful helicopter equipped with lasers and bombs, in addition to GPS (Guard Patrol System).

There will be two versions because the game has "PLUS" features for the European release.
The game uses The Voice features.
Limited run: 50 copies for Odyssey² and 25 copies for Videopac+.

HIGH WATER PATROL will be launched at the Retro event 2013, held on Saturday the 26th of October in Elst, Gelderland, Netherlands. If you don't pick up your copy at the Elst Event, your copy will be shipped on Friday, the 25th.

A bonus game will be included on HIGH WATER PATROL cartridges: SEA RESCUE VOICE EDITION (an easier version of Rafael's earlier game).

The price for HIGH WATER PATROL is 29€ ‐ the box is not included.

A common plastic box for Odyssey² can be added for 4€ more (no crack).
A crystal clear plactic box for Videopac+ can be added for 8€ more (no crack).
Shipping is 7€ (11€ with tracking) for Europe.
Shipping is 9€ (12€ with tracking) for rest of the world.

PayPal payments can be sent to videopac.is@live.be
A gameplay video can be seen here.
2013-07-16
Now You're Playing With Odyssey²... Again!
The guys over at Now You're Playing With Podcast have published the second half of their Odyssey² deep-dive. Listen along as they struggle mightily with Alien Invaders—Plus!, completely misunderstand Monkeyshines!, and are blown away by Killer Bees. At the end they even get into a few European releases.
For those who prefer to listen with their eyes as well as their ears, the entire podcast has also been edited into a YouTube video.