The excitement of a game...
The mind of a computer!


2015-09-20
You Must Stop the Menace from Mars!
Homebrew publisher Videopac Is @live has announced the latest release from prolific author Rafael Cardoso: Mars Menace! In this latest installment of the never-ending conflict between the Terrans and the Martians, you must take TWO joysticks into the battle. A phalanx of four Martian invaders slithers along the screen in a snakelike pattern. Using a Robotron style dual-joystick move-and-shoot control scheme, you must hit each invader multiple times to make them change color. Change all of them to white, and the next level starts at a higher speed than before. If you play on a Videopac+ machine, a portrait of a nasty green Martian can be seen in the background. Gameplay footage can be seen here.
The game is slated to release on September 30th and costs 29 Euros plus shipping. A limited run of 100 copies is being produced for both Odyssey² and Videopac+. A special dual-joystick holder is being offered with the game for an additional 6 Euros. Ordering information can be found in this Videopac.nl forum thread.
2015-07-13
10% Off Revival Homebrews
Martijn at Revival Studios is clearing out his stock of homebrew games at a 10% discount. There are several available for Odyssey²/Videopac in addition to ColecoVision, MSX, Vectrex and Sega SG-1000 games. The O2 titles include:
Mayhem
Colorclash
Mage
Cavity
Stairrunner
Mage 2 D/L
Down
Quantities are limited! Visit www.revival-studios.com for more details. Also, Revival is preparing a new release – Strike Force – for the coming months. You may add your name to the reservation list by emailing info@revival-studios.com.
2015-06-15
Free Food For Fish!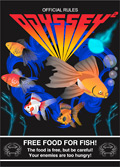 Videopac homebrew publisher Videopac Is @live has announced their latest release: Free Food For Fish! (FFFF for short) by Rafael Cardoso. In this watery title, you are a small, yellow hungry fish swimming in an aquarium. Food pellets rain down from the top, and you must catch them – while swimming out of the way of the enemy sea creatures. Screenshots resemble the classic Intellivision game Shark! Shark! (the optional Videopac+ backgrounds especially so) although the "catch" gameplay elements are more reminiscent of Kaboom!. Rafael says FFFF was inspired by Shark! Shark! and an MSX game named Kobashi. FFFF also features some of the best cover artwork of any homebrew O2 release.
The game is for sale 29 euros plus shipping. More information can be found in this forum post announcing the game. There's still time to pre-order your copy!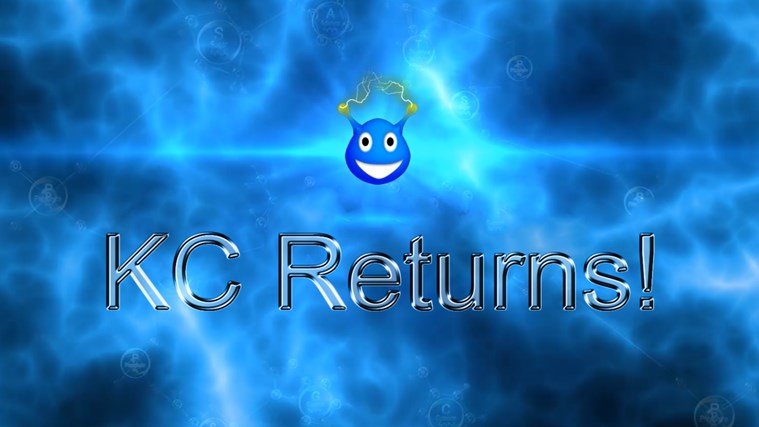 Ed Averett, the man behind fully half of the original Odyssey² games and "father" of KC Munchkin, has announced a brand NEW game starring our favorite blue hero! "KC Returns!" is currently available for Windows 8 through the Microsoft Store. Ed is also working on a Windows 10 version.
In this adventure, KC arrives in a new, rarely seen world – the world of the microscopic – in a maze constructed of atoms. The mission is to rebuild a broken strand of DNA. To accomplish it, KC must energize each atom so that it will move off the playfield into the structure of a DNA base pair, displayed on the right side of the screen.
In advance of the game's press kit becoming available, Ed provided me this introduction to the game (which I'm proud to say, I helped put together in a small way). Once you've read up on it, head over to the game's official site, kcmunchkin.com, to watch gameplay videos and read an introduction directly from the game's star. Then visit the Microsoft Store to download it! Also, don't miss the new children's book starring KC!
This game marks an exciting, and unexpected, new endeavor for KC. Ed hopes to use the character to unveil (in a fun way) the largely unseen world of atoms, DNA strands and the like. It's a crucial world to understand, a place with great discoveries to make and scientific problems that can be solved with the proper vision and understanding. As KC says, "If you can see it, you can solve it!" Who would have thought our beloved munchkin would end up doing such important work? I'd like to thank Ed for bringing back the character and for giving me and The Odyssey² Homepage! the chance to help out.
Ed has asked for comments on the game, "no matter how brutal" as he put it, so be sure to send your feedback after playing.