The excitement of a game...
The mind of a computer!



News Archives »
2014-09-18
Ed Averett Presents at CGE 2014!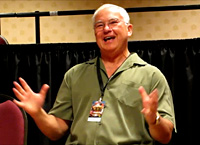 Ed Averett
Ed Averett, who programmed nearly half of the original Odyssey² library, made an extremely rare appearance at Classic Gaming Expo over the weekend. On Saturday, he even gave a presentation titled, "Magnavox Odyssey 2 Software History: The Good, The Bad & The Ugly." This was a unique opportunity for O2 fans to meet and ask questions of the man who arguably is the most responsible for the console's success.
I was fortunate enough to be there and meet Mr. Averett in person. I was impressed by how friendly, well-spoken and obviously smart he is. He autographed a copy of Alien Invaders—Plus! I had with me, and even agreed to a quick interview before his presentation. I recorded the interview and will post the contents here once I get a chance to transcribe it.
The crew from Now You're Playing With Podcast was there as well, and they've posted the raw audio from Averett's presentation, which was recorded by William Culver. The talk was filmed by others as well; hopefully the full video will be posted eventually. In the meantime, I urge all O2 fans to listen to the audio from the presentation. It's a treasure trove of info from the man who knows it best... and you won't want to miss the big news concerning the future of our favorite Munchkin!
2014-09-16
2600 CONNECTION to Release NICE ICE!
2600 Connection has announced its latest Odyssey² release – Chris Read's NICE ICE:
2600 Connection, who published GOSUB, GOSUB 2, WALLS, and WILDLIFE, will release NICE ICE for the Odyssey² / Videopac on November 15, 2014 – just in time for Christmas!

Programmer Chris Read delivers again with a great little holiday-themed game for the Odyssey² / Videopac.

In the game, you play the role of Santa Claus. An evil elf named Eli has freed Santa's reindeer and now they have flown to the other side of Santa's magic pool. What's worse is that Santa doesn't even know how to swim! Lucky for him, there are floating chunks of ice that Santa can use to cross the pool and rescue the reindeer back to safety. But that evil elf will try to stop Santa because he hates Christmas! How many reindeer can you help Santa save?

NICE ICE will sell for $25 (plus $6 shipping in the USA) and $25 (plus $15 shipping for everywhere else in the world).

Enter the Box and Label Artwork Design Contest to Win NICE ICE (Serial #1 of 100)!

That's right! Submit your artwork in an email to timdu AT hotmail.com. JPG or BMP format is fine.

Artwork submission deadline is November 1, 2014. The grand prize: a free game of NICE ICE! (serial #1 of 100)

What are you waiting for? Get your Christmas music out of storage and play it, deck the halls, roast some chestnuts on an open fire, get in the holiday mood, and CREATE! Good luck!
For more information on the game or the context, please visit the NICE ICE web site.
2014-07-15
Return to the Depths in GOSUB 2!
2600 Connection, publisher of several homebrew Odyssey² games, has announced their next release: a sequel to 2012's GOSUB!. Here is the official announcement:
2600 Connection is proud to release GOSUB 2 for the Odyssey²/Videopac system. Here is a description of the gameplay:

After hearing about more treasure on a nearby coast, you hop in your trusty submarine and take off. The treasures are still located in caverns of coral, so you'll have to be careful in the 20 levels of undersea action in this game!

Take control of your submarine as you travel through the caverns in search of the exit. Oh no! You seem to have attracted the attention of one of the local denizens – a giant octopus! He pursues you from level to level. Your submarine is armed with a torpedo. It's too small to kill the octopus, but it will drive him away for a short while. Can you make your way to safety? Or will you find your final resting place under the sea? Best of luck in your quest for riches!

GOSUB 2 was programmed by Chris Read. Chris is also the programmer and designer of GOSUB! for the Odyssey²/Videopac system. (GOSUB! was also published by the 2600 Connection and quickly sold out in the summer of 2012.)

The price of the game is $25 (U.S. dollars) and shipping. ($6 for USA addresses, $15 everywhere else in the world.)

A manual is included as well as a clear plastic storage box. A limited run of 100 boxed, serial-numbered cartridges of GOSUB 2 were produced. The cartridges are compatible with both NTSC and PAL systems.

For more information, please visit the 2600 Connection's GOSUB 2 page.
2014-07-15
Odyssey² Homebrews in Atari2600Land
In yet another example of how time and the Web have blurred the once-clear lines separating video game consoles, a programmer using the Internet handle Atari2600Land has become a prolific author of Odyssey² games. (You may know Atari2600Land better as Chris Read, author of GOSUB! and the brand-new GOSUB 2.) Retrogaming site hit8b.it has provided a quick roundup of Atari2600Land's new games, including GOSUB 2 and the awesomely-titled The 50 Foot Tall Stalk of Celery. Read it here.