The excitement of a game...
The mind of a computer!



News Archives »
2014-11-17
Happy Bird Coming in Dec.; Contest Underway Now!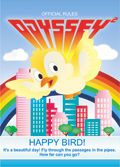 2600 Connection has announced their latest Odyssey² homebrew project, the system's first obligatory Flappy Bird clone: Happy Bird! by Rafael Cardoso. A limited run of 100 numbered, boxed copies will be produced, each with a professionally-styled manual. Happy Bird! is compatible with both Odyssey² and Videopac systems, and displayed enhanced graphics when played on a Videopac+ G7400 console. The price is only $25 plus shipping. More information and screenshots can be found on the official Happy Bird! page.
In an effort to secure donor carts for more homebrew games, 2600 Connection is holding a contest. To enter, mail a used Odyssey² cartridge, working or no, to the contest organizers. Each cartridge you submit counts as a contest entry. On December 15th, one cartridge will be selected at random, and the winner will receive Happy Bird #1 of 100! More information is available in this forum post.
2014-10-08
Interview: Videopac Programmer Göran Öhman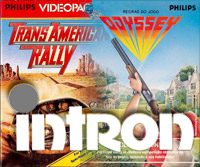 A little while ago, a download called VpacApp appeared on the Google Play Store. It was a Videopac emulator for Android. That alone made it interesting, but what really made it stand out was that Philips had given permission for some game ROMs to be distributed with it.
Upon contacting the author, I learned why. Göran Öhman programmed some of those games back in the day. In fact, he could well have been the last original Videopac programmer. As an employee for Intron AB, a small firm based in Stockholm that developed Videopac games for Philips, he programmed Trans-American Rally and Clay Pigeon, which were among the last games released anywhere. He also helped with the Videopac translation of Frogger.
I asked Mr. Öhman a few questions about his time at Intron, which he was kind enough to answer. I have now placed that conversation online. Unfortunately, in the time since then, VpacApp has disappeared from the Google Play Store. I don't know why, but here's hoping it returns soon. In the meantime, please read the interview to learn about the stories behind the final Videopac games.
2014-09-25
Interview with Odyssey² Legend Ed Averett
Ed Averett
As I posted here a few days ago, Ed Averett, who programmed nearly half of the original Odyssey² library, made an extremely rare appearance at Classic Gaming Expo 2014. There, he held the first public presentation he's ever given on the Odyssey². It was an extremely informative hour, filled with stories and details of the early days of our favorite console. Before the talk though, I was able to sit down with Ed for a quick interview. We touched on a number of the same topics that would later be covered in his talk, but some additional details can be found in our conversation. I have now transcribed the interview for all to read.
I'd like to once again thank Ed for appearing at CGE and sparing a few minutes to answer my questions. I could have asked a hundred more if there had been time. Still, I'm grateful for the opportunity to finally speak to the man so responsible for the video game system I grew up playing.
2014-09-20
Coleco Pink Panther Programmer Interview
Some months ago, a person with the online handle "retroren" made a wonderful discovery. His next-door neighbor had worked as a salesman for Philips. He still had in his possession a box of materials from circa 1983 – including a prototype Odyssey3 console, voice module and modem; sales displays for the ColecoVision game War Room; prototype versions of War Room, O2 Turtles, O3 Flash Point, and Atari 2600 Power Lords; and more. It was all great and valuable stuff, but stuff that had been previously discovered elsewhere, if sometimes in different versions. However, there was one item nobody had seen before: a prototype of Pink Panther for the ColecoVision.
Retroren went to work, hunting up more information and tracking down a functioning ColecoVision console. When he powered up the game, the title screen read: "The Adventures of the Pink Panther, Written By Randy Green." Suddenly there was a name behind the game. This led to more detective work. Retroren found Randy online and, since I was helping in a small way with the research, graciously put me in contact with him. We talked about Pink Panther and his days at Philips over the phone. It's taken me a while to get the work done, but I've finally written up my notes from that conversation. Randy reveals new details about the end of Philips's video game division as well as the Panther's fate.
I know some people have been waiting for me to publish this for some time and I'd like to apologize for the delay. For whatever reason, I was just unable to sit down and make myself finish it. Writer's block I suppose. However, I have so much content starting to build up now that I can't procrastinate any longer. Due up next, please look for my notes on Ed Averett's talk at CGE 2014. I'm working on them right now. Since it's Pink Panther related, I'll mention it here: I asked Mr. Averett if he actually worked on an Odyssey² version of the game, as is rumored. He did not. He said that Sam Overton worked on it, but he probably just meant that Sam's group was responsible for it – Ed had stopped programming O2 games by that time. Randy did not know if any work on the the O2 version was done. So unfortunately we still don't know anything about that game's status. At least now you can read the Randy Green interview to learn more about the ColecoVision version.