This Halloween, Dare to Visit AMITYVILLE!
2016-10-09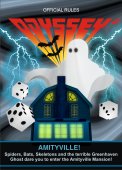 112 Ocean Avenue: the say that this house is inhabited by terrible creatures. But immeasurable treasures await those who dare enter the house!
Just in time for Halloween, the newest Odyssey² and Videopac homebrew from author Rafael Cardoso takes you deep into the famed Amityville haunted house. Armed only with a flashlight, you bravely set foot in the scary structure in search of treasure. But beware: your search will bring you face to face with deadly giant spiders, bats and ghosts! How long can you hold out against them?
Amityville! is a complicated game combining elements of Nightmare and the Atari classic Haunted House with a small dose of turn-based fighting. You'll definitely need to read the manual for this one! It will be available from publisher Videopac Is @live for both Odyssey² and Videopac+ on October 31. Ordering information can be found in this Videopac.nl forum thread.
Odyssey² Summer Happenings
2016-07-17
Hello, Odyssey² and Videopac fans! I am late with these announcements because my PC's motherboard up and died a few weeks ago. (Funny, it failed after merely a few years while my Odyssey² is still going strong three decades inů) So then I had to replace it and reconfigure everything, I'm sure you know the drill. I'm back up and running now, and continuing my project to make the rest of the site mobile-friendly. (Next up: the Articles section.) In the meantime, here are some exciting things that happened recently in case you missed them:
Homebrew designer extraordinaire Rafael Cardoso announced TWO new games – really three, since one of the cartridges contains two games in one! First is Shooting Gallery/Minefield, which was developed some time ago but unable to be released until now. More information is available here, and the game is available for purchase from Packrat Video Games.
Rafael's second game is Forbidden Lands, which looks to be a standout release. More information and some video is available here and the game is available for purchase from Videopac Is @live.
Ed Averett has revised KC Returns!, returning KC to his normal environment: a maze! Download the latest version of the game at the Microsoft Store.
Earl Green, longtime publisher of Phosphor Dot Fossils and one of the biggest O2 fans around, has launched a new podcast about the system called SELECT GAME. In each episode he dives deep into one or two selected Odyssey² games. Earl is one of the best retro-game-content-producers in the business; don't miss this!
New for Odyssey²: Space Cavern!
2016-04-17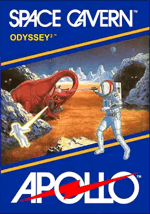 Homebrew publisher Videopac Is @live has announced another new Odyssey² release, this time a port of a familiar Atari 2600 title. SPACE CAVERN by APOLLO GAMES is available for pre-order. It is, of course, based on Space Cavern, the 1982 title from the world's first third-party publisher, Games By Apollo. The homebrew's publisher states that the new Odyssey² version is a faithful port. This limited edition of 100 will come with a cardboard box, styled like the original but smaller, the same size as an O2 or Videopac box. The European version contains an extra sleeve in English or French (branded RCA Video Jeux) like the Atari 2600 version had in the Eighties. The manual is designed like the 2600 original as well.
And if that wasn't enough, there is a even a Space Cavern "TV commercial", done in true '80s style! (OK, it's the original 2600 commercial redone with Videopac graphics, but still great. Dig that shiny '80s sci-fi jumpsuit!)
SPACE CAVERN's 45-Euro price is a bit higher than a typical release because of the cost of the cardboard box and the royalties. Reserve your copy at the Videopac Is @live web site.
They're also working on another "new" release: Mission Impossible / Programmed Trip "ZERO Edition", an enhanced version of Missão Impossível/Viagem Programada, the one and only game from mysterious Brazilian publisher Ectron Eletrônica Ltda. A limited release of 100 "Zero Edition" carts is planned but is currently being delayed by a music tempo issue.
CHIEF CHEF Available for the Odyssey²
2016-03-14
Homebrew publisher 2600 Connection has announced CHIEF CHEF, Chris Read's new Odyssey² title inspired by two great Activision 2600 games. Here's the official announcement: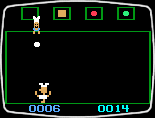 As the apprentice chef at the Chew 'n' Spew Restaurant, things have gotten a little crazy! Chuck Chesterfield, the Chief Chef, has climbed up to the ceiling and has started to throw food at you! The only catch is he demands that you get all four items he throws and avoid the duplicates! Once you have caught a complete set of four items – tomato, cheese, lettuce, and onion – you start again at a faster level. How are your food-catching skills? Are they enough to impress the Chief Chef?

Combining gameplay elements from the Atari 2600 games Kaboom! and Pressure Cooker (both by Activision), CHIEF CHEF was programmed by Chris Read.

Originally a bug was found in the game, but that has been corrected and cartridges are now shipping in full swing.

We are also sponsoring a High Score Competition for CHIEF CHEF. Submit a picture of your high score. Highest score will win the grand prize: a WILDLIFE! special edition cartridge with a special label. Players can play with the real cartridge or may use an emulator. Either is fine. The CHIEF CHEF ROM file will be available for a free download (for use in an emulator).

For more information, visit the CHIEF CHEF web page.
FATSO Is Back!
2016-03-14
Here is some exciting news for Odyssey² homebrew fans, or just anyone who enjoys eating: homebrew publisher 2600 Connection is re-publishing FATSO! Here is the official announcement: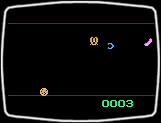 2600 Connection is proud to offer the Odyssey²/Videopac game from Chris Read – FATSO! Previously known for his Atari VCS/2600 games (Gosub, Alien Greed, Stacker, Zyx), FATSO! is Chris's first game for the Odyssey², inspired by the Telesys Atari VCS/2600 game Fast Food.

A limited run of 30 boxed copies of FATSO! were first produced and sold by Marc Verraes (www.videopac.fr) in May 2012. After those sold, a second edition of 26 more were sold (each cartridge denoted with a letter of A through Z). Fast forward to 2014. When Marc asked 2600 Connection about releasing another run of WILDLIFE!, we worked out a deal so we could release an unlimited, unnumbered version of FATSO!

Now we are happy to allow folks who missed out on this game to purchase one. It's the same game and manual, except it does not have a serial number. The label has a little different style and the manual has some additional text. A plastic storage box is not included. We call this the unlimited release of FATSO! So what are you waiting for? Put on your "eating pants" and get yours today!

The cost is $25 plus shipping. For more information, and/or to order a game cartridge, please visit the FATSO web page.