Spec Sheets!
Like many companies, Philips issued glossy, 8.5" x 11" color flyers to herald their new games. These flyers were distributed to Odyssey² retailers to assist them with advertising the new games, as well as to promote special offers from Philips.
Click on the thumbnails to see enlarged views of flyers.

Pick Axe
Pete Front

Pick Axe
Pete Back

Timelord
Front

Timelord
Back

Freedom
Fighters Front

Freedom
Fighters Back

Killer Bees
Front

Games
Listing

Arcade Games
Sales Flyer

Free
Gifts

Christmas
Sale

Win A
Disney Trip

Brazil Voice
Front

Brazil Voice
Back

Special Offer
Outside

Special Offer
Inside

Money Saving
Offer Front

Money Saving
Offer Back

1983
CES

Pink Panther
& Power Lords

Cavern &
Flashpoint
Brochures!
Color 8.5" x 11", four- or six-page sales brochures available to retailers, and sometimes mailed to Odyssey² owners. These helped promote the Odyssey²'s "strong points," like The Voice module and the Master Strategy series of games. Also note the GTE Employees brochure. GTE (General Telephone) had a partnership with Philips/Magnavox where certain products, including Odyssey², were offered at a discounted price to its employees. This brochure shows what bargains were available to GTE workers around Christmas 1983.
Click on the thumbnails to see enlarged views of brochures.

The Voice
Page 1

The Voice
Pages 2-3

The Voice
Page 4

Wall Street
Page 1

Wall Street
Pages 2-3

Wall Street
Page 4

Strategy
Page 1

Strategy
Pages 2-3

Strategy
Page 4

Brazilian
Strategy Page 1

Brazil Strategy
Pages 2-3

Brazilian
Strategy Page 4

QFTR
Page 1

QFTR
Pages 2-3

QFTR
Page 4

GTE
Page 1

GTE Employees
Pages 2-3

GTE
Page 4

Welcome
Page 1

Welcome
Page 2

Welcome
Page 3

Welcome
Page 4

Welcome
Page 5

Welcome
Page 6

"Best Buy"
Page 1

"Best Buy"
Page 2

"Best Buy"
Page 3

"Best Buy"
Page 4
Power Lords Brochure: This is not an official Odyssey brochure; it was put out by Revell Toys to advertise their Power Lords action figures. At the 1983 Winter CES, Philips gave them out with a "NAP Video Games" sticker affixed to the cover.
Odyssey Selling Aids: A catalog for retailers, from which promotional Odyssey materials could be ordered from Philips. Thanks to Marty Goldberg, this promotional bonanza is now available for everyone to enjoy! Click the thumbnails for high-quality scans (warning: the full-sized files are very large).
| | | | | | |
| --- | --- | --- | --- | --- | --- |
| Cover | Page 1 | Page 2 | Page 3 | Page 4 | Page 5 |
Odyssey Selling Aids Brochure
Welcome to the Wonderful World of Odyssey² Packet: An information packet, stored in a 12" x 9" envelope, that was included with new Odyssey² consoles. It contained:
Odyssey² Owner's Manual
Special Service Offer Flyer
Welcome Brochure
Money-Saving Offers Flyer


Welcome Envelope
Video Game Christmas Gift Guide: A flimsy cardboard folder mailed out to Odyssey customers prior to Christmas 1983. It contained:
| | | |
| --- | --- | --- |
| | Cover | Inside Flap |
Video Game Christmas Gift Guide
Sales Forms!
8.5" x 11" pieces of paper issued to retailers and customers that listed various Odyssey² information, such as prices, etc.
Sales Forms
Doc.#
Title
Known Revisions
M125-1
Resale Certificate
11-82
M1231-1
Over-The-Counter Exchange Defective Products Return Report Defective In-Warranty
10-81
M1596-1
Odyssey Cooperative Advertising Authorization and Claim Request
M1597-1
Odyssey Sales Order Authorization
M1598-1
Odyssey Retail Information
ODY-101
Odyssey2 Confidential Distributor Price Schedule
ODY-105
Odyssey2 Retail Price List
The 5-15-82 revision of this form was distributed to dealers along with the Spring 1982 issue of Odyssey Adventure. A scan is available at Phosphor Dot Fossils.
5-15-82,
6-1-83
ODY-118
New Games Listing
EL 3376
Odyssey2 Limited Warranty
EL 3376-1,
EL 3376-2
EL 3377
After Warranty Service Letter


Revision EL 3377-2 is printed on the opposite side of the Odyssey2 Limited Warranty; EL 3377-1 has a blank back side.

EL 3377-1,
EL 3377-2
Privacy Statute
n/a
NAP Cover Letter
Technically not a sales form, this is the cover letter sent to dealers with the Spring 1982 issue of Odyssey Adventure, signed by VP of Sales & Marketing Gerald A. Michaelson. Phosphor Dot Fossils has a photo.
Great Game Giveaway Form: The Great Game Giveaway was a limited-time promotion staged by Magnavox in late 1981/early 1982 where you could get free goodies in return for buying games. During the promotion, this form came attached to the premier issue of Odyssey² Adventure magazine, which apparently was packed into certain Odyssey² consoles. Click the thumbnail to see close-ups of all sides of the form.
Ad Mats: Yet another advertising aid available to retailers. The Selling Aids brochure says, "A booklet of ready-to-place ads in a variety of sizes. Plus, clipart of the mainframe, Voice and cartridges to create your own ads."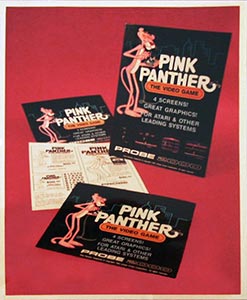 Pink Panther Ad Mats: In September 2006, a prototype of Atari 2600 Pink Panther surfaced on eBay, accompanied by a binder of documents from the 1983 Consumer Electronics Show where the prototype was displayed. This photo shows four flyers and displays advertising "Pink Panther: The Video Game for Atari & other leading systems." The screenshots are clearly meant to illustrate the 2600 version, although Pink Panther was also planned for Odyssey² and ColecoVision. This photograph was included with the CES binder that sold alongside the prototype for $4,750! Since this is just a photograph, and the full contents of the binder were not disclosed, it is not known if any of these Pink Panther displays still survive.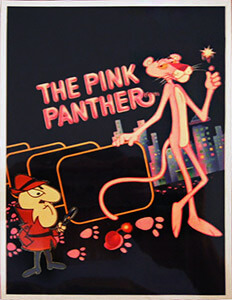 Pink Panther 1983 CES Ad Slick: This photograph of an item from the 1983 CES was also included in the September 2006 prototype auction. It appears to be a semi-reflective ad slick advertising the Pink Panther game. There are four TV screen-shaped areas on the slick which are conspicuously blank. Perhaps this was so that screenshots from the different versions of the game could be swapped in? I believe the item sold in the auction was just a photograph, so I don't know if any actual Pink Panther ad slicks still exist.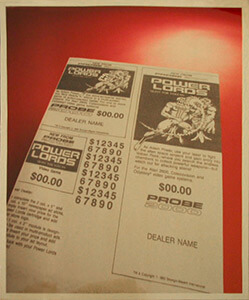 Power Lords Ad Mats: Another NAP prototype auction occurred on eBay in late 2006, this time featuring the unreleased Atari 2600 version of Power Lords. Documents from the 1983 Consumer Electronics Show were also included in the sale. This photo shows the ad mats that dealers could have used to advertise any and all versions of the game, whether they were for Atari 2600, ColecoVision, or Odyssey². Since this is just a photograph, and the full contents of the binder were not disclosed, it is not known if any Power Lords ad mats still survive.
Imagic Letter: This very unusual item is technically not a sales flyer but I wasn't sure where else to list it! Reader Brian Gotsch purchased this letter, along with some other Odyssey² merchandise, at an antique store. Apparently the letter's original owner received it directly from Imagic in 1983, in response to an earlier inquiry. In the letter, Kathleen Boothe of Imagic's Consumer Affairs division explains that Demon Attack and Atlantis are on sale at a price of $29.95 each, and can be ordered directly from the company (the customer later ordered Atlantis, and received it eleven days after mailing payment – right in the middle of the Christmas season! That's service!). Boothe references the customer's request in the first paragraph, making this a unique document, but the rest of the text reads like a form letter – so perhaps other similar examples exist, somewhere. There can't be many though.