The excitement of a game...
The mind of a computer!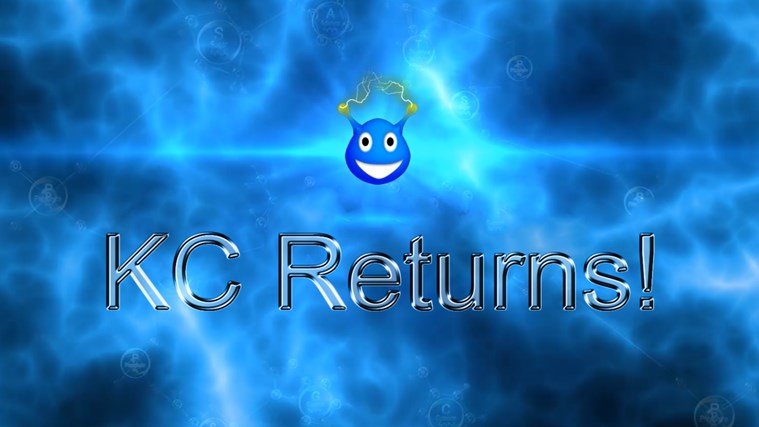 Ed Averett, the man behind fully half of the original Odyssey² games and "father" of KC Munchkin, has announced a brand NEW game starring our favorite blue hero! "KC Returns!" is currently available for Windows 8 through the Microsoft Store. Ed is also working on a Windows 10 version.
In this adventure, KC arrives in a new, rarely seen world – the world of the microscopic – in a maze constructed of atoms. The mission is to rebuild a broken strand of DNA. To accomplish it, KC must energize each atom so that it will move off the playfield into the structure of a DNA base pair, displayed on the right side of the screen.
In advance of the game's press kit becoming available, Ed provided me this introduction to the game (which I'm proud to say, I helped put together in a small way). Once you've read up on it, head over to the game's official site, kcmunchkin.com, to watch gameplay videos and read an introduction directly from the game's star. Then visit the Microsoft Store to download it! Also, don't miss the new children's book starring KC!
This game marks an exciting, and unexpected, new endeavor for KC. Ed hopes to use the character to unveil (in a fun way) the largely unseen world of atoms, DNA strands and the like. It's a crucial world to understand, a place with great discoveries to make and scientific problems that can be solved with the proper vision and understanding. As KC says, "If you can see it, you can solve it!" Who would have thought our beloved munchkin would end up doing such important work? I'd like to thank Ed for bringing back the character and for giving me and The Odyssey² Homepage! the chance to help out.
Ed has asked for comments on the game, "no matter how brutal" as he put it, so be sure to send your feedback after playing.
2015-03-24
Odyssey² News RSS Feed

I have set up the News stream of this site as an RSS feed. I know I've said this before, but I'm trying to update the site more often, and this will provide an easy way to find out when new changes are announced. To subscribe, simply click an RSS icon on the front page or point your feed reader to
http://www.the-nextlevel.com/odyssey2/news/rssfeed.php
I had some trouble integrating RSS with my homegrown content management system, but I think I've ironed out the kinks. If you have any trouble, please contact me. The title of the feed is "The Odyssey2 Homepage!" If your feed reader is configured to show icons, you may see the icon of my host (The Next Level) rather than of my site. Unfortunately, most readers pull icons from the domain root so there's not much I can do about this.
Thanks for subscribing!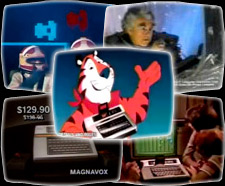 If you had trouble watching the clips in the Videos section, please try again. I've converted all the clips to MP4 format, which should be compatible with most modern browsers and mobile devices. There are 26 vintage Odyssey² and Videopac videos there now, ranging from TV commercials to news coverage to CES promo clips. My favorite new addition is the commercial for the 1983 Kellogg's Instant Win Video Game Sweepstakes, where none other than Tony the Tiger describes how you could win Magnavox TVs and Odyssey² games from the game pieces found in your box of Frosted Flakes. Scenes from UFO and Alien Invaders—Plus are animated as cartoons – it's like seeing the "artist's conception" screens from O2 catalogs come to life! I have a clear memory of watching this commercial back in '83. In fact, one of the very first things I posted when this site went live in 1996 was a vague description of it. It's amazing to be able to see it again after over 30 years! Ain't the Internet grand?
2015-01-29
Back from the Dead: Two Lost Videopac Interviews
I'm very pleased to report that I've managed to restore two "lost" Videopac interviews. Each of these were available on other Web sites that have since gone offline. It's been a few years since either was last available.
The first is an interview I conducted with Jon Shuttleworth, the Philips employee largely responsible for the distribution, design, and even the name of the Videopac G7000. Mr. Shuttleworth reveals several anecdotes, such as how the original 1979 launch of the G7000 was delayed by a power defect, and where he and Dolf van de Paauw thought up the name "Videopac." I conducted this interview back in 2001 for ClassicGaming.com, which at the time was one of the best retrogaming sites around. Sadly, it's now gone. Luckily, I found a backup copy of the interview text and am pleased to make it available once again.
The second is an interview conducted by Maurice "BuckyB" Simon with Gil Williamson, one of the principals at the UK-based Amazon Systems, the software firm that developed Tutankham for the G7000. This interview was conducted before the Tutankham proto was found, when the game was still only a rumor – so, as you can imagine, it was a revelation at the time. It was published, in Portuguese, on the Brazilian site Odyssey Mania, another fine site which has unfortunately evaporated into the electronic ether. However, I had saved a copy of it, so I contacted Maurice, and pieced the original English text back together with the help of his notes and my backup copy. Again, I'm pleased to make this piece of Videopac history available again, and I thank Maurice for his help.
Enjoy!