Things that "Boo" and Things that "Boom"
2017-12-10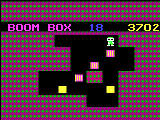 Rafael Cardoso and Videopac Is @live are at it again with two new releases! In the straightforwardly-named HAUNTED WOODS, your archer navigates a ghost-infested forest to rescue the lovely Princess Bia. Meanwhile, BOOM BOX may sound like the awesome cassette deck you hoisted on your shoulders in the '80s, but it's actually an Odyssey take on the classic box-pushing puzzle game Sokoban. Push the boxes carefully or everything will be blown sky high!
A gameplay video for HAUNTED WOODS can be seen here and one for BOOM BOX is located here. Both are being sold through the Videopac.nl forums, and are limited to runs of 100 cartridges each, with 50 produced in the Odyssey² style and 50 in Videopac fashion. Up for a princess-rescuing adventure? Order HAUNTED WOODS here. If box-pushing is more you speed, get BOOM BOX here.
Found: Two Odyssey Game Centers!
2017-09-18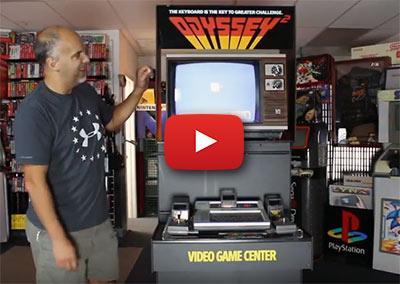 For many years, the Odyssey² community has known about the Odyssey Game Center, a kiosk that was used in the '80s to advertise the system at stores and trade shows. Near the end of Odyssey²'s lifetime, Philips even gave some away as contest prizes. What was not known, however, was whether any of these units had survived beyond the '80s.
Now, at long last, the existence of two Game Centers has been confirmed! Two unassembled units were purchased at an auction in the North Carolina area by a Tennessee man, who assembled one and kept the other in its box. He later sold the assembled unit to a private collector who provided me this photo. The other was sold to Trade-N-Games, a retro game store in the St. Louis area. Trade-N-Games is active in the preservation of vintage kiosks and produced a great video about it, complete with closeups of the unit and even a look at the instructions for building it.
Be sure to check the video! You may not be able to get one of these for your collection, but at least you can get a good look at it.
Tee Off at the GOLF TOURNAMENT!
2017-08-07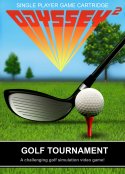 Homebrew publisher Videopac Is @live has announced Ivan Machado's Golf Tournament, an advanced golf simulation game. From the press release:
Welcome to the best golf simulation video game for the Odyssey² & Videopac! Choose between 4 club types and hit the ball into the hole in as few strokes as possible. Each stroke adds 1 point to your score – keep it as low as possible! There is a 99 stroke limit to finish the 18-hole course. Don't let the ball fall into the water or sand, and avoid the trees and rocks.

Release date 8/8/2017 – Limited run of 50 copies for Odyssey² & 50 copies for Videopac. Price is 29 euros plus shipping and handling.
Be sure to check out this gameplay video, which demonstrates how impressive this game really is! You may be surprised that the humble Odyssey² is capable of this level of complexity in a golf game.
Aaron the Aant Has Aarived!
2017-02-14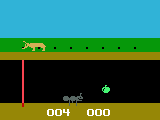 Aaron is an aant – with two A's, mind you – and he's hungry for aaples. But he's got to watch out, because Aadolf the aardvark is hungry for him! AARON THE AANT!, a game whose setting must have been inspired by the arcade classic Anteater, is the latest release from Chris Read, developer of GOSUB, WALLS, CHIEF CHEF and others. Publisher 2600 Connection is producing a limited run of 100 cartridges, which are compatible with both NTSC and PAL systems. Each game will include a 8-page Odyssey²-style manual, and a black plastic storage box with a printed color insert is available as an optional purchase. Head over to 2600 Connection's Aaron the Aant page to place your order!
Have a Happy Odyssey² Holiday Season!
2016-12-26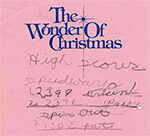 I hope you all are having a great holiday season! Here is a Christmas-themed holiday gift for you: a scan of a vintage Odyssey² high-score sheet. I found this in an Odyssey² setup I purchased online some time ago. Also included was an original sales receipt for Bowling/Basketball and K.C.'s Krazy Chase, dated 12/11/1982. Most of the entries on the paper are from those two games (and Speedway and Spin-Out), so I'm guessing the scores were recorded in December 1982 as well. This family had a lot of fun that Christmas!
Web-site wise, the work to make everything mobile-friendly continues. I've finished the Articles section and am currently making inroads on the Collectibles section. There's a lot of content there, so it's taking a while. But still, progress!