Aaron the Aant Has Aarived!
2017-02-14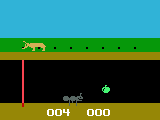 Aaron is an aant – with two A's, mind you – and he's hungry for aaples. But he's got to watch out, because Aadolf the aardvark is hungry for him! AARON THE AANT!, a game whose setting must have been inspired by the arcade classic Anteater, is the latest release from Chris Read, developer of GOBUS, WALLS, CHIEF CHEF and others. Publisher 2600 Connection is producing a limited run of 100 cartridges, which are compatible with both NTSC and PAL systems. Each game will include a 8-page Odyssey²-style manual, and a black plastic storage box with a printed color insert is available as an optional purchase. Head over to 2600 Connection's Aaron the Aant page to place your order!
Have a Happy Odyssey² Holiday Season!
2016-12-26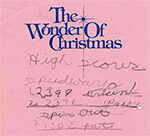 I hope you all are having a great holiday season! Here is a Christmas-themed holiday gift for you: a scan of a vintage Odyssey² high-score sheet. I found this in an Odyssey² setup I purchased online some time ago. Also included was an original sales receipt for Bowling/Basketball and K.C.'s Krazy Chase, dated 12/11/1982. Most of the entries on the paper are from those two games (and Speedway and Spin-Out), so I'm guessing the scores were recorded in December 1982 as well. This family had a lot of fun that Christmas!
Web-site wise, the work to make everything mobile-friendly continues. I've finished the Articles section and am currently making inroads on the Collectibles section. There's a lot of content there, so it's taking a while. But still, progress!
Here Comes Mean Santa!
2016-11-06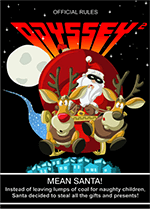 LOOK WHO'S COMING THIS CHRISTMAS SEASON: MEAN SANTA!
2600 CONNECTION is proud to announce the release of MEAN SANTA for the ODYSSEY² / VIDEOPAC. The game will be released on December 1, 2016!
Designed and conceived by Tim Duarte, an Atari 2600 version was published in 2009. This port of the game for the ODYSSEY2 / VIDEOPAC system was programmed by Rafael Cardoso (who also worked with 2600 CONNECTION to publish and release WILDLIFE! and HAPPY BIRD!)
The game, which is loosely based on the cartoon "HOW THE GRINCH STOLE CHRISTMAS," features a SANTA CLAUS who has had enough of all the bad behavior of the bad boys and girls. This year, he wants to steal all the presents. There are obstacles in his way. In the shortest amount of time, you need to break in to, er... I mean, visit 16 houses and collect the presents. Don't bang into the walls! Be careful! You'll wake the parents! In the 16th and final house, there is a roasted turkey dinner that MEAN SANTA can steal so there will be no CHRISTMAS FEAST. Can you help him? There are guard dogs trying to stop MEAN SANTA.
For more information please visit the MEAN SANTA web page.
ALSO: 2600 Connection is having a HAPPY BIRD! high score contest: Win SERIAL #1 of 100 of MEAN SANTA. More details at the above site. Contest winner will be announced on December 1, 2016!
This Halloween, Dare to Visit AMITYVILLE!
2016-10-09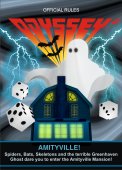 112 Ocean Avenue: the say that this house is inhabited by terrible creatures. But immeasurable treasures await those who dare enter the house!
Just in time for Halloween, the newest Odyssey² and Videopac homebrew from author Rafael Cardoso takes you deep into the famed Amityville haunted house. Armed only with a flashlight, you bravely set foot in the scary structure in search of treasure. But beware: your search will bring you face to face with deadly giant spiders, bats and ghosts! How long can you hold out against them?
Amityville! is a complicated game combining elements of Nightmare and the Atari classic Haunted House with a small dose of turn-based fighting. You'll definitely need to read the manual for this one! It will be available from publisher Videopac Is @live for both Odyssey² and Videopac+ on October 31. Ordering information can be found in this Videopac.nl forum thread.
Odyssey² Summer Happenings
2016-07-17
Hello, Odyssey² and Videopac fans! I am late with these announcements because my PC's motherboard up and died a few weeks ago. (Funny, it failed after merely a few years while my Odyssey² is still going strong three decades inů) So then I had to replace it and reconfigure everything, I'm sure you know the drill. I'm back up and running now, and continuing my project to make the rest of the site mobile-friendly. (Next up: the Articles section.) In the meantime, here are some exciting things that happened recently in case you missed them:
Homebrew designer extraordinaire Rafael Cardoso announced TWO new games – really three, since one of the cartridges contains two games in one! First is Shooting Gallery/Minefield, which was developed some time ago but unable to be released until now. More information is available here, and the game is available for purchase from Packrat Video Games.
Rafael's second game is Forbidden Lands, which looks to be a standout release. More information and some video is available here and the game is available for purchase from Videopac Is @live.
Ed Averett has revised KC Returns!, returning KC to his normal environment: a maze! Download the latest version of the game at the Microsoft Store.
Earl Green, longtime publisher of Phosphor Dot Fossils and one of the biggest O2 fans around, has launched a new podcast about the system called SELECT GAME. In each episode he dives deep into one or two selected Odyssey² games. Earl is one of the best retro-game-content-producers in the business; don't miss this!