The excitement of a game...
The mind of a computer!



News Archives »
2014-03-06
Restoring Old, Scratched Videopac Boxes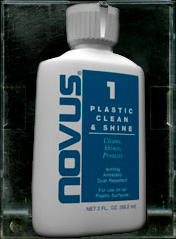 As most Odyssey and Videopac collectors know, the hinged plastic boxes used to distribute games in Europe, Brazil and Canada are extremely susceptible to scuffing and scratching. Now, some 30 years after they were manufactured, it's tough to find boxes that aren't covered with hundreds of tiny surface scratches, making them appear cloudy or dirty. Unfortunately, normal cleaning methods don't help much.
It may not seem like plastic can be polished, but it turns out that suitable compounds do exist. NOVUS Plastic Polish is perhaps the gold standard of such products, and it's capable of cleaning everything from CDs to motorcycle windscreens. But how well does it perform on the notorious Videopac boxes? To find out, I tried a little experiment. You can read about my results here. My conclusion in brief: NOVUS produces a noticeable improvement, but won't completely restore your boxes, and using it takes some effort. Read the article and view some before-and-after photos to decide whether it's worth using for your Videopac collection.
2014-03-03
jo2emLauncher 1.0 Released
Version 1.0 of jo2emLauncher, the Java-based O2EM frontend which can run under Linux, is available. This version includes:
Cover display
Screenshot display
O2EM parameter
O2EM launch
Joystick calibration
i18n
The release was announced in this blog entry.
Version 1.2 is coming soon, and will include PDF manual display integrated in the launcher, a full icon set, and more internal enhancements.
Version 1.0 can be downloaded at the jo2emLauncher SourceForge site.
2014-01-25
Interpol – Now for Odyssey²!
Odyssey² and Videopac homebrew publisher Videopac.is@live has announced their latest release, and this time it's not a homebrew. It is a re-issue of Interpol, an original prototype from the 1980s that was not released at the time, which remained unknown until 1999. One year later, Interpol was the first Videopac prototype to receive a reproduction cartridge release. However, only 50 copies were produced, and the game didn't work in NTSC, so many O2 fans missed out. Now, Videopac.is@live aims to rectify that with a special new issue compatible with PAL and NTSC! Here is the press release:
"Videopac.is@live" is proud to announce the release of the 1st numbered game from the eighties for Odyssey²: The number AC 9449: INTERPOL.

Programmed by GST Video but never released in the eighties, the EPROM prototype was found in 1999 in Eindhoven (The Netherlands) by Nicolas Sapin. INTERPOL was released by SILICIUM in 2000 (René Spéranza, Nicolas Sapin & Sylvain De Chantal) for VIDEOPAC, assigned number 61, in a limited run of 50 copies.

For its 30-year anniversary, INTERPOL will be adapted for NTSC by René van den Enden. The Cover (made by René Spéranza in 2000) will be revised by Rafael Cardoso, the English translation (made by Sylvain De Chantal in 2000) will be revised by Ian Baranofsky. All this is being done with the help and supervision of René Spéranza.

The release of INTERPOL for Odyssey² is scheduled for FEBRUARY.
Copies are already in production.
Limited run of 100 copies numbered 00/99

Both versions (NTSC &amp PAL) are in the cartridge.

Price is 26€; the box is not included.
A common plastic box for Odyssey² can be added for 4€ more (no cracks in the box)
Shipping is 7€ (11€ with tracking) for Europe.
Shipping is 9€ (13€ with tracking) for the rest of the world.

We accept paiment now by PayPal to videopac.is@live.be.

Thanks for your interest in O2/VP homebrew releases.
Visit Videopac.is@live for more.
2014-01-23
High DPI, My Dear Watson
Some years ago, I interviewed Ron Bradford, the principal artist and designer of Odyssey² box art. At the time, Mr. Bradford sent me color photocopies of the nearly-finished concept artwork for the unreleased Sherlock Holmes game – including art that would have been used for the game's box and Master Strategy game board. I scanned the copies and posted them in a small gallery of his work.
I have a better scanner now, and download speeds have improved a lot since then. I've been meaning to re-scan these pieces for some time and have finally gotten around to it. Full-size, 600 DPI versions of both Sherlock Holmes pieces are now available for download via DropBox.
Sherlock Holmes Box Art

View on Web (900 x 623 px)
Download 600 DPI Version (PNG format, 34 mb)

Unfinished Sherlock Holmes Game Board

View on Web (900 x 642 px)
Download 600 DPI Version (PNG format, 75.9 mb)