Early K.C. Munchkin Prototypes!

Around 2003, David Winter (curator of the great Pong-focused website Pong-Story) discovered some very early prototypes of the game that would become K.C. Munchkin. Significantly, the main character is not a munchkin yet – but a circular yellowish figure with a wedge-shaped mouth. Sound familar? David put up a web page describing the protos but it's been offline for years. Now, he gave me permission to re-publish it. Take a look!
The Odyssey Adventure Continues!
2020-09-20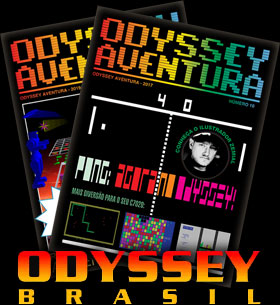 Exciting work is being done in South America! Odyssey Brasil is a group of passionate Odyssey fans headed by homebrew author Rafael Cardoso, Experiência Odyssey webmaster Ricardo Silva, and Márcio of the Facebook group Odyssey – O Videogame da Philips among other devotees of the system. Together, they are working to relaunch Odyssey Adventure magazine in Brazil!
If you read original issues of Odyssey2 Adventure (Odyssey Aventura in Brazil), you'll know that back in the day, Philips treated Odyssey fandom like a social club, with the magazine as its official publication. It was a fun way to provide a sense of community to all Odyssey fans as they read all the latest news about upcoming releases and events. Odyssey Brasil is aiming to recapture those glory days by creating NEW issues of Odyssey Aventura. With a constant stream of new homebrews, ROM hacks and repros, the Odyssey community is thriving once again. It seems only right for new issues of the classic magazine to report on all this activity.
Issue #9 of Odyssey Aventura, which picked up where the original eight issues from the '80s left off, was already published by Rafael some time ago. Issue #10, which profiles some older homebrews as well as the artist ZeMiaL who has provided amazing artwork for some recent releases, is coming soon. Both digital and print versions will be available. The content will be in Portuguese, although plans for an English version are being considered. Watch Experiência Odyssey for news. Announcements will also be posted on this site.
The 50-Foot-Tall Stalk of Celery!
2020-09-20
Homebrew developer Chris Read has just released a new Odyssey² game, with possibly the greatest title of any video game, anywhere: The 50-Foot-Tall Stalk of Celery! I won't try to describe it myself, and instead just post the publisher's description: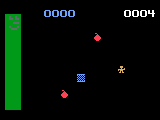 You are Rodney, friend of the 50-foot tall stalk of Celery.

Mr. Celery has a problem: It seems the vegetarians want to chomp, chew, and digest him!

As Rodney, you can help fight back! How? Well, Mr. Celery has invented a Vegetarian Killing Machine (VKM for short).

Rodney can control the VKM. Vegetarian men are running amok! Use the VKM to destroy them. How many vegetarians can you defeat?

Oh, one more thing: the vegetarians are aware of you and Mr. Celery's plans. They are hurling bombs at you!

Avoid the bombs! If you get hit by a bomb, it's all over for Mr. Celery!
With a story like that, how can you not want to play it? Cartridges and manuals are now available for purchase from publisher 2600 Connection for $25 plus shipping.
I. Derio Tournament of Videopac G7000
2020-09-19
In late August, a second Videopac tournament was held in Basque Country in northern Spain, continuing the event that was started in May. This installment took place entirely in the town of Derio, so the organizers called it the I. Derio Tournament of Videopac G7000. Click here to see the leaderboards.
Thanks again to Egoitz Campo for the write-up!
Will You Make It Through the Neon Nights?
2020-08-02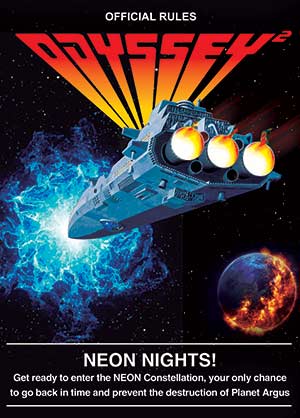 NEON NIGHTS, the latest homebrew game from Rafael Cardoso, is available for pre-order now! The people of the planet Argus are under attack, only you can save them! But you'll have to cross the Neon constellations to do it. The journey will take you through four waves of different opponents, dodging and blasting enemy craft all the way. Do you have what it takes to save Argus?
Homebew publisher Videopac Is @live is taking pre-orders for NEON NIGHTS on the Videopac.nl forums. Fifty copies will be produced in Odyssey² style and twenty-five in Videopac+ style. The game features a starfield backdrop on Videopac+. Reserve your copy today!
Basque Tournament of Videopac G7000
2020-05-24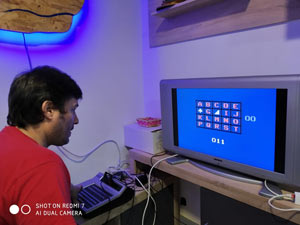 In May of 2020, a small Videopac tournament was held in Basque Country in northern Spain. The organizers hope to make this a regular occurrence. Check out this article for some photos and to see the leaderboards.
Thanks to Egoitz Campo for the write-up. Hopefully Basque Country will see even more Videopac action in the future!