The excitement of a game...
The mind of a computer!



News Archives »
2013-05-12
Hop on Board the Piggyback Planet!
Odyssey² and Videopac homebrew publisher Videopac Is @live has been hard at work lately! Their latest offering, Piggyback Planet! by Rafael Cardoso, is a horizontal space shooter with a feature very rare in the O2 world: a boss battle! Here are details from the release announcement:
A new release for Odyssey² and Videopac+ is coming in June: PIGGYBACK PLANET! by Rafael Cardoso. Limited run of 25 copies (each version).

You can pre-order NOW and you could pay 29€ for your copy by PAYPAL to videopac.is@live.be

You can choose the shipping method:
Europe: 6€ or 10€ with tracking
World: 8€ or 12€ with tracking.

Each version of the game contains the same program stored inside the cartridge. The label, the instructions booklet, the indexcard (Odyssey²) and the back cover (Videopac+) are different.
Owner lists are available at the Videopac Is @live site. If you want one, hurry! Not many are left!
2013-01-06
New Revival Studios Release:
Stairrunner
!
Revival Studios, which has been cranking out new O2/Videopac releases left and right, has another new game starring the hapless young wizard-in-training, Wizzy. Here are the details from the release announcement:
Remember Young Wizzy?

This time around he tried practicing an elevation spell and as a result the elevators in his neighborhood are out of control!

Help Wizzy reach the top of each building and undo the damage being caused by his spell!

Use the right joystick to move Wizzy left and right. Note that after you start moving you cannot stop until Wizzy reaches the end of the floor or goes back to the start of the floor. Wizzy will automatically climb the stairs at the end of each floor.

Game features:

Playable on Videopac and Odyssey² consoles
Different Videopac+ backgrounds for each level
Digitized speech using The Voice add-on
Internet high-score uploading
Online rewards system
Stairrunner is available now on cartridge for 39 euros + 5 euro S&H. An additional plastic Videopac box is available for 5 euros. Fans that own Revival Studios' other Videopac games will receive a 4 euro discount!
For more information about the game, including screenshots, packaging shot and more, check out Revival Studios'
Stairrunner page
.
2013-01-01
A New Multicart for a New Year!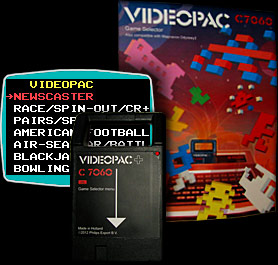 Odyssey² and Videopac tech wiz René van den Enden has produced a new multicart packed with rare prototypes and homebrew games. Dubbed the C7060 Game Selector, this one cart boasts over 200 games, including the legendary prototype Sherlock Holmes and recently discovered titles like Himalaya and Linguaduc. It also contains an exciting feature that previous multicarts have not had: an on-screen menu for selecting games, complete with a search function!
Here are some more specifications from the release announcement:
Contains more than 200 games
Contains all Philips Videopac and Magnavox Odyssey² games, and a lot of prototypes and homebrews
Contains several games that haven't been available before on a multicart or the Internet
On-screen game menu
Works on all Videopac, Jopac and Odyssey² consoles
Works with The Voice
Automatic PAL/NTSC selection for some games
Search function
only new PCBs, new EPROMs and new components have been used

The complete game menu can be found here.
In addition to the C7060, René and Bas Kornalijnslijper worked together to produce the Voice+ Module, a hardware "extender" which allows The Voice unit to function on a Videopac+ G7400. Unfortunately all Voice+ Modules have already sold out, but the hardware gurus are considering a second run if there is enough demand.
You can order your C7060 Game Selector and inquire about the Voice+ Module at this post over at the Videopac.nl forums.
Thanks for your hard work, René and Bas!
2012-11-27
Interview with O2 Case Designer Jay Rogers
A few weeks ago, I had the pleasure of speaking with a genuine Odyssey² veteran over the phone: Jay Rogers, who worked as a plastics designer for Magnavox in the late '70s and early '80s. Jay was part of the approximately ten-person design team responsible for the Odyssey² mainframe's physical shape, and he also helped design The Voice of Odyssey². In a phone conversation, he was kind enough to answer a number of questions and share many stories from his time at Magnavox. Each one will be of interest to Odyssey² fans. Ever wonder what inspired the shape of the system's famous cartridge handles? Now you can find out!