The excitement of a game...
The mind of a computer!



News Archives »
2014-03-30
jo2emLauncher 1.2.1 Released
Version 1.2.1 of jo2emLauncher, the Java-based O2EM frontend, has just been released. The main new feature of this release is integrated PDF viewer for manuals. Also the "getting started" section of the readme file has been enhanced. Go to the jo2emLauncher SourceForge page to get it.
2014-03-21
Go Wild for WILDLIFE!
WILDLIFE!, the newest Odyssey² homebrew game, is now available! You won't want to miss this "jungle adventure" game, inspired by the Atari classics Pitfall! and Adventure. Here is the announcement:
2600 Connection is proud to release WILDLIFE! , the latest Odyssey²/Videopac game from Rafael Cardoso.

Here is a description of the game:

Somewhere in the middle of the Brazilian jungle, Josué Jorge is lost and nearly at his wit's end, but the thought of finding the Holy Grail keeps him going.

His quest will not be easy, for many dangers await him – wild natives, killer crabs, abandoned bonfires... and the deadliest of them all – "The Aquarium" – a secret underwater series of passageways.

Hold your breath and swim fast, but do not touch the walls of the underwater passageways. You can do this! But beware... lethal clown fish are protecting something shining there in the depths below. Could it be the Holy Grail?

Stay focused! There is time, but you must be quick and you must be careful. Good luck on your quest for the Holy Grail, Josué Jorge! You'll need it!

WILDLIFE! is a limited release of 100 serial-numbered games. ( 1 of 100, 2 of 100, 3 of 100, etc.)

Pricing is $25 plus shipping ($6 for shipping in the USA, $15 for everywhere else in the world)

Includes cartridge, manual, and clear plastic storage box.
For more information, please visit the official web site.
2014-03-06
Restoring Old, Scratched Videopac Boxes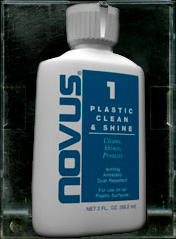 As most Odyssey and Videopac collectors know, the hinged plastic boxes used to distribute games in Europe, Brazil and Canada are extremely susceptible to scuffing and scratching. Now, some 30 years after they were manufactured, it's tough to find boxes that aren't covered with hundreds of tiny surface scratches, making them appear cloudy or dirty. Unfortunately, normal cleaning methods don't help much.
It may not seem like plastic can be polished, but it turns out that suitable compounds do exist. NOVUS Plastic Polish is perhaps the gold standard of such products, and it's capable of cleaning everything from CDs to motorcycle windscreens. But how well does it perform on the notorious Videopac boxes? To find out, I tried a little experiment. You can read about my results here. My conclusion in brief: NOVUS produces a noticeable improvement, but won't completely restore your boxes, and using it takes some effort. Read the article and view some before-and-after photos to decide whether it's worth using for your Videopac collection.
2014-03-03
jo2emLauncher 1.0 Released
Version 1.0 of jo2emLauncher, the Java-based O2EM frontend which can run under Linux, is available. This version includes:
Cover display
Screenshot display
O2EM parameter
O2EM launch
Joystick calibration
i18n
The release was announced in this blog entry.
Version 1.2 is coming soon, and will include PDF manual display integrated in the launcher, a full icon set, and more internal enhancements.
Version 1.0 can be downloaded at the jo2emLauncher SourceForge site.