2010-09-27
Catching Up… With Power!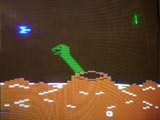 I haven't been updating the site much lately, but it's not for lack of things to add. I've been collecting new information and pictures for a long time, but honestly I've done a really poor job of keeping it organized. So when I find time to update the site, I have a hard time figuring out what to do next. I've been trying to organize everything, but that project has pretty much gone nowhere. There's just too much!
I finally just decided to dive into my pile of data and post whatever I noticed first. And first on my list are some Power Lords photos from a past prototype auction. A screenshot and cartridge scan has been added to the Atari 2600 Power Lords entry in the Games Database. Also added is this photo of Power Lords dealer advertisements, which applied to the Odyssey² version of game, as well as the unreleased Atari and Coleco versions. Take a look, and watch for more updates to come!
What do you know? I found time to update the site!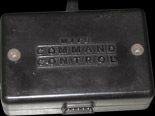 One of the rarest, commercially-produced items for the Odyssey² is the WICO Joystick Adapter – a small box that allows you to use Atari 2600-compatible controllers on your detachable-joystick model Odyssey² console. This thing is so uncommon that I've never even seen one before, yet somehow a reader named Brandon Opdahl managed to score TWO of them. What's more, his two adapters have differing part numbers and identifying stickers. He was kind enough to send me several photos, which I've added to a new page in the Collectibles section. Thanks Brandon!
I actually have a lot of cool things like this that I need to add to the site, but I've done a very poor job of keeping track of it, so I'm not sure exactly what I have. My next project is to organize all the contributions I've received recently and begin adding them. Stay tuned!
2010-02-24
Reviews Revived
Over the course of the past few site updates and server changes, a few of the Game Reviews had become lost. I still had copies of the review text, but never got around to re-posting them. But over the past few days, I finally took care of it. The old reviews are back, and I also posted a few new ones that I had written earlier but hadn't yet published.
While doing this, I also restored the three In-Depth Reviews, which had been offline for a while. Now you can enjoy reading about the fantastic depths of Quest for the Rings, the ultra-violence of Showdown in 2100 A.D., and the brain-busting grade-school challenge of I've Got Your Number. I even re-coded the I've Got Your IQ Number Intelligence Test, which is good for a chuckle if you haven't taken it before.
I must say, while re-coding the IQ test, I realized how just old this site is. The IQ test is something I wrote to help teach myself JavaScript back in 1998. It required frames, which I don't want to use anymore, so I rewrote it using the awesome jQuery library. Before that, I hadn't touched that code in probably 10 years. It's hard to believe the site has been around that long!
2010-01-08
Get Your Kicks... On Route 66+!

In 2007, programmers Rafael A. Cardoso da Silva and René van den Enden produced a homebrew racing game called Route 66. An extremely limited cartridge run was produced, and unfortunately not all collectors who wanted the game were able to obtain it.
Now, Classic Consoles Center has teamed with Rafael and René to rectify this situation by producing a new 100-cartridge run of the game. The latest version, dubbed Route 66+ features enhanced background graphics when played on Videopac G7400-compatible machines (the game will still work on normal Videopac and Odyssey² machines as well, only without the fancy backgrounds). Route 66+ also features support for The Voice module.
Route 66+ comes with both Videopac- and Odyssey²-style labels and box inserts, so you can make it look appropriate for your part of the world. The game costs 29 Euros plus shipping. Motor on down to the Classic Consoles Center web site to place your order today!
2009-11-18
O2 Sound Chip Analysis
Plogue.com's chipsounds is a software synthesizer that emulates a number of 8-bit-era sound chips, including the Odyssey²'s (the P824X). This chipsounds blog post describes the hardware analysis of the P824X that led to its inclusion in the synthesizer. The post is highly technical, but it may be useful to anyone interested in Odyssey² sound architecture or chiptunes in general. I added a link to it in the Off-Site section of the Articles page. Thanks to Justin for the heads-up!
After sending that link, Justin pointed out that the information on the Emulation Resources page was really out-of-date. Sorry about that. It has now been updated. Thanks again Justin!
2009-10-18
Tag, You're It!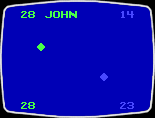 Bas Kornalijnslijper of the Netherlands, who was responsible for the recent prototype reproductions of Spider-Man and Melrep, has struck again! The newest cartridge release is Play Tag, a Videopac prototype that is finally seeing the light of day after a surprisingly long history. Longtime classic game collectors might remember a game that was sometimes listed in rarity guides as "Plantage." I'm fairly certain that Play Tag is that game. It was discovered at a Dutch flea market way back in November 1996 and soon found its way into the hands of a Videopac collector. Other than the fact that it was a "catch" game, little information surfaced about the prototype. Eventually, a screenshot or two and even a short video clip appeared on some European web sites, but those sites eventually went offline the game all but fell off the radar screen. Now, thanks to Bas, this rather obscure (and, from the looks of the screenshots, fairly primitive) Videopac prototype is getting a proper release, complete with Videopac-style cartridge label and custom, oddly streetwise box art.
Play Tag is being released as Videopac #69, and will be limited to a 69-copy run. The cost is 25 Euros (about $37 US) plus shipping. Order your copy at the official web site.
2009-08-17
Welcome To The Next Level!!
If you found your way here, then you probably already saw that I've had to switch web hosts. Months ago, GameSpy/IGN (the parent company of my old host, ClassicGaming.com) announced that they were terminating all their web hosting services as of August 31. So that put me in a position of needing to find a new host, something I hadn't had to do for about 10 years (has it really been that long?!). Coincidentally, this happened at the same time I was trying to find a new home in Real Life. But luckily, I was offered hosting here at The-NextLevel.com, which many of you will know from their excellent forums and articles about the gaming industry. Nick, the managing editor, assured me that my old Odyssey² site would have a nice home here and helped me get things set up. I've just about gotten everything moved over now -- and just in time too; not only is the ClassicGaming hosting shutting down soon, I am closing on my new home this week! If you've been wondering why the site has been so quiet lately, that's why. It's been a busy summer!
I'd like to thank Nick and Jason at The-NextLevel for their help, and I'd also like to thank Marty Goldberg of Atari Gaming Headquarters for his offers of help. And while I feel it's a shame that ClassicGaming.com won't be hosting fan sites any more, I'd like to thank them for hosting me for so long. It was fun while it lasted. I hope all of the other former ClassicGaming sites will continue in new homes. They were some of the best ones out there!
I've moved the entire O2 Homepage to The-NextLevel's servers, and ran some batch updates to make sure that most of the links still work. I'm sure a few still don't. I know that many of the links in the old news stories, for example, won't work until I have a chance to update the database. I'll fix broken links as I find them. Since I am moving very soon, I probably won't be updating the site much in the next few weeks. But after that I want to get back to it. I've really missed working on it.
Anyway, Welcome to the new place!
2009-01-07
Contact Broken; Contact Reestablished
I've just become aware of a bug on the Contact Page. The bug was preventing me from seeing the email addresses of people who used the form. This was a major problem, because it meant I couldn't send a reply!
The bug has been fixed now. If you've tried to contact me using the form and are expecting a reply, please Contact Me again. I should be able to reply this time! Sorry for the inconvenience.
2008-12-28
Attack of the Timeline!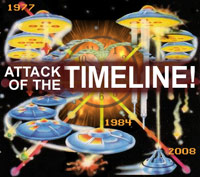 I am pleased to announce The Odyssey² Timeline!, a detailed chronology of events throughout Odyssey² and Videopac history. The Timeline traces O2 happenings from the console's beginnings in 1977, through its death in 1984, all the way to its "second life" with the homebrew releases of today. All the important dates are here: the exact day Ralph Baer saved the O2 project (Aug. 10, 1977), the date K.C. Munchkin was banned by court order (Mar. 2, 1982), the day Odyssey² was announced in Japan (Sept. 30, 1982), and many more. Naturally there are many less important dates too, such as when the Great Game Giveaway ended or when Philips filed a patent application for the Odyssey3 hand controller. All in all, there are over 130 dates in the Timeline, each one carefully researched.
The Timeline is the largest research project I've ever conducted for this web site. I've been tracking down dates on and off for about three years now, each one revealing a small part of how Odyssey² history actually played out. It's really been fascinating. Many of these dates were unexpectedly hard to find, which probably shouldn't be too surprising considering that they happened about 30 years ago! The Internet -- not to mention my being married to a librarian (thanks Lori!) -- really helped. However, despite all the time I've spent working on this, I know there are many dates waiting to be added. As it is now, the Timeline is fairly centered on events in the U.S.A. One of my next projects is to begin looking for European and Brazilian dates. In the meantime, please enjoy a trip through time with the Ultimate Video Computer Game System!
2008-12-28
The Real Munchkin: Revealed!
One of the more interesting tidbits I uncovered while researching The Timeline is that a long-known piece of Odyssey² trivia is actually incorrect. For several years, it's been established that K.C. Munchkin was named after Magnavox President K.C. Mencken. This piece of trivia was revealed in an interview with none other than Ed Averett, the game's programmer. Turns out that we had the name wrong all this time. Magnavox's President was actually named "Meinken." His full name was Kenneth C. Meinken, Jr. (I was never able to find out what the "C" stood for). An alumnus of the University of Pennsylvania, Meinken became President of Magnavox sometime between 1978 and 1980. He went on to become an executive VP at North American Philips, and eventually retired to Florida. Sadly, he passed away on April 25, 1999. However, his name (or at least his initials) live on in the name of our favorite munchkin. I've updated the Odyssey² Essentials FAQ with the correct name (and to include a G7400 list correction sent to me by an alert reader -- thanks Peter!).
I realize it's been a little while since my last site update, but it's not because I haven't been working. First, I restored the "Region" pages to the Games Database. These pages provide general information about how games were released in different parts of the world. Click on a region in the GamesDB sidebar or search for one to read more about it.
But more importantly than that, I have restored the FAQs section, the last area of the site remaining to be put back online. The reason I saved this section until last is that I have been working on a brand new Odyssey² FAQ, which I felt was necessary since Robert Kaiser's old O2 FAQ hasn't been updated for so long. That FAQ, while very good for its time, devoted a lot of space to game listings -- an effort better served today by online databases and so forth. So I created a more traditional, question-and-answer style FAQ containing all the important things you need to know about the Odyssey², such as its history, how to hook it up to a TV, what "Videopac" means, and so on. I call this the Odysey2²/Videopac "Essentials" FAQ, and you can read it here. I spent several weeks researching this FAQ, and learned quite a few things I didn't know before! It's been 99% ready for quite a while now, but I've finally gotten around to finishing it.
Interesting note: While researching this FAQ, and with the help of fellow posters at the Videopac.nl forums, I've been able to finally identify GST Video, the company responsible for several of the late-release Videopacs. Turns out it was a division of UK development firm General Systems Technology, which is still around today (kind of). More information can be found in the FAQ, and if you're interested to see how we found GST, read the forum thread.
2008-10-31
New CCC Site Unleashes Martian Threat!
Dieter König's Classic Consoles Center, which has previously produced cartridge runs of Videopac prototypes such as Tutankham and Spider-Man, recently announced a new cartridge release! When Marco Kerstens discovered this prototype in 1996, its real title was unknown. The word "Jake" appeared on the title screen, so the game became commonly known by that name. In recent years, documents for the game -- including a typewritten manual -- have surfaced, proving that the final game title was to have been "Martian Threat." (Jake is probably the name of the game's programmer, GST developer Jake Dowding.) CCC's release of Martian Threat includes a cartridge with an original style-label, an original-style manual in English, and an original-style inlay for a Videopac+ plastic box. The cost is 29 Euro plus shipping. Only 100 copies have been made, so go order it now!
While you're there, take a look around at the brand new, redesigned Classic Consoles Center web site! Featuring a cleaner new design and brand new forum, CCC aims to create the largest PAL classic gaming community worldwide!
2008-10-06
MelRep Released!
The prototype game known as "MelRep" has been released! MelRep, you may recall, is a number puzzle game discovered by Dutch collector Bas Kornalijnslijper back in 2004 (the real title is unknown; the nonsense word "Melrep" was written on the EPROM label and became the game's de facto name). Now, thanks to efforts from Bas and other collectors, MelRep is being given a limited cartridge release as Videopac 68, complete with English manual and Videopac-style label and box insert! Only 68 copies are being offered. The game is PAL, but supposedly runs with only minor cosmetic issues on NTSC machines. The cost is 25 Euros plus shipping from the Netherlands. Click here to order your copy before they're all gone! Thanks to Bas for making yet another "lost" prototype available.
2008-05-13
More Sections Return!
Surprise! More site sections are back up! Say hello to old friends:
These would have been back online sooner if I hadn't had to spend so much time fixing bizarre Internet Explorer CSS bugs. Oh, IE, why must you make life so difficult? Nevertheless, I'm glad to get these sections back up. The In-Depth reviews aren't really linked anywhere yet, but I'm working on it.
Isolated links and images are still broken throughout the site, and a few pieces of old content (like some game reviews) are still missing, but all the major site areas should be back now except for the FAQs section. I've saved it for last because, frankly, a lot of the information in it was out of date anyway. I'll do something to update it before I bring it back.
The site's almost completely restored now, can you believe it? I can't wait to finish it because I'd rather be adding new content instead of endlessly cleaning up old stuff. I've got some ideas... stay tuned!
2008-04-14
Media Returns... Mostly
Work continues on bringing back the old sections of the site. I've managed to get the Media section back online for the most part. You'll notice a fair number of broken links and missing images in it right now, but that is primarily because of other old content that hasn't been restored yet. My plan right now is to restore the old sections as best I can, then update old or outdated information, then troll the site to find and fix broken links, then start filling in missing information in the site's database, and then, hopefully I can start adding some actual new content. It'll take a while. In the meantime, there's a new "random image" feature on the Box Scans, Cartridge Scans, and Screenshots Media pages that's worth checking out.
Never fails... apparently the Contact Me page is having some technical difficulties, as is the form to submit game ratings. I'm aware of it and will try to get everything fixed soon.
2008-04-08
The Site Is Not Dead!
Hey, how about that, I finally got around to my poor, neglected web site. That was the longest dead time the site has ever gone through, and I apologize. If you care, the delay started when ClassicGaming mandated that hosted sites could no longer use vertical skyscraper banners. The only banner size left that wasn't totally obnoxious was the the 720-pixel-wide Flash leaderboard banners. Unfortunately, even that didn't fit in with my old 640-width site design. Almost nobody uses 640x480 resolution anymore, I reasoned, so maybe I should bite the bullet and redesign the thing. I'd been wanting to do it anyway. And what the heck, maybe I could fix some of my slipshod PHP coding while was at it.
Well, all that takes time and energy, and those are two things I just don't have as much of as I used to. This site has been online for over 11 years now. I started it as a wide-eyed college kid who could sleep 15 hours a day, play video games until 3 a.m., and still find enough time to bang out a two-page web site using HoTMetal and Paint Shop Pro 3.11. Now I am an adult with a full-time job and the web site is way bigger than it was in 1997. The sad reality is that I just can't devote myself to it like I used to.
But I'm not willing to let it go away. It took me a really long time, but I finally finished the redesign, and ported all the content that was previously ported to PHP, plus a little extra. Here are the sections that are currently up:
Some of the Game Reviews are being rewritten by the way. I originally wrote most of them in the very early days of the site, and they were so brief as to be almost pointless. The new ones should be more entertaining. There are also one or two new collectibles listed. I know of more, but you have to start somewhere.
At the risk of sounding like a broken record, the rest of the site will be coming back too, eventually. And maybe I can even get back to posting regular news updates one of these days. But in the meantime, keep an eye on Videopac.nl; it seems to be where most of the O2/Videopac action is on the 'Net these days.
By the way, I'm retiring my old Yahoo email address as it has been utterly harvested by spammers. I'll keep checking it for now, but if you want to contact me in the future, use the new Contact Me Page. I've hidden my new email address behind a verification form this time. Lousy spammers.
So there you have it. The site may have slowed down a lot but it will live on. Thanks for sticking around!
2006-12-10
The Games Database and I Have Returned!
Well, the site's been a bit stagnant lately, and I'm sorry about that. You see, months ago I innocently turned my attention to bringing over the Games Database to the new site. While doing this, I noticed that A) The old database schema was pretty bad, B) There was a lot more information I could include by revamping the schema, and C) How long could such a revamp really take? Famous last words, eh? Actually, revamping the schema went fairly quickly. I busted out Microsoft Visio and PHPMyAdmin and had something basic working within a week. What's been taking me so long is adding all the new data. Thanks to diligent researchers like Maurice Simon and online forums like those at
Videopac.org
, there is a
lot
more Odyssey² information available nowadays, and it's really taking me a long time to sift through all of that knowledge. I've also had some unfortunate setbacks in terms of personal and work-related busyness and a strained trapezius muscle that makes it uncomfortable for me to use a computer. So this project is taking me a lot longer than I had anticipated.
Following one delay after another, I've decided to go ahead and "launch" the new
Games Database
even though it's still missing a lot of data. Until I finish adding everything, you'll see it reporting some crazy things, like there are no known boxes for games released in Brazil (of course there are; I just haven't added them to the database yet). But there are a lot of improvements too, including:
Ability to more easily share information between related games
Ability to list game and cart variations even if photos are not available
Better, more modular layout
More advanced search capability
Easier to maintain and expand
Overall, this database is just designed better, which gives me the opportunity to do more with it in the future. The hard part is finding the time to do everything! But in the meantime, please
head on over
and take a gander at what's there so far. Normally I'd ask all my readers for contributions and error reports, but there's not much point to that yet since I already know of so much that needs to be added. I'll keep working on it, although I'm probably going to turn my attention to other sections first. There's still so much content I need to bring over from the old site; I should probably have finished that before getting distracted with the database. Oh well, live and learn.
Incidentally, I've also been organizing my O2-related photos and I have some cool stuff to add to the site when there's a place to put it. All of it WILL be added eventually -- I promise! Thanks for your patience.
2006-06-25
Articles Section Back Up
I've finally managed to bring another section back online:
Articles
. Sorry this is taking me so long. The articles themselves went fairly quickly, but I ran into some problems with the image viewer page (due to my relative ignorance of PHP, I'm afraid). But I'm making progress!
I'm probably going to turn my attention toward the Games Database next. I have most of the data in place already, although I'm taking this opportunity to improve the database schema a bit. Hopefully things will start to go quicker from now on.
2006-06-25
Calculator Is Coming

Having trouble with the subtraction problems in
Math-A-Magic
? Well, soon there will be an Odyssey² program to help you. It's called
Calculator!
and it's coming soon from
Packrat Video Games
. This "application" cartridge was developed by René van den Enden and boasts artwork by Earl Green and a manual by David Flemming, and contains special features when played with a Philips G7400. The folks behind
Calculator!
have been a bit mum regarding details, saying only that "it does more than a typical calculator." Hmmm. But at only $16.95, at least it won't cost much to find out what. Finally, you can harness the awesome power of the O2 microprocessor to balance your checkbook!