RSS
|
News Archives
Interview: Videopac Programmer Göran Öhman
2014-10-08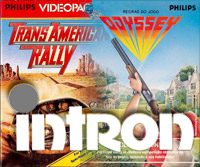 A little while ago, a download called VpacApp appeared on the Google Play Store. It was a Videopac emulator for Android. That alone made it interesting, but what really made it stand out was that Philips had given permission for some game ROMs to be distributed with it.
Upon contacting the author, I learned why. Göran Öhman programmed some of those games back in the day. In fact, he could well have been the last original Videopac programmer. As an employee for Intron AB, a small firm based in Stockholm that developed Videopac games for Philips, he programmed Trans-American Rally and Clay Pigeon, which were among the last games released anywhere. He also helped with the Videopac translation of Frogger.
I asked Mr. Öhman a few questions about his time at Intron, which he was kind enough to answer. I have now placed that conversation online. Unfortunately, in the time since then, VpacApp has disappeared from the Google Play Store. I don't know why, but here's hoping it returns soon. In the meantime, please read the interview to learn about the stories behind the final Videopac games.
Interview with Odyssey² Legend Ed Averett
2014-09-25
As I posted here a few days ago, Ed Averett, who programmed nearly half of the original Odyssey² library, made an extremely rare appearance at Classic Gaming Expo 2014. There, he held the first public presentation he's ever given on the Odyssey². It was an extremely informative hour, filled with stories and details of the early days of our favorite console. Before the talk though, I was able to sit down with Ed for a quick interview. We touched on a number of the same topics that would later be covered in his talk, but some additional details can be found in our conversation. I have now transcribed the interview for all to read.
I'd like to once again thank Ed for appearing at CGE and sparing a few minutes to answer my questions. I could have asked a hundred more if there had been time. Still, I'm grateful for the opportunity to finally speak to the man so responsible for the video game system I grew up playing.
Coleco Pink Panther Programmer Interview
2014-09-20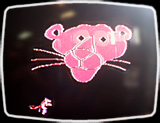 Some months ago, a person with the online handle "retroren" made a wonderful discovery. His next-door neighbor had worked as a salesman for Philips. He still had in his possession a box of materials from circa 1983 – including a prototype Odyssey3 console, voice module and modem; sales displays for the ColecoVision game War Room; prototype versions of War Room, O2 Turtles, O3 Flash Point, and Atari 2600 Power Lords; and more. It was all great and valuable stuff, but stuff that had been previously discovered elsewhere, if sometimes in different versions. However, there was one item nobody had seen before: a prototype of Pink Panther for the ColecoVision.
Retroren went to work, hunting up more information and tracking down a functioning ColecoVision console. When he powered up the game, the title screen read: "The Adventures of the Pink Panther, Written By Randy Green." Suddenly there was a name behind the game. This led to more detective work. Retroren found Randy online and, since I was helping in a small way with the research, graciously put me in contact with him. We talked about Pink Panther and his days at Philips over the phone. It's taken me a while to get the work done, but I've finally written up my notes from that conversation. Randy reveals new details about the end of Philips's video game division as well as the Panther's fate.
I know some people have been waiting for me to publish this for some time and I'd like to apologize for the delay. For whatever reason, I was just unable to sit down and make myself finish it. Writer's block I suppose. However, I have so much content starting to build up now that I can't procrastinate any longer. Due up next, please look for my notes on Ed Averett's talk at CGE 2014. I'm working on them right now. Since it's Pink Panther related, I'll mention it here: I asked Mr. Averett if he actually worked on an Odyssey² version of the game, as is rumored. He did not. He said that Sam Overton worked on it, but he probably just meant that Sam's group was responsible for it – Ed had stopped programming O2 games by that time. Randy did not know if any work on the the O2 version was done. So unfortunately we still don't know anything about that game's status. At least now you can read the Randy Green interview to learn more about the ColecoVision version.
Ed Averett Presents at CGE 2014!
2014-09-18
Ed Averett, who programmed nearly half of the original Odyssey² library, made an extremely rare appearance at Classic Gaming Expo over the weekend. On Saturday, he even gave a presentation titled, "Magnavox Odyssey 2 Software History: The Good, The Bad & The Ugly." This was a unique opportunity for O2 fans to meet and ask questions of the man who arguably is the most responsible for the console's success.
I was fortunate enough to be there and meet Mr. Averett in person. I was impressed by how friendly, well-spoken and obviously smart he is. He autographed a copy of Alien Invaders—Plus! I had with me, and even agreed to a quick interview before his presentation. I recorded the interview and will post the contents here once I get a chance to transcribe it.
The crew from Now You're Playing With Podcast was there as well, and they've posted the raw audio from Averett's presentation, which was recorded by William Culver. The talk was filmed by others as well; hopefully the full video will be posted eventually. In the meantime, I urge all O2 fans to listen to the audio from the presentation. It's a treasure trove of info from the man who knows it best... and you won't want to miss the big news concerning the future of our favorite Munchkin!
2600 CONNECTION to Release NICE ICE!
2014-09-16
2600 Connection has announced its latest Odyssey² release – Chris Read's NICE ICE: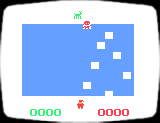 2600 Connection, who published GOSUB, GOSUB 2, WALLS, and WILDLIFE, will release NICE ICE for the Odyssey² / Videopac on November 15, 2014 – just in time for Christmas!
Programmer Chris Read delivers again with a great little holiday-themed game for the Odyssey² / Videopac.
In the game, you play the role of Santa Claus. An evil elf named Eli has freed Santa's reindeer and now they have flown to the other side of Santa's magic pool. What's worse is that Santa doesn't even know how to swim! Lucky for him, there are floating chunks of ice that Santa can use to cross the pool and rescue the reindeer back to safety. But that evil elf will try to stop Santa because he hates Christmas! How many reindeer can you help Santa save?
NICE ICE will sell for $25 (plus $6 shipping in the USA) and $25 (plus $15 shipping for everywhere else in the world).
Enter the Box and Label Artwork Design Contest to Win NICE ICE (Serial #1 of 100)!
That's right! Submit your artwork in an email to timdu AT hotmail.com. JPG or BMP format is fine.
Artwork submission deadline is November 1, 2014. The grand prize: a free game of NICE ICE! (serial #1 of 100)
What are you waiting for? Get your Christmas music out of storage and play it, deck the halls, roast some chestnuts on an open fire, get in the holiday mood, and CREATE! Good luck!
For more information on the game or the context, please visit the NICE ICE web site.
Return to the Depths in GOSUB 2!
2014-07-15
2600 Connection, publisher of several homebrew Odyssey² games, has announced their next release: a sequel to 2012's GOSUB!. Here is the official announcement:

2600 Connection is proud to release GOSUB 2 for the Odyssey²/Videopac system. Here is a description of the gameplay:
After hearing about more treasure on a nearby coast, you hop in your trusty submarine and take off. The treasures are still located in caverns of coral, so you'll have to be careful in the 20 levels of undersea action in this game!
Take control of your submarine as you travel through the caverns in search of the exit. Oh no! You seem to have attracted the attention of one of the local denizens – a giant octopus! He pursues you from level to level. Your submarine is armed with a torpedo. It's too small to kill the octopus, but it will drive him away for a short while. Can you make your way to safety? Or will you find your final resting place under the sea? Best of luck in your quest for riches!
GOSUB 2 was programmed by Chris Read. Chris is also the programmer and designer of GOSUB! for the Odyssey²/Videopac system. (GOSUB! was also published by the 2600 Connection and quickly sold out in the summer of 2012.)
The price of the game is $25 (U.S. dollars) and shipping. ($6 for USA addresses, $15 everywhere else in the world.)
A manual is included as well as a clear plastic storage box. A limited run of 100 boxed, serial-numbered cartridges of GOSUB 2 were produced. The cartridges are compatible with both NTSC and PAL systems.
For more information, please visit the 2600 Connection's GOSUB 2 page.
Odyssey² Homebrews in Atari2600Land
2014-07-15
In yet another example of how time and the Web have blurred the once-clear lines separating video game consoles, a programmer using the Internet handle Atari2600Land has become a prolific author of Odyssey² games. (You may know Atari2600Land better as Chris Read, author of GOSUB! and the brand-new GOSUB 2.) Retrogaming site hit8b.it has provided a quick roundup of Atari2600Land's new games, including GOSUB 2 and the awesomely-titled The 50 Foot Tall Stalk of Celery. Read it here.
New from Revival Studios: Down! and Mage 3
2014-06-03
Revival Studios, producer of numerous Odyssey² and Videopac homebrew games, has several exciting offers for O2 fans.
First up (pardon the pun) is Down!, Revival's latest homebrew game. In this twitch game, you must maneuver your character through gaps in a vertically-scrolling maze with split-second timing. Here is more information about Down! from Revival's official announcement:
Your village is under attack! Fleeing into the depths of the caves, there is only one way to go: Down!!!
Features:
First game to achieve smooth scrolling in multicolor!
Enhanced game graphics on Videopac+ consoles
Available for both Videopac and Odyssey²
Large animated character sprite
The Voice support
Price: 39 euros + 6 euro Worldwide S&H
Next is Revival's announcement of the third and final game in the Mage trilogy: Mage 3: The Final Journey. Help Wizzy find his father in this large world, which is four times the size of the original game!
Two years ago Wizzy started his quest to find his father in Mage: The Enchanted Crystals. Last year he got trapped between two worlds, but was able to find his way back. Now his adventure ends here in Mage 3: The Final Journey.
Gameplay:
The game plays more like Mage: The Enchanted Crystals than Mage 2: The Dark Mirror, except in a much larger world. There is also the addition of guarded treasure rooms that keep special items such as keys and checkpoint-saves. At four times the size of the original, the game is the biggest Mage game to date. It is also the first game to feature fully animated double-resolution sprites for all in-game graphics.
Game features:
Playable on Videopac and Odyssey² consoles
High resolution backgrounds on Videopac+ consoles
Large world with more than 60 screens
Fully animated Double Resolution in-game sprites
Multicolored sprites and backgrounds
Checkpoints to save progress
Guarded treasure rooms
Digitized speech using The Voice add-on
Internet high-score uploading
Online rewards system
The game will have a regular cartridge release of 80 units. The games are 39 euros each. Worldwide S&H is 6 euro. Refurbished plastic Videopac cases for the games are also available for an additional fee.
There are also 20 copies of the collector's edition for 99 euros. Since demand is high for these, you can express your interest and Revival will throw dice to determine who gets the copies and inform those selected in mid-June.
Revival is also celebrating the release of Mage 3 by offering the first two Mage games at a discount rate. Mage: The Enchanted Crystals and Mage 2: The Dark Mirror (both the "light" and "dark" editions) are available for 35 euros each. S&H is 6 euro worldwide. You will also get a FREE plastic Videopac case for the first game you order.
Important note: for some reason, Revival Studios' web site is inaccessible from many ISPs based in the United States. If you are unable to see the site, try their Facebook page instead.
Explore the Dark Dungeon!
2014-05-18
Videopac homebrew publisher Videopac Is @live has announced their latest release. The newest title is another exploration game by prolific homebrew author Rafael Cardoso: DARK DUNGEON. Here is more information from the official announcement: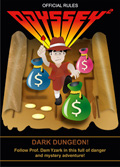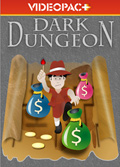 You're professor Dam Yzark and you're in the Dark Dungeon looking for treasures. As the name says, it's dark – and it also contains traps, so professor Dam needs to move carefully! All he has to help him is a collection of maps, a matchbox and great courage.
There will be two versions because the program needs a speed adjustment for the European release.
The game uses The Voice features.
Limited run: 50 copies for Odyssey² and 50 copies for Videopac+
Price is 29€ – the plastic case is not included.
A common plastic case for Odyssey² can be added for 4€ more (no cracks)
A crystal-clear plactic case for Videopac+ can be added for 8€ more (no cracks)
When you buy a complete version, you can buy the prints of the other version for 2€ more
Shipping: 7€ (11€ with tracking) for Europe
Shipping: 9€ (13€ with tracking) for rest of the world
We accept payment by PayPal to videopac.is@live.be
jo2emLauncher 1.2.1 Released
2014-03-30
Version 1.2.1 of jo2emLauncher, the Java-based O2EM frontend, has just been released. The main new feature of this release is integrated PDF viewer for manuals. Also the "getting started" section of the readme file has been enhanced. Go to the jo2emLauncher SourceForge page to get it.
Go Wild for WILDLIFE!
2014-03-21
WILDLIFE!, the newest Odyssey² homebrew game, is now available! You won't want to miss this "jungle adventure" game, inspired by the Atari classics Pitfall! and Adventure. Here is the announcement: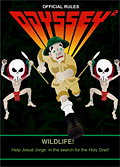 2600 Connection is proud to release WILDLIFE!, the latest Odyssey²/Videopac game from Rafael Cardoso.
Here is a description of the game:
Somewhere in the middle of the Brazilian jungle, Josué Jorge is lost and nearly at his wit's end, but the thought of finding the Holy Grail keeps him going.
His quest will not be easy, for many dangers await him – wild natives, killer crabs, abandoned bonfires... and the deadliest of them all – "The Aquarium" – a secret underwater series of passageways.
Hold your breath and swim fast, but do not touch the walls of the underwater passageways. You can do this! But beware... lethal clown fish are protecting something shining there in the depths below. Could it be the Holy Grail?
Stay focused! There is time, but you must be quick and you must be careful. Good luck on your quest for the Holy Grail, Josué Jorge! You'll need it!
WILDLIFE! is a limited release of 100 serial-numbered games. ( 1 of 100, 2 of 100, 3 of 100, etc.)
Pricing is $25 plus shipping ($6 for shipping in the USA, $15 for everywhere else in the world)
Includes cartridge, manual, and clear plastic storage box.
For more information, please visit the official web site.
Restoring Old, Scratched Videopac Boxes
2014-03-06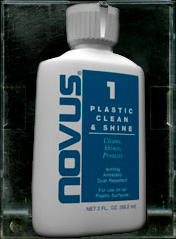 As most Odyssey and Videopac collectors know, the hinged plastic boxes used to distribute games in Europe, Brazil and Canada are extremely susceptible to scuffing and scratching. Now, some 30 years after they were manufactured, it's tough to find boxes that aren't covered with hundreds of tiny surface scratches, making them appear cloudy or dirty. Unfortunately, normal cleaning methods don't help much.
It may not seem like plastic can be polished, but it turns out that suitable compounds do exist. NOVUS Plastic Polish is perhaps the gold standard of such products, and it's capable of cleaning everything from CDs to motorcycle windscreens. But how well does it perform on the notorious Videopac boxes? To find out, I tried a little experiment. You can read about my results here. My conclusion in brief: NOVUS produces a noticeable improvement, but won't completely restore your boxes, and using it takes some effort. Read the article and view some before-and-after photos to decide whether it's worth using for your Videopac collection.
jo2emLauncher 1.0 Released
2014-03-03
Version 1.0 of jo2emLauncher, the Java-based O2EM frontend which can run under Linux, is available. This version includes:
Cover display
Screenshot display
O2EM parameter
O2EM launch
Joystick calibration
i18n
The release was announced in this blog entry.
Version 1.2 is coming soon, and will include PDF manual display integrated in the launcher, a full icon set, and more internal enhancements.
Version 1.0 can be downloaded at the jo2emLauncher SourceForge site.
Interpol – Now for Odyssey²!
2014-01-25
Odyssey² and Videopac homebrew publisher Videopac.is@live has announced their latest release, and this time it's not a homebrew. It is a re-issue of Interpol, an original prototype from the 1980s that was not released at the time, which remained unknown until 1999. One year later, Interpol was the first Videopac prototype to receive a reproduction cartridge release. However, only 50 copies were produced, and the game didn't work in NTSC, so many O2 fans missed out. Now, Videopac.is@live aims to rectify that with a special new issue compatible with PAL and NTSC! Here is the press release:
"Videopac.is@live" is proud to announce the release of the 1st numbered game from the eighties for Odyssey²: The number AC 9449: INTERPOL.
Programmed by GST Video but never released in the eighties, the EPROM prototype was found in 1999 in Eindhoven (The Netherlands) by Nicolas Sapin. INTERPOL was released by SILICIUM in 2000 (René Spéranza, Nicolas Sapin & Sylvain De Chantal) for VIDEOPAC, assigned number 61, in a limited run of 50 copies.
For its 30-year anniversary, INTERPOL will be adapted for NTSC by René van den Enden. The Cover (made by René Spéranza in 2000) will be revised by Rafael Cardoso, the English translation (made by Sylvain De Chantal in 2000) will be revised by Ian Baranofsky. All this is being done with the help and supervision of René Spéranza.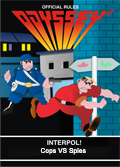 The release of INTERPOL for Odyssey² is scheduled for FEBRUARY.
Copies are already in production.
Limited run of 100 copies numbered 00/99
Both versions (NTSC &amp PAL) are in the cartridge.
Price is 26€; the box is not included.
A common plastic box for Odyssey² can be added for 4€ more (no cracks in the box)
Shipping is 7€ (11€ with tracking) for Europe.
Shipping is 9€ (13€ with tracking) for the rest of the world.
We accept paiment now by PayPal to videopac.is@live.be.
Thanks for your interest in O2/VP homebrew releases.
Visit Videopac.is@live for more.
High DPI, My Dear Watson
2014-01-23
Some years ago, I interviewed Ron Bradford, the principal artist and designer of Odyssey² box art. At the time, Mr. Bradford sent me color photocopies of the nearly-finished concept artwork for the unreleased Sherlock Holmes game – including art that would have been used for the game's box and Master Strategy game board. I scanned the copies and posted them in a small gallery of his work.
I have a better scanner now, and download speeds have improved a lot since then. I've been meaning to re-scan these pieces for some time and have finally gotten around to it. Full-size, 600 DPI versions of both Sherlock Holmes pieces are now available for download via DropBox.
Unfinished Sherlock Holmes Game Board
Your Chance to Win Wildlife!
2014-01-14
Rafael Cardoso and HighScore.com are sponsoring a contest.
The Grand prize is: Wildlife! cartridge serial #1.
The winner is whoever posts the highest score for HIGH WATER PATROL, (Rafael's previous game for the Odyssey²/Videopac). This cartridge also features a bonus game: SEA RESCUE (Voice Edition).
A color poster of the box/manual art for Wildlife will also be another prize. The winner will be whoever posts the highest score for SEA RESCUE (Voice Edition).
RULES:
Score must have passed the voting on highscore.com and hold the "Worldwide" trophy before the deadline.
The game(s) must be played on actual hardware (Sorry - no emulation).
Rafael will award the prizes.
2600 Connection will ship the prizes to the winners.
For more details about how score tracking at HighScore.com works, please visit the site.
CONTEST ENDS: February 15th at 11:59 p.m. (U.S. Central time).
If you would like to buy HIGH WATER PATROL (with SEA RESCUE Voice Edition), please contact Marc Verras at: videopac.fr.
Be sure to tell him Tim at the 2600 Connection and Rafael sent you!
Thanks to both Rafael and Tim from the 2600 Connection for this news.
Internet Archive Opens Virtual Console Living Room
2014-01-14
The Internet Archive, the online library of the information age, has opened a new section dedicated to console video games from the 1970s and early 1980s. The Console Living Room features information, pictures, and most interestingly, the ability to play the games right in your Internet browser using the JMESS emulator.
Internet Archive has apparently decided that preservation trumps copyright concerns; many ROM files are available for emulation or download. And yes, there is an Odyssey² section, featuring some information originally available on other sites, including the one you're currently reading.
As this this blog post explains, the Console Living Room is currently in beta. Some information is sketchy, and some of the emulation is problematic, but it should be interesting to see how this repository evolves over time.
Thanks to alert reader Justin for passing this info along!
Enjoy O2EM with a Hot Cup of Java
2013-12-08
Philippe Ventrillon has announced jo2emLauncher (Java O2EM Launcher), an open-source Java-based frontend for the premier Odyssey² emulator. This project is currently in beta, and has the stated goal of eventually supporting multiple platforms. The first target is Linux.
Philippe also maintains a blog related to Videopac emulation. Several posts are available in both English and French.
Terrahawks: The Second Assault
2013-11-19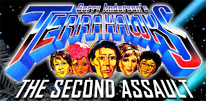 Classic Consoles Center has announced the release of a long-lost Videopac title. The history of this game requires some explanation.
As you may know, the American Odyssey² game Attack of the Timelord! was released in Europe as Terrahawks – a tie-in with Gerry Anderson's science-fiction TV series. However, in 2011, Robbert Jansen from the Videopac / Odyssey2 Forum obtained some prototype games from a former Videopac programmer. One was labeled "Terrahawks," and even though it features action set in space, it is a different game entirely than what Americans know as Attack of the Timelord!.
This "new" Terrahawks seems to be mostly complete. Perhaps it was a planned sequel, or maybe it was an original game developed in Europe for the Terrahawks license, and was dropped in favor of re-branding Attack of the Timelord!. We may never know for sure. Regardless, Classic Consoles Center has rechristened the game Terrahawks: The Second Assault, issued it Videopac number 70, and produced a limited run of 100 cartridges.
Importantly, due to technical reasons, the game will NOT run on NTSC consoles.
The game is 29 Euros + shipping. You may order it at Classic Console Center's web site.
Protect the Seven Seas on the High Water Patrol!
2013-09-30
Odyssey² and Videopac homebrew publisher Videopac Is @live has announced a new release for October: HIGH WATER PATROL by Rafael Cardoso. Here are the details: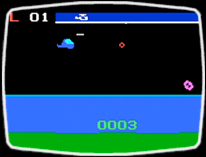 HIGH WATER PATROL: Your goal is to patrol the Seven Seas, seeking out and destroying enemy submarines. For this mission, you get a powerful helicopter equipped with lasers and bombs, in addition to GPS (Guard Patrol System).
There will be two versions because the game has "PLUS" features for the European release.
The game uses The Voice features.
Limited run: 50 copies for Odyssey² and 25 copies for Videopac+.
HIGH WATER PATROL will be launched at the Retro event 2013, held on Saturday the 26th of October in Elst, Gelderland, Netherlands. If you don't pick up your copy at the Elst Event, your copy will be shipped on Friday, the 25th.
A bonus game will be included on HIGH WATER PATROL cartridges: SEA RESCUE VOICE EDITION (an easier version of Rafael's earlier game).
The price for HIGH WATER PATROL is 29€ ‐ the box is not included.
A common plastic box for Odyssey² can be added for 4€ more (no crack).
A crystal clear plactic box for Videopac+ can be added for 8€ more (no crack).
Shipping is 7€ (11€ with tracking) for Europe.
Shipping is 9€ (12€ with tracking) for rest of the world.
PayPal payments can be sent to videopac.is@live.be
A gameplay video can be seen here.