2014-03-30
jo2emLauncher 1.2.1 Released
Version 1.2.1 of jo2emLauncher, the Java-based O2EM frontend, has just been released. The main new feature of this release is integrated PDF viewer for manuals. Also the "getting started" section of the readme file has been enhanced. Go to the jo2emLauncher SourceForge page to get it.
2014-03-21
Go Wild for WILDLIFE!
WILDLIFE!, the newest Odyssey² homebrew game, is now available! You won't want to miss this "jungle adventure" game, inspired by the Atari classics Pitfall! and Adventure. Here is the announcement:
2600 Connection is proud to release WILDLIFE! , the latest Odyssey²/Videopac game from Rafael Cardoso.

Here is a description of the game:

Somewhere in the middle of the Brazilian jungle, Josué Jorge is lost and nearly at his wit's end, but the thought of finding the Holy Grail keeps him going.

His quest will not be easy, for many dangers await him – wild natives, killer crabs, abandoned bonfires... and the deadliest of them all – "The Aquarium" – a secret underwater series of passageways.

Hold your breath and swim fast, but do not touch the walls of the underwater passageways. You can do this! But beware... lethal clown fish are protecting something shining there in the depths below. Could it be the Holy Grail?

Stay focused! There is time, but you must be quick and you must be careful. Good luck on your quest for the Holy Grail, Josué Jorge! You'll need it!

WILDLIFE! is a limited release of 100 serial-numbered games. ( 1 of 100, 2 of 100, 3 of 100, etc.)

Pricing is $25 plus shipping ($6 for shipping in the USA, $15 for everywhere else in the world)

Includes cartridge, manual, and clear plastic storage box.
For more information, please visit the official web site.
2014-03-06
Restoring Old, Scratched Videopac Boxes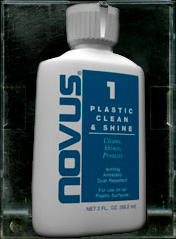 As most Odyssey and Videopac collectors know, the hinged plastic boxes used to distribute games in Europe, Brazil and Canada are extremely susceptible to scuffing and scratching. Now, some 30 years after they were manufactured, it's tough to find boxes that aren't covered with hundreds of tiny surface scratches, making them appear cloudy or dirty. Unfortunately, normal cleaning methods don't help much.
It may not seem like plastic can be polished, but it turns out that suitable compounds do exist. NOVUS Plastic Polish is perhaps the gold standard of such products, and it's capable of cleaning everything from CDs to motorcycle windscreens. But how well does it perform on the notorious Videopac boxes? To find out, I tried a little experiment. You can read about my results here. My conclusion in brief: NOVUS produces a noticeable improvement, but won't completely restore your boxes, and using it takes some effort. Read the article and view some before-and-after photos to decide whether it's worth using for your Videopac collection.
2014-03-03
jo2emLauncher 1.0 Released
Version 1.0 of jo2emLauncher, the Java-based O2EM frontend which can run under Linux, is available. This version includes:
Cover display
Screenshot display
O2EM parameter
O2EM launch
Joystick calibration
i18n
The release was announced in this blog entry.
Version 1.2 is coming soon, and will include PDF manual display integrated in the launcher, a full icon set, and more internal enhancements.
Version 1.0 can be downloaded at the jo2emLauncher SourceForge site.
2014-01-25
Interpol – Now for Odyssey²!
Odyssey² and Videopac homebrew publisher Videopac.is@live has announced their latest release, and this time it's not a homebrew. It is a re-issue of Interpol, an original prototype from the 1980s that was not released at the time, which remained unknown until 1999. One year later, Interpol was the first Videopac prototype to receive a reproduction cartridge release. However, only 50 copies were produced, and the game didn't work in NTSC, so many O2 fans missed out. Now, Videopac.is@live aims to rectify that with a special new issue compatible with PAL and NTSC! Here is the press release:
"Videopac.is@live" is proud to announce the release of the 1st numbered game from the eighties for Odyssey²: The number AC 9449: INTERPOL.

Programmed by GST Video but never released in the eighties, the EPROM prototype was found in 1999 in Eindhoven (The Netherlands) by Nicolas Sapin. INTERPOL was released by SILICIUM in 2000 (René Spéranza, Nicolas Sapin & Sylvain De Chantal) for VIDEOPAC, assigned number 61, in a limited run of 50 copies.

For its 30-year anniversary, INTERPOL will be adapted for NTSC by René van den Enden. The Cover (made by René Spéranza in 2000) will be revised by Rafael Cardoso, the English translation (made by Sylvain De Chantal in 2000) will be revised by Ian Baranofsky. All this is being done with the help and supervision of René Spéranza.

The release of INTERPOL for Odyssey² is scheduled for FEBRUARY.
Copies are already in production.
Limited run of 100 copies numbered 00/99

Both versions (NTSC &amp PAL) are in the cartridge.

Price is 26€; the box is not included.
A common plastic box for Odyssey² can be added for 4€ more (no cracks in the box)
Shipping is 7€ (11€ with tracking) for Europe.
Shipping is 9€ (13€ with tracking) for the rest of the world.

We accept paiment now by PayPal to videopac.is@live.be.

Thanks for your interest in O2/VP homebrew releases.
Visit Videopac.is@live for more.
2014-01-23
High DPI, My Dear Watson
Some years ago, I interviewed Ron Bradford, the principal artist and designer of Odyssey² box art. At the time, Mr. Bradford sent me color photocopies of the nearly-finished concept artwork for the unreleased Sherlock Holmes game – including art that would have been used for the game's box and Master Strategy game board. I scanned the copies and posted them in a small gallery of his work.
I have a better scanner now, and download speeds have improved a lot since then. I've been meaning to re-scan these pieces for some time and have finally gotten around to it. Full-size, 600 DPI versions of both Sherlock Holmes pieces are now available for download via DropBox.
Sherlock Holmes Box Art

View on Web (900 x 623 px)
Download 600 DPI Version (PNG format, 34 mb)

Unfinished Sherlock Holmes Game Board

View on Web (900 x 642 px)
Download 600 DPI Version (PNG format, 75.9 mb)
2014-01-14
Your Chance to Win
Wildlife!
Rafael Cardoso and HighScore.com are sponsoring a contest.
The Grand prize is: Wildlife! cartridge serial #1.

For more information on Wildlife!. visit 2600 Connection
The winner is whoever posts the highest score for HIGH WATER PATROL, (Rafael's previous game for the Odyssey²/Videopac). This cartridge also features a bonus game: SEA RESCUE (Voice Edition).
A color poster of the box/manual art for Wildlife will also be another prize. The winner will be whoever posts the highest score for SEA RESCUE (Voice Edition).
RULES:
Score must have passed the voting on highscore.com and hold the "Worldwide" trophy before the deadline.
The game(s) must be played on actual hardware (Sorry - no emulation).
Rafael will award the prizes.
2600 Connection will ship the prizes to the winners.
For more details about how score tracking at HighScore.com works, please visit the site.
CONTEST ENDS: February 15th at 11:59 p.m. (U.S. Central time).
If you would like to buy HIGH WATER PATROL (with SEA RESCUE Voice Edition), please contact Marc Verras at: videopac.fr.
Be sure to tell him Tim at the 2600 Connection and Rafael sent you!
Thanks to both Rafael and Tim from the 2600 Connection for this news.
2014-01-14
Internet Archive Opens Virtual Console Living Room
The Internet Archive, the online library of the information age, has opened a new section dedicated to console video games from the 1970s and early 1980s. The Console Living Room features information, pictures, and most interestingly, the ability to play the games right in your Internet browser using the JMESS emulator.
Internet Archive has apparently decided that preservation trumps copyright concerns; many ROM files are available for emulation or download. And yes, there is an Odyssey² section, featuring some information originally available on other sites, including the one you're currently reading.
As this this blog post explains, the Console Living Room is currently in beta. Some information is sketchy, and some of the emulation is problematic, but it should be interesting to see how this repository evolves over time.
Thanks to alert reader Justin for passing this info along!
2013-12-08
Enjoy O2EM with a Hot Cup of Java
Philippe Ventrillon has announced jo2emLauncher (Java O2EM Launcher), an open-source Java-based frontend for the premier Odyssey² emulator. This project is currently in beta, and has the stated goal of eventually supporting multiple platforms. The first target is Linux.
Philippe also maintains a blog related to Videopac emulation. Several posts are available in both English and French.
2013-11-19
Terrahawks: The Second Assault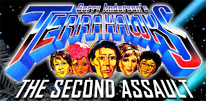 Classic Consoles Center has announced the release of a long-lost Videopac title. The history of this game requires some explanation.
As you may know, the American Odyssey² game Attack of the Timelord! was released in Europe as Terrahawks – a tie-in with Gerry Anderson's science-fiction TV series. However, in 2011, Robbert Jansen from the Videopac / Odyssey2 Forum obtained some prototype games from a former Videopac programmer. One was labeled "Terrahawks," and even though it features action set in space, it is a different game entirely than what Americans know as Attack of the Timelord!.
This "new" Terrahawks seems to be mostly complete. Perhaps it was a planned sequel, or maybe it was an original game developed in Europe for the Terrahawks license, and was dropped in favor of re-branding Attack of the Timelord!. We may never know for sure. Regardless, Classic Consoles Center has rechristened the game Terrahawks: The Second Assault, issued it Videopac number 70, and produced a limited run of 100 cartridges.
Importantly, due to technical reasons, the game will NOT run on NTSC consoles.
The game is 29 Euros + shipping. You may order it at Classic Console Center's web site.
2013-09-30
Protect the Seven Seas on the High Water Patrol!
Odyssey² and Videopac homebrew publisher Videopac Is @live has announced a new release for October: HIGH WATER PATROL by Rafael Cardoso. Here are the details:
HIGH WATER PATROL: Your goal is to patrol the Seven Seas, seeking out and destroying enemy submarines. For this mission, you get a powerful helicopter equipped with lasers and bombs, in addition to GPS (Guard Patrol System).

There will be two versions because the game has "PLUS" features for the European release.
The game uses The Voice features.
Limited run: 50 copies for Odyssey² and 25 copies for Videopac+.

HIGH WATER PATROL will be launched at the Retro event 2013, held on Saturday the 26th of October in Elst, Gelderland, Netherlands. If you don't pick up your copy at the Elst Event, your copy will be shipped on Friday, the 25th.

A bonus game will be included on HIGH WATER PATROL cartridges: SEA RESCUE VOICE EDITION (an easier version of Rafael's earlier game).

The price for HIGH WATER PATROL is 29€ ‐ the box is not included.

A common plastic box for Odyssey² can be added for 4€ more (no crack).
A crystal clear plactic box for Videopac+ can be added for 8€ more (no crack).
Shipping is 7€ (11€ with tracking) for Europe.
Shipping is 9€ (12€ with tracking) for rest of the world.

PayPal payments can be sent to videopac.is@live.be
A gameplay video can be seen here.
2013-07-16
Now You're Playing With Odyssey²... Again!
The guys over at Now You're Playing With Podcast have published the second half of their Odyssey² deep-dive. Listen along as they struggle mightily with Alien Invaders—Plus!, completely misunderstand Monkeyshines!, and are blown away by Killer Bees. At the end they even get into a few European releases.
For those who prefer to listen with their eyes as well as their ears, the entire podcast has also been edited into a YouTube video.
2013-07-09
Get Ready to Climb the WALLS!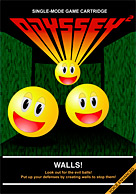 2600 Connection has released WALLS!, a new game for the Odyssey². WALLS! is a new game created and designed by Chris Read. Chris also is the author of GOSUB and FATSO!.
In the game, you have to defend your home from the evil balls. You press the joystick in the direction of an approaching evil ball, and a wall is formed and the evil ball is blocked! You're safe! Wait - there's another one coming at you, and another one, and yet another one. This all continues at a frantic pace! Can you endure? How long can you defend your home?
Only 50 numbered cartridges are being made, and over half have already been reserved. Act quickly if you want one! The price is $25 plus shipping. Includes a color manual and a plastic storage box with cover artwork created by Rafael Cardoso.
More information, including a gameplay video, an be found on the
2600 Connection web site
.
2013-06-23
Mage 2
Coming Soon!
Revival Studios has announced Mage 2, the sequel to last year's impressive Odyssey²/Videopac homebrew game. Mage 2 will be available in both an easier Light Edition and a more-challenging Dark Edition. Seventy-five copies of each edition will be available, while 20 copies of a special Collectors Edition (complete with keychain and poster) will be produced. Only six Collectors Editions are still available; the eligible buyers will be randomly selected soon, so e-mail Revival Studios now if you are interested.
More information on the game will soon be available on Revival's web site. (It seems to be experiencing technical problems at the moment, but will hopefully be back online soon.)
2013-06-23
Now You're Podcasting With Odyssey²!
Now You're Playing With Podcast, a relative newcomer to the burgeoning video-game podcast universe, has dedicated their latest broadcast to the Odyssey². The podcasters tackled the O2 library in a clever way: they recorded themselves playing all the U.S.-released O2 games in (estimated) release order, and then watch themselves playing, broadcasting their reactions and observations as they go. Check out the first half of their O2 deep-dive in Now You're Playing With Podcast Episode 19.
I've listened to most of the first episode and it's pretty entertaining. The release-order conceit is a great method for developing a historical perspective on the O2, but does unfortunately mean that the first hour or so is loaded with the system's weaker early titles. It won't be until Part II of the podcast that they get to most of the best games. Despite this, us O2 fans should be pleased that NYPWP isn't just taking cheap shots at the system for two hours; they seem to enjoy the games and make an attempt to appreciate them in the proper context. Of course, some games (Basketball for example) don't get off easy – not that they deserve to!
2013-05-12
Hop on Board the Piggyback Planet!
Odyssey² and Videopac homebrew publisher Videopac Is @live has been hard at work lately! Their latest offering, Piggyback Planet! by Rafael Cardoso, is a horizontal space shooter with a feature very rare in the O2 world: a boss battle! Here are details from the release announcement:
A new release for Odyssey² and Videopac+ is coming in June: PIGGYBACK PLANET! by Rafael Cardoso. Limited run of 25 copies (each version).

You can pre-order NOW and you could pay 29€ for your copy by PAYPAL to videopac.is@live.be

You can choose the shipping method:
Europe: 6€ or 10€ with tracking
World: 8€ or 12€ with tracking.

Each version of the game contains the same program stored inside the cartridge. The label, the instructions booklet, the indexcard (Odyssey²) and the back cover (Videopac+) are different.
Owner lists are available at the Videopac Is @live site. If you want one, hurry! Not many are left!
2013-01-06
New Revival Studios Release:
Stairrunner
!
Revival Studios, which has been cranking out new O2/Videopac releases left and right, has another new game starring the hapless young wizard-in-training, Wizzy. Here are the details from the release announcement:
Remember Young Wizzy?

This time around he tried practicing an elevation spell and as a result the elevators in his neighborhood are out of control!

Help Wizzy reach the top of each building and undo the damage being caused by his spell!

Use the right joystick to move Wizzy left and right. Note that after you start moving you cannot stop until Wizzy reaches the end of the floor or goes back to the start of the floor. Wizzy will automatically climb the stairs at the end of each floor.

Game features:

Playable on Videopac and Odyssey² consoles
Different Videopac+ backgrounds for each level
Digitized speech using The Voice add-on
Internet high-score uploading
Online rewards system
Stairrunner is available now on cartridge for 39 euros + 5 euro S&H. An additional plastic Videopac box is available for 5 euros. Fans that own Revival Studios' other Videopac games will receive a 4 euro discount!
For more information about the game, including screenshots, packaging shot and more, check out Revival Studios'
Stairrunner page
.
2013-01-01
A New Multicart for a New Year!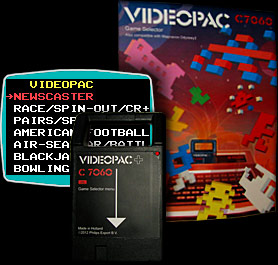 Odyssey² and Videopac tech wiz René van den Enden has produced a new multicart packed with rare prototypes and homebrew games. Dubbed the C7060 Game Selector, this one cart boasts over 200 games, including the legendary prototype Sherlock Holmes and recently discovered titles like Himalaya and Linguaduc. It also contains an exciting feature that previous multicarts have not had: an on-screen menu for selecting games, complete with a search function!
Here are some more specifications from the release announcement:
Contains more than 200 games
Contains all Philips Videopac and Magnavox Odyssey² games, and a lot of prototypes and homebrews
Contains several games that haven't been available before on a multicart or the Internet
On-screen game menu
Works on all Videopac, Jopac and Odyssey² consoles
Works with The Voice
Automatic PAL/NTSC selection for some games
Search function
only new PCBs, new EPROMs and new components have been used

The complete game menu can be found here.
In addition to the C7060, René and Bas Kornalijnslijper worked together to produce the Voice+ Module, a hardware "extender" which allows The Voice unit to function on a Videopac+ G7400. Unfortunately all Voice+ Modules have already sold out, but the hardware gurus are considering a second run if there is enough demand.
You can order your C7060 Game Selector and inquire about the Voice+ Module at this post over at the Videopac.nl forums.
Thanks for your hard work, René and Bas!
2012-11-27
Interview with O2 Case Designer Jay Rogers
A few weeks ago, I had the pleasure of speaking with a genuine Odyssey² veteran over the phone: Jay Rogers, who worked as a plastics designer for Magnavox in the late '70s and early '80s. Jay was part of the approximately ten-person design team responsible for the Odyssey² mainframe's physical shape, and he also helped design The Voice of Odyssey². In a phone conversation, he was kind enough to answer a number of questions and share many stories from his time at Magnavox. Each one will be of interest to Odyssey² fans. Ever wonder what inspired the shape of the system's famous cartridge handles? Now you can find out!
2600 Connection announced a few days ago that Chris Read's Gosub! is now available for purchase! The release is limited to 50 copies (25 Odyssey² style and 25 Videopac style and PAL). The $25 price includes box and manual. Shipping costs are $6 within the continental U.S., $10 for Canada, and $15 everywhere else.
There are still copies available. For more information or to place an order, visit 2600 Connection's Gosub! page.