2600 Connection announced a few days ago that Chris Read's Gosub! is now available for purchase! The release is limited to 50 copies (25 Odyssey² style and 25 Videopac style and PAL). The $25 price includes box and manual. Shipping costs are $6 within the continental U.S., $10 for Canada, and $15 everywhere else.
There are still copies available. For more information or to place an order, visit 2600 Connection's Gosub! page.
2012-08-05
Another New Release! Mage - The Enchanted Crystals
Revival Studios, which recently brought us the homebrew games AstroDodge, ColorClash and Mayhem, already has another new release planned, and it sounds like a big one! Here are details from the press release:
NEW RELEASE! Mage - The Enchanted Crystals

Join Wizzy, the son of the Wizard of Odyssey, in his first adventure!

While working on a powerful spell, Wizzy's father was being watched by others. As a precaution he captured the spell inside a crystal and divided it into 4 pieces, which he buried inside the mines, just south of your village. It is now up to you to collect these pieces and bring them together inside the enchanted chest to ensure the spell doesn't fall into the wrong hands.

More than 20 times the normal amount of development time has gone into making this game, to make sure it will push the boundaries of what is possible on the dear old Videopac and Odyssey² systems!

Check out the trailer here.

Game features:

Playable on Videopac and Odyssey² consoles
High resolution background on Videopac+ consoles
Multicolored backgrounds and sprites
Digitized speech using The voice add-on
Internet highscore uploading
Online rewards system

Release information:

This game is available on cartridge with a limited release of 100 copies. Price: 39 euros.
For more information and photos, visit Revival Studios.
2012-08-04
Welcome to the Jungle, Girl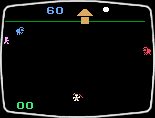 Videopac Is @live, the publisher that recently brought us the homebrew releases Fatso! and Sea Rescue!, is now taking payments for a new game: Jungle Girl!. In this game from author s0c7, you're a fierce spear-carrying female (think Sheena, Queen of the Jungle) protecting an innocent native from vicious lions. The author provides more details about the game in this forum post.
The cartridge run of Jungle Girl! includes a cartridge, instruction book, index card, and a small catalog of Videopac-Odyssey² games. It's limited to 50 copies, and very few are left! Check out Videopac Is @live for contact info.
2012-07-15
More About
GoSub
and Its Contest
The publisher of GoSub has provided some more information and a screenshot to assist those of you entering the game's label-design contest:
GoSub!

You are a submarine driver in search of sunken treasure off the coast of Cape Chammawingiwakauguflidplitargoknotz. Your job: Get the treasure chests and be rich! But there are dangers: it seems the treasures are well protected because there are walls. Don't hit the walls!

GoSub is a new homebrew game by Chris Read, who previously programmed FATSO. You pilot a submarine and must navigate a perilous maze to reach the exit. Touching the walls will destroy your submarine, so you must pilot your craft with great skill! And as if the narrow passages were not enough danger, in the maze lurks a monster octopus determined to crush your sub with its mighty grip! Can you escape with your life and your wits?
Contest entrants: please help yourself to this Odyssey² label template (7.8 kb, BMP format). Photoshop users can download this layered PSD version (3.71 mb). These templates are courtesy of yours truly, who plans to enter the contest if I can come up with a good enough idea.
2012-07-12
Design a Label and Win
GoSub
!
The unprecedented spate of new Odyssey² releases is just not slowing down! Coming next to our beloved consoles is GoSub, a new release from Chris Read, programmer of Fatso!. Like the earlier game, the release of GoSub is being promoted with a label-design contest. Here are the details:
Hot off the heels of releasing ALIEN GREED 4 for the ATARI 2600, the USA team consisting of programmer Chris Read and game publisher Tim Duarte are getting ready to release GoSub on cartridge for the Odyssey² and Videopac systems.

We are having a label contest. The winner will receive a free game of GoSub.

Per Gertk, (on www.videopac.nl) here are the measurements:

The square space on the cartridge is 70 x 70 mm. (or 2.754 inch) on both Odyssey² and Videopac cartridges. The label itself is slightly smaller:

Odyssey² label: 68.6 mm or 2.700 inch square
Videopac label: 69.5 mm or 2.737 inch square

Please email the submission to timdu@hotmail.com and also send it to atari2600land@yahoo.com.

We will pick a winning entry on Wednesday, August 1.

More info soon on a release date. Good luck to all!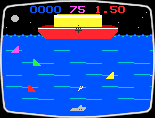 The parade of new homebrew games continues! The latest author is Rafael Cardoso, who brings us Sea Rescue!, a game where a stranded submarine crew must swim through shark-infested waters toward a waiting rescue vessel. Can you guide them to safety? Watch the YouTube video to find out what challenges await.
Rafael states that a Sea Rescue! release is planned for June or July. Keep an eye on the Videopac Forum for announcements. In the meantime, you may download the BIN file to try out the game on O2EM. Congratulations to Rafael for bringing another new O2 title to market!
Update: More information about Sea Rescue! and Sea Rescue+ is now available. The game will be limited to a run of 40 copies. The following ordering options are available:
The game is for sale 29 €:

NTSC Odyssey² version: The cartridge, the booklet and the index card.
PAL Videopac+ version: The cartridge, the booklet and the back cover.

A classic plastic case can be added for € 4 more. A "crystal" case for Videopac+ can be added for € 8 more.

You can choose the shipping method:

For France 4 € (with tracking = 8 €)
For Europe 6 € (with tracking = 10 €)
For the rest of the World: 9 € (with tracking = 12 €)

Payment by Paypal to videopac.is @ live.be (pay as a gift = Paypal fees at your charge).
Information on upcoming "Videopac Is Alive" releases (including a new one, Jungle Girl!) can be found here.
2012-03-25
Hey Fatso! Design This Label!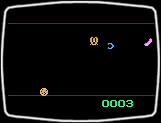 Fatso! is a new Odyssey² and Videopac game being developed by Chris Read. Based on the semi-classic Atari 2600 title Fast Food, Fatso! puts you in control of a pair of ravenous lips chomping down pretzels, cookies and other fattening delicacies in a quest to consume as many calories as possible. But look out for the deadly red pickle – eat one and your snacking days are over.
Fatso! will release with a limited edition of 25 cartridge copies. Ordering information and screenshots can be found on Chris Read's Fatso! page. To promote the release, Chris is holding a label design contest. For details and crucial specifications, head on over to the Videopac / Odyssey2 Forum.
It's a great time to be an O2 fan right now, as recent months have brought us several new game releases. And if you still crave more, Chris is working on another homebrew game called Ants!.
2012-03-08
Another New Homebrew: ColorClash!
The parade of new releases from Revival Studios continues with ColorClash, a puzzle/shooting game based on one of Revival's original Vectrex games. Here are the details from the release announcement:
In Colorclash, the player has to shoot the various colored gems that are falling down from the top of the screen. The gems are marked with symbols and the player has to match up the symbol on his ship with the symbol on the gems. The speed of the game will gradually increase, but by strategically shooting the right gems the player can have 4 of the same gems on screen at once.

Upon shooting 4 similar gems in a row, the speed of the game will decrease and the player will be rewarded extra points.

Game features:

Playable on Videopac and Odyssey² consoles
High resolution background on Videopac+ consoles
Digitized speech using The voice add-on
Internet highscore uploading
Online rewards system
ColorClash is available for 39 Euros plus shipping. For more information about the game, including how to order a cartridge, go to the ColorClash page at revival-studios.com.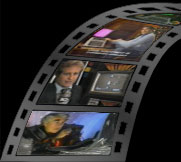 Acting on some reader requests, I have totally revamped the Videos section. Now you can stream the videos directly through your modern browser – no downloads required. I've also added a number of new clips and re-edited the ones that were already there. Now most of them are larger, with better color and audio.
New clips include an early Magnavox commercial featuring Football, two European Videopac commercials, a shot from the Odyssey booth at the 1983 CES, even a clip from the classic '80s cartoon Spider-Man and His Amazing Friends that features Odyssey² sound effects. Of course, old favorites like the Wizard of Odyssey commercials and 1983 Odyssey3 Command Center promo video are still available for your viewing pleasure. Enjoy!
2011-12-10
It's Homebrew Mayhem!
Hot on the heels of Astro Dodge, Revival Studios has announced another new homebrew game for Odyssey² and Videopac consoles: Mayhem. In this reflex game, which ever-so-slightly resembles the arcade classic Food Fight, you control Wizzy, son of the famed Wizard of Odyssey. The young mage-in-training must dodge a dizzying array of enchanted, rotating sticks while on a quest to grab spinning coins. Here is more detail from the official release announcement:
Now Wizzy, the little wizard, is in trouble! He attempted a spell to produce fire, but the sticks he wished to see burn now fly all around him. You must help Wizzy to collect the coins while avoiding the bewitched wood!

Check out the game trailer here.

Game features:


Playable on Videopac and Odyssey² consoles
High resolution background on Videopac+ consoles
Digitized speech using The voice add-on
Multicolor sprite animation
Internet highscore uploading
Online rewards system
Hidden gameplay mode
Mayhem is available for 39 Euros plus shipping. For more information about the game, including how to order a cartridge, go to the Mayhem page at revival-studios.com.
2011-10-19
The Munchkin's Middle Name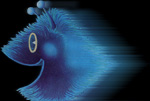 Some time ago, I posted the true name of the man who inspired K.C. Munchkin's name: the late Kenneth C. Meinken Jr., one-time president of Magnavox. At the time of my post, I had learned that his last name was actually "Meinken" – not "Mencken" as had previously been reported online – but I wasn't able to discover his middle name. However, last week I was contacted by Mr. Meinken's grandson, who informed me that Meinken's middle name was Charles. So now we finally know our favorite's munchkin's "real" name! I've updated the Odyssey² Essentials FAQ with this information.
According to his grandson, Meinken was a self-made man who started off selling transformers in Chicago and worked his way up to become president of Magnavox and vice president of North American Philips. All in all, he sounds like a worthy namesake for our hardworking munchkin.
2011-10-17
Can You Survive the Onslaught?
Revival Studios has announced an ambitious new game for Odyssey² and Videopac consoles: Astro Dodge. In this reflex game, you dodge a relentless barrage of asteroids that threaten your spaceship. This may sound like fairly standard fare for a classic console game, but Astro Dodge features some truly 21st-century elements: online leaderboards and achievements. Details from the official release announcement:
In this game you are controlling a nice multicolored spaceship, having to dodge the hordes of asteroids coming towards you.

The game is playable on all Videopac, Videopac+ and Magnavox Odyssey² systems, but also includes additional support for high resolution backgrounds on Videopac+ systems, and digitized speech through The Voice module.

More than that, players could also submit their high scores and achievements online through the use of a code, something has not been seen in any videopac/Odyssey² game before.

Check out the trailer here.

Game features:

Playable on Videopac and Odyssey² consoles
High resolution background on Videopac+ consoles
Digitized speech using The Voice add-on
Animated multicolor sprites
Internet high score uploading
Online rewards system
Hidden gameplay mode
Astro Dodge is available for 39 Euros plus shipping. For more information about the game, including how to order a cartridge, go to the Astro Dodge page at revival-studios.com.
2011-09-02
G7200 at the Philips Museum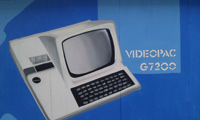 See the picture on the right? Imagine driving along next to a fenced-in construction site and seeing this hanging on the side! It could've happened if you were in Eindhoven, Netherlands – the Philips Museum there is undergoing renovation and (as of July) had this picture of a G7200 console on the construction fence. Pretty cool, huh?
Thanks to alert Videopac.nl forum member blanka, who found this photo on Noud!'s flickr stream, for pointing it out.
2011-08-28
Fall 1981: A Time for
Video Action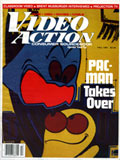 The latest addition to the Library is an oddity: excerpts from the Fall 1981 issue of Video Action, an early '80s publication dedicated to all forms of video entertainment. The cover story is "Pac-Man Takes Over," but that's not why it's in the Library. It's there because this issue contains reviews of Casino Slot Machine and Showdown in 2011 A.D. (both games generally met with approval). There's also an article about videotaping your console gaming sessions to improve your strategy, which I've included not because it deals with Odyssey² games specifically, but because it uses graphics from Alien Invaders—Plus in the title.
This is a rather interesting relic of an era when serious home video was available only to hardcore enthusiasts, a fact which leads to some odd juxtapositions. Such as? The Showdown review appears next to a (thankfully text-only) ad for XXX male video. Enjoy!
2011-08-12
Video Game History Museum
In case you haven't heard, the folks behind Classic Gaming Expo have opened a Kickstarter project to fund a proposed Video Game Museum. If funded, the project would produce an actual, physical museum dedicated to video game history and showcasing a huge collection of gaming artifacts.
The Videogame History Museum is a 501 (c)(3) non-profit charity dedicated to preserving, archiving, and documenting the history of the videogame industry. Our Board of Advisors is comprised of some of the biggest names in the history of gaming! More information on our goals and vision can be found at the Videogame History Museum website. All contributions are tax-deductible and an acknowledgement letter of your donation will be provided upon request. If you would like to donate after the kickstarter project is complete, you may do so by going directly to the donations page on our web-site.
This is a worthy project, and is sorely needed. But time is running out! There are only 19 days left to donate, and the project is still quite a bit short of its goal. If you wish to donate, you'll need to hurry.
2011-07-31
The Odyssey² Library Is Now Open!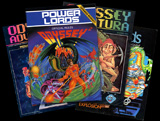 I am pleased to open up a new section of this web site: the Odyssey² Library, where (eventually) I hope to archive any and every Odyssey²-related document for your reading pleasure. Game manuals, magazines, catalogs – every page of every printed document pertaining to the Odyssey² can have a home in the Library. Using some open-source JavaScript libraries, I've written a viewer application that allows you to "turn" the pages of Library documents, enabling you to view them with their original layout. The application requires you only to have a modern browser with JavaScript enabled. It works best on desktops with a vertical resolution of 1080 pixels or higher. I've also tested it (briefly) on tablets, and most documents seem readable. I may look into optimizing the Library for tablets eventually, but first I have to concentrate on adding more content.
Over the years, I've amassed quite a collection of Odyssey² related items, including page after page of printed material. A lot of these items have been lumped into the Collectibles area of the web site, but they really cried out for their own section. I've experimented with the Library concept in the past, but without the "page turning" capability, it never looked right. Luckily, modern Internet tools really let you do some cool things! I'm very interested in document preservation, so I really like what the Library allows me to do. For example, I've translated the first issue of Odyssey Aventura into English, preserving the original magazine layout, using online translation software. Now us non-Portuguese speakers can finally read Marcello Zanchetta's tips for scoring high in K.C.'s Krazy Chase (or Eat-Eat, as it was known in Brazil). That's important history right there!
Not many documents are in the Library yet, but more will be added as I have time to scan them. For now, please enjoy the full manual to Power Lords, an article from the March 1982 issue of Friends: The Chevy Owner's Magazine that features an Odyssey² on its cover, and the full grandeur of the cheap black-and-white Japanese Baseball manual. Happy reading!
2011-04-11
Five Alive! Five New Prototypes Discovered!
This is amazing news: Robbert, the owner of Videopac.nl, has obtained a number of prototypes from a developer in the UK who worked for Philips in the early 1980s. In addition to several prototypes of released games, Robbert discovered four games that have never been seen before – and one that is unknown except to all but the most advanced prototype collectors. The latter proto is a sound tool used by developers to help create game audio. The other four are totally new games! They seem to be in various states of completion. They are Himalaya, a game whose goal is unclear but seems to involve flying to Kathmandu; Bastion, which allows you to lay seige to a tower; Catburglar which is a Videopac clone of the Crazy Climber arcade game(!); and a game called "Terrahawks" that is completely different from the Terrahawks that was actually released. Videos of all five prototypes can be found on the Videopac.nl Forum. Another, non-working prototype (labeled "A4800") was also found; attempts are being made to get it functioning.
No announcements regarding ROM or cartridge releases have been made yet, but judging from the forum comments, one or both will probably happen. Robbert has already promised to release Catburglar. Videopac and Odyssey² collectors will be anxiously awaiting – I know I will!
2010-11-06
Pursuing the Pink Panther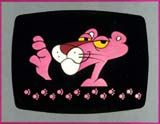 Some of the most infamous unreleased games of the classic era were those that starred the neon-hued, animated feline known as the Pink Panther. An Odyssey² release was planned, as were versions for Atari and Coleco machines. None made it to market, but a number of artifacts from the planned games survive, as do at least three prototypes for Atari systems. I have written an article which attempts to collect all that is publicly known about the pink cat's unplayed games.
This article has been mostly finished for a while; I just kept neglecting to finish it. I hope you find it interesting! Thanks to 2600 Connection and AtariProtos.com for screenshots used in the article. If anybody has any new information regarding the Pink Panther prototypes, please contact me.
2010-10-10
Testing... 1, 2, 3...
Bas Kornalijnslijper, who is well-known for his Videopac prototype reproductions, is offering something new and rather unusual. It's the Videopac Service Test Cartridge, a utility cart that can be used to diagnose problems with PAL Videopac machines. Unfortunately, this cartridge does not work on American NTSC consoles. Nevertheless, it's still an interesting piece for collectors. The release is limited to 50 pieces, and comes with a cover insert, index label, and nice spiral-bound instruction manual. The cost is 45 Euros plus shipping.
Thanks to one of my readers named Brian Gotsch, I just added something unique to the Flyers area of the Collectibles section. It's a letter from Imagic's Consumer Affairs division about Atlantis and Demon Attack. Brian purchased it, along with some other Odyssey² merchandise, from an antique store. The letter's original owner received it in 1983 in response to a request for information about Imagic's Odyssey² games. Apparently you could buy cartridges directly from Imagic in those days, by mail order. The letter is a most interesting and uncommon document. Thanks, Brian!