RSS
|
News Archives
New for Odyssey²: Space Cavern!
2016-04-17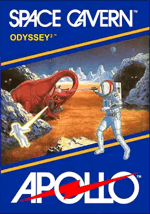 Homebrew publisher Videopac Is @live has announced another new Odyssey² release, this time a port of a familiar Atari 2600 title. SPACE CAVERN by APOLLO GAMES is available for pre-order. It is, of course, based on Space Cavern, the 1982 title from the world's first third-party publisher, Games By Apollo. The homebrew's publisher states that the new Odyssey² version is a faithful port. This limited edition of 100 will come with a cardboard box, styled like the original but smaller, the same size as an O2 or Videopac box. The European version contains an extra sleeve in English or French (branded RCA Video Jeux) like the Atari 2600 version had in the Eighties. The manual is designed like the 2600 original as well.
And if that wasn't enough, there is a even a Space Cavern "TV commercial", done in true '80s style! (OK, it's the original 2600 commercial redone with Videopac graphics, but still great. Dig that shiny '80s sci-fi jumpsuit!)
SPACE CAVERN's 45-Euro price is a bit higher than a typical release because of the cost of the cardboard box and the royalties. Reserve your copy at the Videopac Is @live web site.
They're also working on another "new" release: Mission Impossible / Programmed Trip "ZERO Edition", an enhanced version of Missão Impossível/Viagem Programada, the one and only game from mysterious Brazilian publisher Ectron Eletrônica Ltda. A limited release of 100 "Zero Edition" carts is planned but is currently being delayed by a music tempo issue.
CHIEF CHEF Available for the Odyssey²
2016-03-14
Homebrew publisher 2600 Connection has announced CHIEF CHEF, Chris Read's new Odyssey² title inspired by two great Activision 2600 games. Here's the official announcement: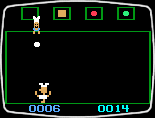 As the apprentice chef at the Chew 'n' Spew Restaurant, things have gotten a little crazy! Chuck Chesterfield, the Chief Chef, has climbed up to the ceiling and has started to throw food at you! The only catch is he demands that you get all four items he throws and avoid the duplicates! Once you have caught a complete set of four items – tomato, cheese, lettuce, and onion – you start again at a faster level. How are your food-catching skills? Are they enough to impress the Chief Chef?

Combining gameplay elements from the Atari 2600 games Kaboom! and Pressure Cooker (both by Activision), CHIEF CHEF was programmed by Chris Read.

Originally a bug was found in the game, but that has been corrected and cartridges are now shipping in full swing.

We are also sponsoring a High Score Competition for CHIEF CHEF. Submit a picture of your high score. Highest score will win the grand prize: a WILDLIFE! special edition cartridge with a special label. Players can play with the real cartridge or may use an emulator. Either is fine. The CHIEF CHEF ROM file will be available for a free download (for use in an emulator).

For more information, visit the CHIEF CHEF web page.
FATSO Is Back!
2016-03-14
Here is some exciting news for Odyssey² homebrew fans, or just anyone who enjoys eating: homebrew publisher 2600 Connection is re-publishing FATSO! Here is the official announcement: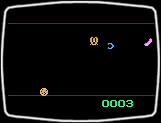 2600 Connection is proud to offer the Odyssey²/Videopac game from Chris Read – FATSO! Previously known for his Atari VCS/2600 games (Gosub, Alien Greed, Stacker, Zyx), FATSO! is Chris's first game for the Odyssey², inspired by the Telesys Atari VCS/2600 game Fast Food.

A limited run of 30 boxed copies of FATSO! were first produced and sold by Marc Verraes (www.videopac.fr) in May 2012. After those sold, a second edition of 26 more were sold (each cartridge denoted with a letter of A through Z). Fast forward to 2014. When Marc asked 2600 Connection about releasing another run of WILDLIFE!, we worked out a deal so we could release an unlimited, unnumbered version of FATSO!

Now we are happy to allow folks who missed out on this game to purchase one. It's the same game and manual, except it does not have a serial number. The label has a little different style and the manual has some additional text. A plastic storage box is not included. We call this the unlimited release of FATSO! So what are you waiting for? Put on your "eating pants" and get yours today!

The cost is $25 plus shipping. For more information, and/or to order a game cartridge, please visit the FATSO web page.
Going Mobile: Update
2016-02-21
The march to mobile-friendliness continues. Last week I discovered that the new site design had some issues when viewed on an Apple iPad. I believe these have all been fixed. Beyond that, I've converted one more section to the new design: the Links page. Working on this was kind of bittersweet. I hadn't reviewed the links on that page for some time, and a handful of sites that used to be good sources of Odyssey² and Videopac info have disappeared. Others are still around but haven't been updated for years, which is sad in a different way. I think the never-ending stream of content that is social media has largely killed off the small hobbyist web sites that used to be so common. Still, there are still a few good O2 sites out there.
New Release: Strikeforce
2016-02-14
Revival Studios has announced its latest homebrew release for Odyssey² and Videopac: Strikeforce. In this game, you pilot an attack chopper. You must maneuver around the screen, destroying the tanks below you while avoiding its missiles – as well as the bombs from two fighter jets up above. After destroying a number of tanks you will proceed to the next level, where the difficultly increases.
Game features: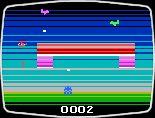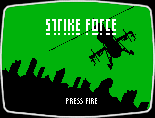 Playable on Videopac and Odyssey² consoles
High resolution title screen on Videopac+ consoles
Many levels of gameplay with rotating level layouts
Multicolored sprites and backgrounds
Digitized speech using The Voice add-on
Internet high-score uploading
Online rewards system
Release information:
The game will have a regular cartridge release of 80 units. The games are 39 euros each. Worldwide shipping and handling is 7 euro. The game features a free plastic Videopac case. For more information, visit Revival Studios' Videopac page.
The Odyssey² Homepage Is Going Mobile!
2016-02-14
After weeks of work, I am pleased to begin rolling out a new, improved design for this web site – one that should be usable across most devices including desktops, tablets and mobile phones. It takes a while to port all the old content over, so I'm launching it in stages. As of now, the only sections with the new design are the home page, the Contact page, the Cheats section, and the Library. The Library has been totally renovated; the document viewer has been retooled to work in both single-page mode for small devices and double-page mode for larger ones. Unfortunately it's still lacking in overall content, but one reason is that I wasn't happy with the old design so I was reluctant to keep adding to it. The new design is much better, and I feel it captures that late-'70s Odyssey² aesthetic pretty well.
I'm excited by this change, and it has been a long time coming. Unbelievable as it is, this site is going to turn twenty this year. It first went online in December 1996, an era when smartphones didn't exist and many people still used 28.8 kb/s dial-up modems. Of course, the site has undergone design changes before, but a lot of its content and layout elements are still descended from back then. The new design will give me a chance to move past all that. It will take me a while to finish porting all the old content over, but after that I want to concentrate on fleshing out the site, making it the most complete source for Odyssey² information around. I hope you'll like it!
You Must Stop the Menace from Mars!
2015-09-20
Homebrew publisher Videopac Is @live has announced the latest release from prolific author Rafael Cardoso: Mars Menace! In this latest installment of the never-ending conflict between the Terrans and the Martians, you must take TWO joysticks into the battle. A phalanx of four Martian invaders slithers along the screen in a snakelike pattern. Using a Robotron style dual-joystick move-and-shoot control scheme, you must hit each invader multiple times to make them change color. Change all of them to white, and the next level starts at a higher speed than before. If you play on a Videopac+ machine, a portrait of a nasty green Martian can be seen in the background. Gameplay footage can be seen here.
The game is slated to release on September 30th and costs 29 Euros plus shipping. A limited run of 100 copies is being produced for both Odyssey² and Videopac+. A special dual-joystick holder is being offered with the game for an additional 6 Euros. Ordering information can be found in this Videopac.nl forum thread.
10% Off Revival Homebrews
2015-07-13
Martijn at Revival Studios is clearing out his stock of homebrew games at a 10% discount. There are several available for Odyssey²/Videopac in addition to ColecoVision, MSX, Vectrex and Sega SG-1000 games. The O2 titles include:
Mayhem
Colorclash
Mage
Cavity
Stairrunner
Mage 2 D/L
Down
Quantities are limited! Visit www.revival-studios.com for more details. Also, Revival is preparing a new release – Strike Force – for the coming months. You may add your name to the reservation list by emailing info@revival-studios.com.
Free Food For Fish!
2015-06-15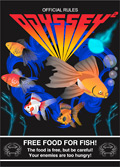 Videopac homebrew publisher Videopac Is @live has announced their latest release: Free Food For Fish! (FFFF for short) by Rafael Cardoso. In this watery title, you are a small, yellow hungry fish swimming in an aquarium. Food pellets rain down from the top, and you must catch them – while swimming out of the way of the enemy sea creatures. Screenshots resemble the classic Intellivision game Shark! Shark! (the optional Videopac+ backgrounds especially so) although the "catch" gameplay elements are more reminiscent of Kaboom!. Rafael says FFFF was inspired by Shark! Shark! and an MSX game named Kobashi. FFFF also features some of the best cover artwork of any homebrew O2 release.
The game is for sale 29 euros plus shipping. More information can be found in this forum post announcing the game. There's still time to pre-order your copy!
KC Returns!
2015-04-03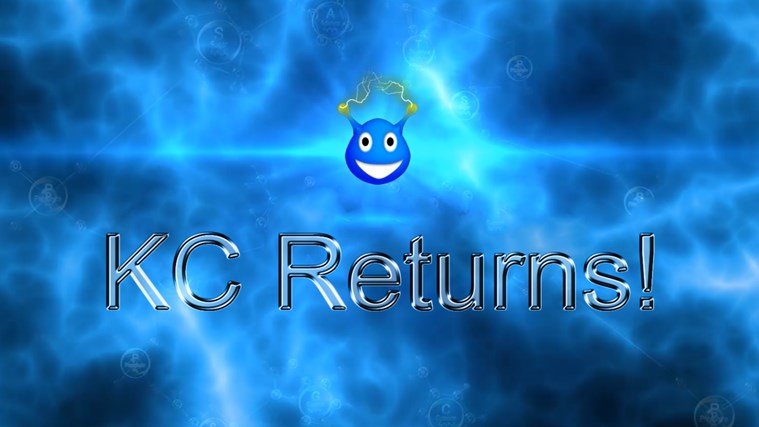 Ed Averett, the man behind fully half of the original Odyssey² games and "father" of KC Munchkin, has announced a brand NEW game starring our favorite blue hero! "KC Returns!" is currently available for Windows 8 through the Microsoft Store. Ed is also working on a Windows 10 version.
In this adventure, KC arrives in a new, rarely seen world – the world of the microscopic – in a maze constructed of atoms. The mission is to rebuild a broken strand of DNA. To accomplish it, KC must energize each atom so that it will move off the playfield into the structure of a DNA base pair, displayed on the right side of the screen.
In advance of the game's press kit becoming available, Ed provided me this introduction to the game (which I'm proud to say, I helped put together in a small way). Once you've read up on it, head over to the game's official site, kcmunchkin.com, to watch gameplay videos and read an introduction directly from the game's star. Then visit the Microsoft Store to download it! Also, don't miss the new children's book starring KC!
This game marks an exciting, and unexpected, new endeavor for KC. Ed hopes to use the character to unveil (in a fun way) the largely unseen world of atoms, DNA strands and the like. It's a crucial world to understand, a place with great discoveries to make and scientific problems that can be solved with the proper vision and understanding. As KC says, "If you can see it, you can solve it!" Who would have thought our beloved munchkin would end up doing such important work? I'd like to thank Ed for bringing back the character and for giving me and The Odyssey² Homepage! the chance to help out.
Ed has asked for comments on the game, "no matter how brutal" as he put it, so be sure to send your feedback after playing.
Odyssey² News RSS Feed
2015-03-24

I have set up the News stream of this site as an RSS feed. I know I've said this before, but I'm trying to update the site more often, and this will provide an easy way to find out when new changes are announced. To subscribe, simply click an RSS icon on the front page or point your feed reader to
http://www.the-nextlevel.com/odyssey2/news/rssfeed.php
I had some trouble integrating RSS with my homegrown content management system, but I think I've ironed out the kinks. If you have any trouble, please contact me. The title of the feed is "The Odyssey2 Homepage!" If your feed reader is configured to show icons, you may see the icon of my host (The Next Level) rather than of my site. Unfortunately, most readers pull icons from the domain root so there's not much I can do about this.
Thanks for subscribing!
Videos Revived
2015-03-10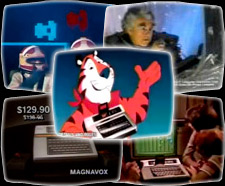 If you had trouble watching the clips in the Videos section, please try again. I've converted all the clips to MP4 format, which should be compatible with most modern browsers and mobile devices. There are 26 vintage Odyssey² and Videopac videos there now, ranging from TV commercials to news coverage to CES promo clips. My favorite new addition is the commercial for the 1983 Kellogg's Instant Win Video Game Sweepstakes, where none other than Tony the Tiger describes how you could win Magnavox TVs and Odyssey² games from the game pieces found in your box of Frosted Flakes. Scenes from UFO and Alien Invaders—Plus are animated as cartoons – it's like seeing the "artist's conception" screens from O2 catalogs come to life! I have a clear memory of watching this commercial back in '83. In fact, one of the very first things I posted when this site went live in 1996 was a vague description of it. It's amazing to be able to see it again after over 30 years! Ain't the Internet grand?
Back from the Dead: Two Lost Videopac Interviews
2015-01-29
I'm very pleased to report that I've managed to restore two "lost" Videopac interviews. Each of these were available on other Web sites that have since gone offline. It's been a few years since either was last available.
The first is an interview I conducted with Jon Shuttleworth, the Philips employee largely responsible for the distribution, design, and even the name of the Videopac G7000. Mr. Shuttleworth reveals several anecdotes, such as how the original 1979 launch of the G7000 was delayed by a power defect, and where he and Dolf van de Paauw thought up the name "Videopac." I conducted this interview back in 2001 for ClassicGaming.com, which at the time was one of the best retrogaming sites around. Sadly, it's now gone. Luckily, I found a backup copy of the interview text and am pleased to make it available once again.
The second is an interview conducted by Maurice "BuckyB" Simon with Gil Williamson, one of the principals at the UK-based Amazon Systems, the software firm that developed Tutankham for the G7000. This interview was conducted before the Tutankham proto was found, when the game was still only a rumor – so, as you can imagine, it was a revelation at the time. It was published, in Portuguese, on the Brazilian site Odyssey Mania, another fine site which has unfortunately evaporated into the electronic ether. However, I had saved a copy of it, so I contacted Maurice, and pieced the original English text back together with the help of his notes and my backup copy. Again, I'm pleased to make this piece of Videopac history available again, and I thank Maurice for his help.
Enjoy!
K.C. Munchkin... Now for Atari 7800!
2015-01-06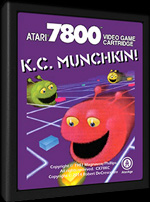 I've been meaning to post this for a while but somehow kept forgetting to do so. Homebrew developer Robert DeCrescenzo has completed an impressively accurate Atari 7800 port of K.C. Munchkin!. Cartridge copies are currently for sale at the AtariAge Store.
The game faithfully recreates the Odyssey² original, right down to the purple color scheme and blocky O2 score font. K.C. and the Munchers have been given a bit of graphical polish, but otherwise the game is strikingly accurate. You can even enter your name after attaining the high score. Like the O2 version, there are four built-in mazes – including the original's "invisible maze" option. You can also choose to have a random maze selected at the start of each level. The game even supports the "programming mode" of the original, which lets you create your own mazes.
The package for sale at AtariAge includes a cartridge and full-color, four page manual. The price is $30.
Thanks to doug for the news!
Coming Soon: Ralph Baer's Pinball!
2015-01-01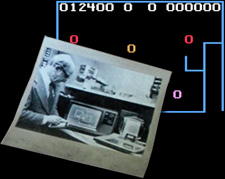 2600 Connection, in connection with Good Deal Games Homebrew Heaven, made an exciting announcement today. One hundred numbered, special-edition copies of RALPH BAER'S PINBALL will be produced for Odyssey² and Videopac-compatible machines. Longtime O2 fans will recognize this game. It was produced by Sanders Associates – the then-employer of "Father of Home Video Games" Ralph H. Baer – in 1978, essentially as a tech demo. Sanders had been asked by Magnavox to design Odyssey² games, and they produced this prototype pinball game as a feasibility study. Don McGuiness actually programmed it, but Ralph Baer helped with the design, including suggesting technology that let players manually position the bumpers on the playfield. The prototype was never made into a complete game, and sat forgotten in Baer's basement until 30 signed cartridge copies were produced and sold at Classic Gaming Expo 2000.
Fifteen years later, Michael Thomasson, the owner of Good Deal Games (and a personal friend of Ralph's) is preparing a special NEW edition of Pinball. The cartridge will contain both the original prototype and an enhanced version that is currently in the debugging stage. The package will include a vintage black-and-white replica of the only known photo of Ralph Baer with an Odyssey² game system, a refrigerator magnet, a color Odyssey² vinyl waterproof sticker, a miniature pinball, and an embroidered patch. Each game will include a professional-styled box and manual personally signed and numbered by Ralph Baer earlier in the summer of 2014. More information is available on 2600 Connection's Pinball Page.
I'm sure you're all set to buy a copy, but please note that the game is NOT YET FOR SALE. After all, debugging isn't even complete yet! To reserve your copy, you must contact Michael at service@gooddealgames.com. (The price is not yet finalized, but is projected to be about $100.) Keep an eye on the above link for updates.
This package is shaping up to be a fantastic tribute to Ralph, who sadly passed away on December 6, 2014. I'd like to thank Michael Thomasson, Tim Duarte, Leonard Herman and the others who helped make this release a reality. What great news to start 2015!
Ralph H. Baer, 1922-2014
2014-12-08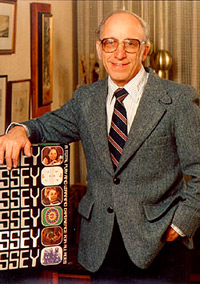 Video gaming lost one of its luminaries this weekend when Ralph H. Baer passed away on Saturday, Dec. 6, 2014, at age 92. I'm sure that anybody reading this site knows that Ralph was the inventor of the first home video game system – the Magnavox Odyssey – forerunner of the Odyssey&sup2. He came up with the idea of using a television set to play games all the way back in 1966. This was before Pong, before Atari, before just about everything. True, others had independently been using electronic displays to play games before, but Ralph's vision was the one that stuck, thanks in no small part to his hard work and meticulous focus. His early efforts directly led to the multi-billion-dollar industry we all take for granted these days.
I communicated with Ralph twice, and met him in person once. It still amazes me that the first time we talked, he reached out to me. This was in the late 1990s; The Odyssey² Homepage! had been online for only a couple years at the time. In those days, Ralph's name wasn't as well known as it is now, even among classic game fans. Nolan Bushnell and Atari tended to get most of the limelight. (Not to take anything away from Bushnell – his company established video games as a cultural force and his ability to market them was second-to-none.) Ralph – the technical guy, the engineer – didn't get as much credit back then. There weren't a lot of sites dedicated to video game history yet, and mine was one of the very few that discussed the Odyssey line in any detail. Ralph came across it one day and dropped me a line complimenting my site for reporting accurate information, which he felt was in short supply. It was a surprise and an honor for me, one that still makes me feel proud.
The second time I spoke with Ralph was in person at Classic Gaming Expo 2000. I worked for GameSpy then, and was covering the event for ClassicGaming.com. I had a chance to speak to Ralph shortly before he gave his keynote lecture. He remembered who I was, and was friendly and still whip-smart, despite being in his late 70s at the time. What I remember most about that encounter was that he was looking for some soldering equipment to fix the Brown Box – the legendary Odyssey prototype that's now in the Smithsonian. He was planning to hook up and play the Brown Box as part of his lecture, but a connection had come loose and needed to be repaired. That image always stuck with me. Sure, he's the Father of Video Games, one of the most prolific inventors of our time, but he's also just an engineer looking for some solder. (If you're curious, the Brown Box did get fixed in time for his lecture.)
It's rather breathtaking that in just a few years, the recognition of video game history has gone from a situation where the guy who invented the medium was scrambling for solder at a small convention, to a place in the Smithsonian. Along the way, Ralph went from being a virtual unknown, to being the subject of niche articles and interviews, then to winning the National Medal of Technology in 2006, finally emerging as an international figure, eulogized by many web sites and media outlets over the past couple of days. Today has been a surreal experience, as I've heard several national radio broadcasts dedicated to a man I personally met and talked with, albeit briefly. The credit for "rescuing" Baer's name must go to others – Len Herman, Michael Thomasson and David Winter to name a few – and to Ralph himself, of course. But if my site contributed in even a small way, then I'm happy.
Rest in peace, Ralph. You made this world a more enjoyable place.
If you haven't read Ralph's book Videogames: In the Beginning, I urge you to do so now. You will never read a more informative book on the subject.
Happy Bird Coming in Dec.; Contest Underway Now!
2014-11-17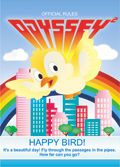 2600 Connection has announced their latest Odyssey² homebrew project, the system's first obligatory Flappy Bird clone: Happy Bird! by Rafael Cardoso. A limited run of 100 numbered, boxed copies will be produced, each with a professionally-styled manual. Happy Bird! is compatible with both Odyssey² and Videopac systems, and displayed enhanced graphics when played on a Videopac+ G7400 console. The price is only $25 plus shipping. More information and screenshots can be found on the official Happy Bird! page.
In an effort to secure donor carts for more homebrew games, 2600 Connection is holding a contest. To enter, mail a used Odyssey² cartridge, working or no, to the contest organizers. Each cartridge you submit counts as a contest entry. On December 15th, one cartridge will be selected at random, and the winner will receive Happy Bird #1 of 100! More information is available in this forum post.
Interview: Videopac Programmer Göran Öhman
2014-10-08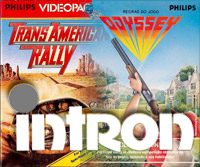 A little while ago, a download called VpacApp appeared on the Google Play Store. It was a Videopac emulator for Android. That alone made it interesting, but what really made it stand out was that Philips had given permission for some game ROMs to be distributed with it.
Upon contacting the author, I learned why. Göran Öhman programmed some of those games back in the day. In fact, he could well have been the last original Videopac programmer. As an employee for Intron AB, a small firm based in Stockholm that developed Videopac games for Philips, he programmed Trans-American Rally and Clay Pigeon, which were among the last games released anywhere. He also helped with the Videopac translation of Frogger.
I asked Mr. Öhman a few questions about his time at Intron, which he was kind enough to answer. I have now placed that conversation online. Unfortunately, in the time since then, VpacApp has disappeared from the Google Play Store. I don't know why, but here's hoping it returns soon. In the meantime, please read the interview to learn about the stories behind the final Videopac games.
Interview with Odyssey² Legend Ed Averett
2014-09-25
As I posted here a few days ago, Ed Averett, who programmed nearly half of the original Odyssey² library, made an extremely rare appearance at Classic Gaming Expo 2014. There, he held the first public presentation he's ever given on the Odyssey². It was an extremely informative hour, filled with stories and details of the early days of our favorite console. Before the talk though, I was able to sit down with Ed for a quick interview. We touched on a number of the same topics that would later be covered in his talk, but some additional details can be found in our conversation. I have now transcribed the interview for all to read.
I'd like to once again thank Ed for appearing at CGE and sparing a few minutes to answer my questions. I could have asked a hundred more if there had been time. Still, I'm grateful for the opportunity to finally speak to the man so responsible for the video game system I grew up playing.
Coleco Pink Panther Programmer Interview
2014-09-20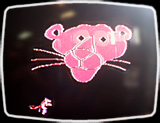 Some months ago, a person with the online handle "retroren" made a wonderful discovery. His next-door neighbor had worked as a salesman for Philips. He still had in his possession a box of materials from circa 1983 – including a prototype Odyssey3 console, voice module and modem; sales displays for the ColecoVision game War Room; prototype versions of War Room, O2 Turtles, O3 Flash Point, and Atari 2600 Power Lords; and more. It was all great and valuable stuff, but stuff that had been previously discovered elsewhere, if sometimes in different versions. However, there was one item nobody had seen before: a prototype of Pink Panther for the ColecoVision.
Retroren went to work, hunting up more information and tracking down a functioning ColecoVision console. When he powered up the game, the title screen read: "The Adventures of the Pink Panther, Written By Randy Green." Suddenly there was a name behind the game. This led to more detective work. Retroren found Randy online and, since I was helping in a small way with the research, graciously put me in contact with him. We talked about Pink Panther and his days at Philips over the phone. It's taken me a while to get the work done, but I've finally written up my notes from that conversation. Randy reveals new details about the end of Philips's video game division as well as the Panther's fate.
I know some people have been waiting for me to publish this for some time and I'd like to apologize for the delay. For whatever reason, I was just unable to sit down and make myself finish it. Writer's block I suppose. However, I have so much content starting to build up now that I can't procrastinate any longer. Due up next, please look for my notes on Ed Averett's talk at CGE 2014. I'm working on them right now. Since it's Pink Panther related, I'll mention it here: I asked Mr. Averett if he actually worked on an Odyssey² version of the game, as is rumored. He did not. He said that Sam Overton worked on it, but he probably just meant that Sam's group was responsible for it – Ed had stopped programming O2 games by that time. Randy did not know if any work on the the O2 version was done. So unfortunately we still don't know anything about that game's status. At least now you can read the Randy Green interview to learn more about the ColecoVision version.