Conquest of the World
As you might guess, the object of this game is to conquer the world before your opponent. The game is rather similar to the board game Risk, except here you play a video competition to decide the outcome of battles rather than rolling dice. This game received an honorable mention for "Best Multi-Player Game of 1982" by Electronic Games magazine. The contents of the complete set are as follows:
9 uncut sheets of Power Base Unit chips (3 of each color), yielding a total of 108 chips. Only 100 chips are needed to play the game.



6 uncut sets of colored magnets, yielding a total of 228 square magnets (38 per each color), and 6 rectangular Homeland markers.
| | |
| --- | --- |
| 1 Manual | 1 Game Board |
| 1 Cartridge | 1 Lid |
European Versions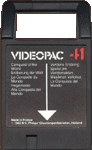 European Cartridge (non-UK)
Conquest of the World was "localized" for release in the following countries with the indicated title:
International: Conquest of the World
United Kingdom: Conquest of the World
France: La Conquête Du Monde
Belgium: Hegemonie
Germany: Eroberung der Welt
Denmark: Verdens Erobring
Sweden: Spelet om Världsmakten

| | | |
| --- | --- | --- |
| UK Cartridge | Hegemonie Box | Hegemonie Manual |
Brazil
Conquest of the World was released in Brazil as A Conquista do Mundo. The contents of the set are the same as in the American version, except that the manual is in Portuguese and the token compartment lid doesn't have a gold emblem. Since the other Brazilian Master Strategy games originally came in a corrugated shipping box, A Conquista do Mundo most likely did as well.