· · · Warning: Very Minor Spoilers Ahead · · ·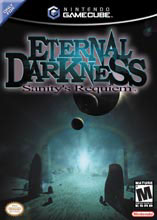 Eternal Darkness is the fruits of Silicon Knights' labor over the past four years or so. The pride of London, Ontario, Canada, Silicon Knights had made it a point to keep their little baby under wraps for as long as humanly possible in order to give gamers a truly unique experience, and delivered they have. Despite numerous delays and a switch from the N64 to the GameCube during development, Eternal Darkness is Nintendo's first real killer app for 2002, which undoubtedly heralds the coming of the rest of its lineup.
Eternal Darkness follows the story of Alex Rovias, a young woman who is summoned to Rhode Island after the grisly death of her grandfather, Edward Rovias. Determined to find the cause of her grandfather's death, she explores the mansion that he inhabited, trying to find some clues that will lead her on the right path. Alex stumbles upon an ancient artifact called "The Tome of Eternal Darkness", and is thrust into a wild adventure that spans over 2000 years of human existence involving the undead, ancient creatures/rituals and a whole lot of ass-kicking. Throughout your adventure you'll assume the roles of numerous people throughout time, such as a Cambodian woman, a love-stricken warrior and of course our heroine, Alex. The story arc as a whole is definitely something that many games could only hope to possess. Throughout the entire game, the story doesn't become overly complex with various references to some "Gaia Spirit of the Earth" or other holy mumbo-jumbo crap. Simply put, Eternal Darkness tells a story of several unassuming individuals who fight the battle against a coming evil.
While some people may classify Eternal Darkness as a survival horror game, or even point out similarities to that of Resident Evil, it's closest competitor; Eternal Darkness is far from either. In fact, Eternal Darkness leans more towards an adventure game, mainly because of the combat system incorporated. Each character possesses the ability to target specific body parts on every enemy you encounter by holding the R trigger, followed by selecting a specific target using the left analog stick. To proves to be a great advantage the player, especially in sticky situations where you're surrounded by a half-dozen zombies in close quarters. For example, chopping off their limbs, eliminates their ability to attack, thereby giving you the opportunity to deal with their brethren before finishing them off. Plus, you can even decapitate enemies, and watch them walk around aimlessly attacking anyone they come in contact with, including their own comrades! While it may seem gimmicky at first, you'll find the targeting system is essential as this is the only means to defeating some enemies by attacking them in specific areas. You can also perform general melee attacks by simply pressing the A button without pushing down the R trigger, which will allow you to hit more than one enemy at a time, but will also make your attacks less powerful. This does work well for certain weapons, such as a shotgun or a torch, since they have the potential to knock down all of the opposition in one hit.
Coupled with the combat system is an equally adept "magick" system, allowing you to cast spells that will perform specific tasks, such as healing you, repairing items, or making them more powerful. There are three basic elementals in Eternal Darkness: Green, Red and Blue, and each element has the ability to counter the other. Red beats Green, Green beats Blue, and Blue beats Red. There's also a 'wild card' elemental - Purple, which is a combination of all three elements. You can also cast spells with different Circles of Power: three, five and seven. Each point of power makes amplifies the strength of your spell, while reducing the speed in which it comes out. The spells themselves are created by literally putting them together from the runes you collect during your adventure. Each rune adds one noun/verb/adjective to use in your lexicon, which in turn can be combined with another rune to create a spell. For example, the first spell that you learn in the game is called Enchant Item, which is basically a combination of Antorbok (Project), Magormor (Item) and the elemental alignment you've chosen. You can even create spells even if you don't know the meaning of the rune you're using!
Like combat, learning the magick system is essential to your success in Eternal Darkness, since there are many puzzles that can only be solved by knowing how the system works. However, the magick system is where Eternal Darkness suffers its first real drawback: it makes the game far too easy to complete. Unlike some other games that involve casting spells, your magick meter will slowly refill every time you walk around or perform an action, which makes getting past certain enemies really easy. If you find yourself getting your butt kicked by a powerful monster, you can easily exit the room, heal yourself, cast a barrier around you and then enchant your weapon in a matter of 10 minutes and try again. Once you've gotten past the obstacle that was holding you back, you can then walk around in a circle for a good 4 minutes to recharge your entire magick meter. This stands as being the only significant drawback to the game due to the manner how the magic system is designed; you'll never have the impression that you're close to dying.
The real gimmick that has been the main selling point of Eternal Darkness lie in what are called insanity effects. With every enemy that you face, an insanity meter on the screen will slowly go down. When this occurse, your character begins to hallucinate, and some very weird things start to happen. Blood will start to run down the walls, you'll hear the rapping on the doors (one of many clever references to Edgar Allen Poe) and numerous other effects will take place, and because you assume the role of several characters in the game, some will go insane faster than others. Of course, you can always counteract the insanity effects by "finishing" your adversaries, but with the level of difficulty Eternal Darkness presents (which isn't much), the likelihood of problems with insanity effects will be low, unless one were to go out of their way to search them out.
Visually Eternal Darkness is a mixed bag. The locales that you'll traverse in your adventure are well designed and have some great design (especially in certain temples), but the characters themselves while acceptable, don't really push the limits of the GameCube at all. You can clearly see that this was a game whose roots originated through the N64, mainly due to the fact that a majority of the geometry and models aren't exactly on the leading edge of technology. However, Eternal Darkness makes up for this with some truly beautiful lighting effects and well-designed characters. While some look really cheesy (Pious Augustus comes to mind), the majority of them are great, and Silicon Knights deserves a round of applause for not only creating characters that don't seem to fit the typical Hero archetype, but for their flawless integration. In addition, Silicon Knights was also able to do this with all of the sound effects in the game, heightening the sense of immersion that the player feels when they start hearing faint shrills of demons close by, or the roars of a netherworld creature when you swing an enchanted sword.
While the game lasts about the same length as your average adventure game (12 - 17 hours), Eternal Darkness has added replayability due to the fact that there are three distinct paths that you can choose from during the beginning. Each of these paths, while following the same storyline, offer different types of challenges when it comes to monsters as well as the order of the runes that you'll find scattered in the game. Not only that, completing the game three times will also open up a very special surprise for you, which can only serve to offer more incentive for those who have a hunger to play through the game one more time.
While it's certainly not the prettiest game to hit the system, Eternal Darkness gives the GameCube that mature (or matoore, as Nintendo's announcer puts it) edge that it so desperately needs in order to attract the older, casual gamers of the world. With a riveting and immersive story, coupled with some of the finest gameplay to grace the current generation of gaming, Eternal Darkness is a highly recommended game which all GameCube owners should pick up, lest the darkness consumes you!