When Viewtiful Joe was unveiled last year alongside Biohazard 4, Dead Phoenix, P.N.03, and Killer 7, a lot of people didn't know what to make of it. What we did know that it looked cool, and it had quite possibly the catchiest name ever conceived, even if it wasn't actually a word. People love rooting for the underdog, and this year, there was no bigger underdog title than Viewtiful Joe, a game that speeds along in the opposite direction of every million-seller released this year. Online gaming and non-linear gameplay may be the future of gaming, but Viewtiful will be remembered as the game that married top-notch 2D-style gameplay with the wonders of modern technology.
The story starts off with our hero Joe and his girlfriend Sylvia catching an old flick starring Joe's favorite superhero, Captain Blue. While Sylvia is busy putting the moves on Joe (how's that for a dominant female?), Captain Blue perishes onscreen, and his nemesis makes his way to the real world in order to capture Sylvia. Joe, totally confused at this point, chases after the faceless enemy in Captain Blue's vehicle, Six, in order to rescue his girlfriend. This is where the action really starts, and boy, does it make for one hell of a game.
As a normal human, Joe is limited in his actions. He's able to jump, punch, and kick, but he doesn't do a whole lot of damage. With the help of Captain Blue, he's able to harness the "heroness" inside of him to transform into the being known as Viewtiful Joe. Donning a bright red suit, flowing pink cape, and the most stylish headgear this side of the Power Rangers, Viewtiful Joe is able to punch harder, jump farther, and cause more destruction than normal Joe could even think of. Throughout the game, Captain Blue comes to his aid by challenging him in order to unlock more of the heroic abilities that are deep inside him. First he gains the ability to slow down time by pressing the L Trigger, and then he's able to speed up time to mach speeds with the R Trigger. By manipulating time to his liking, Joe is able to dodge attacks he normally wouldn't be able to, as well as inflict even more damage to his surroundings.
Unlike its gimmicky use in other games, "bullet-time" in Viewtiful Joe is a life-saving necessity. Oftentimes there is so much going on the screen at once that you'll need to slow down time to make sense of it all. It's also much easier to beat many enemies in the game by manipulating time. For example, there are several enemies that wield pistols that cannot be dodged in normal time, but by slowing down time, you can actually see the bullet flying towards you, where you can either dodge it or punch it back at them. Every boss in the game requires the same type of strategy in order to be defeated. Joe also has other weapons at his disposal. By pressing the B button, you can zoom in on Joe and execute moves that are more powerful than anything else in the game. Using the Zoom In feature also unlocks several defensive moves in the game, such as Ukemi (recovering from falls) or Viewtiful Forever (a multi hit attack).
Like any good beat-'em-up, there are combos galore in this game, and best of all, they can go on forever provided you have enough enemies to beat on. By using both the punch and kick buttons along with your time manipulation, you can extend combos after your initial target is long gone. Doing this will rack up tons of "Viewtifuls" that you then use to purchase new items during intermissions. In the shop, you can not only buy new moves and upgrades to your existing powers, but you can also get special secondary weapons such as bombs and boomerangs.
All of this would have been for naught had the game possessed poor controls or boring level design, but luckily neither is true. Viewtiful Joe has some of the tightest controls I've ever experienced in any game in the genre, which is amazing when you consider that the controls are still perfect whenever you're manipulating time. It's hard to explain just how good this game controls when you don't have the controller in your hand, but the game really does feel like second nature once you've spent a couple of minutes exploring what Joe is capable of in the game. The same can be said about how each level is structured, particularly in the first half of the game. Clever puzzles abound, and many of them will make you use your newfound abilities to solve them. In one particularly cool puzzle, you have to cross a pool of lava, but there are no platforms to jump on. However, there are some leaky pipes that are dripping water. In order to get past the lava, you have to slow down time so that the drips of water become big enough that when they fall into the lava, they actually form platforms. You can then cross without any harm to Joe. It's puzzles like these that show the true polish of the game. Like we said earlier, manipulating time isn't just a gimmick in this game, it is the game. Almost every obstacle you come across will require you to use your powers in creative ways.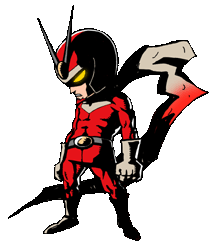 Accompanying the excellent gameplay are graphics that are equally impressive. The game is essentially a 2D game on rails, with your character's path twisting and turning in and out of the stage's background. It makes for a unique, comic-book style look to it, and it perfectly complements the charm that the game possesses.
What really makes this title shine visually is the terrific character designs. Joe himself is cleverly designed. He's a squat little man with a goatee, but once he turns into Viewtiful Joe, there's just something about the way he looks that makes you think that this kid can kick an unholy amount of ass. It's got to be the cape, really. The supporting cast is just as great. My personal favorite among all of the enemies you'll face in the game is Hulk Davidson, a jive-talking dino with a tremendous chip on his shoulder. Even the lower-tier grunts have some great designs, such as the Cowboys with their double pistols or the General grunts, decked in army fatigues and armed with sabers. Just looking at screenshots doesn't do it justice; you need to see it in motion with all of the effects going in one sequence to really understand what makes this game look so great. With the unique look that this game has, it's very hard not to like it. Very hard.
The voice work is also on the level of the rest of the game. The background music isn't anything to go nuts over, but the effort put into making the voices as entertaining as possible is obvious here. The sound effects are what put the exclamation point on the action. Every punch and kick has an amazingly loud clash to it, especially when you slow down the action and zoom in. I almost feel sorry for the poor grunts that I whoop.
With a lot of action games in the past, there wasn't too much to do after you completed the game once through. Thankfully, games have been getting much better in that regard, giving us more reasons to go back to playing from the beginning in hopes of unlocking something cool. Viewtiful Joe is no exception here. Once you have finished the game, you actually unlock another difficulty level (as if the default wasn't tough enough!), and yet another one is unlocked once you finish the game on that level. With three secret characters and a music video to unlock (not to mention a host of other goodies), you'll no doubt have to spend quite a bit of time with the game to unlock everything.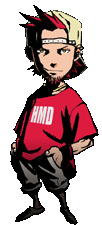 For a good 1500 words, I've gushed over Capcom's latest masterwork - and let's face it, who wouldn't? This is a title that came out of nowhere to wow everyone a year ago, and not only did it deliver the goods, but it brought dessert, a couple of bottles of cognac, and a high-priced escort with it. This is one of the very few titles that has brought the complete package to gamers: beautiful graphics, great replay value, and of course, some of the best gameplay that has been seen in years. Not only that, but it has that one intangible that many games don't have: personality. The Grand Theft Auto series has it, Disgaea: Hour of Darkness certainly has it, and so does Viewtiful Joe. It's that common X-factor between all three of those games that really pushes them to the top of the heap in the industry. The new kids can have their Dead or Alive and Gran Turismo games all they want. I have Viewtiful Joe, and there's no way I'd kick him out of bed for eating crackers.