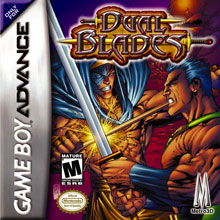 It must be hard for any company not named Capcom or SNK to make a decent fighting game on the handhelds these days. While weíve been treated to some exceptional titles from the aforementioned companies for the past couple of years, no one else but Sammy has successfully run with the ball. Unfortunately, Dual Blades by Metro3D doesnít seem to score either.

In Dual Blades, players can choose from a cast of eight generic characters, such as a Efe, a knight; a Hibiki-style swordswoman named Hibiki; and a beastman who controls . . . rats. Bland and uninspiring is the least of this gameís worries.

The gameplay is definitely influenced by the old fighters of yesterdecade like Street Fighter and Samurai Shodown, as fighters possess several special moves and four super moves, although you can only pick one of the latter for each fight. However, the special meter that fills up during the fight can be used for things other than your super move, such as to heal your character, perform a combo breaker, or cancel the recovery of a special move. While this aspect of the gameplay does seem rather unique, the rest of it seems very tired, as if it was done ten years ago. Wait, it was done ten years ago!

The problems donít end there, as this will definitely be in the running for worst-looking game of the year. Honestly, you canít expect too much from a developer thatís trying to outdo Capcom and SNK at their own game, but it should be expected that the graphics will at least resemble something that came out of the 16-bit era, especially on the GBA. Sadly, we donít get even this, as the graphics look closer to something out of a cheap PC game that was thrown together by a couple of high school kids. The sound is pretty much the same - itís fairly bad, what youíre actually given anyways.

Surprisingly, the actual gameplay is decent, if a little tired. You can pull off your usual attacks, combos, and super combos, and it actually does give the imaginative gamer out there a lot of opportunities to mess around to make up your own devastating combos. Now you may be wondering why this game got a Mature rating, and frankly, so am I. You can do Samurai Shodown-esque ďfatalitiesĒ where you will slice your opponent in half if you happen to hit them with a super combo or a special move, but itís so laughingly bad that youíll wonder how anyone mistook it for violence.

Considering the quality (and amount) of fighting games on the GBA, Metro3D really dropped the ball here. Itís not enough to just make a Street Fighter imitation and hope that it will sell well, especially when it looks as bad as this game does. While there are some mildly bright spots in this title (mainly in the gameplay), Metro3D definitely needed to put more thought and resources behind Dual Blades.