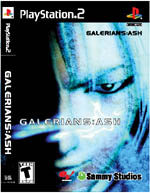 Making its debut on the PlayStation almost 3 years ago today, the original Galerians was billed as the very first "psychic survival horror" game where you could literally pop the heads off your enemies by using your psychic powers. Now with a new publisher and developer (Sammy Studios and Enterbrain respectively), Galerians: ASH is the followup, taking place approximately six years after the events of the first game. As the only Galerian not under the influence of the super computer Dorothy, Rion partners up with a young girl named Lilia to take out the remaining Galerians, headed by the game's namesake, Ash.

Unlike the first Galerians game where Rion had limited powers, this time around he's fully equipped to tackle the challenges awaiting him. Rion starts off with three abilities that he can use to fend off enemies: Nalcon, Red, and D-Felon. The Nalcon power is an ultra-strong shockwave that can be used as a single shot or a series of successive hits against your opponent, while Red is a simple flame-based attack. D-Felon is an impressive telekinetic ability that allows Rion to lift an enemy or a group of enemies off of the ground and send them crashing to their death. Rion also gains two other powers called Bustanor and Breakaron later on that are obviously more powerful and more useful than his primary abilities. However, all of these lovely powers come at a cost, namely his sanity. While you have full control of your powers from the beginning, a meter called the AP bar slowly buids up whenever you use these powers or enemies attack you. When this bar is filled, Rion "shorts" and becomes totally invincible and will start to destroy everything in his path. Now this may seem like a good thing, but Rion's health also decreases when he shorts. The only way to stop this is by using a PPEC (Psychic Power Enhancement Chemical) called Delmetor. This gives Galerians a good bit of resource management, since you have to look after your AP meter so you don't go completely haywire when you don't have any Delmetors to use as well as keeping tabs on your health meter in battle.

The combat system in Galerians: ASH utilizes the now-traditional lock-on targetting system, giving you the ability to form a psychic shield in front of you (and eventually behind you) to block attacks as well as a dodge button to avoid attacks from all angles. The ability to dodge and create psychic shields is nifty and all that, but the problem here is that there's no easy way to switch targets when you want to lock on, at least none that I found. To lock onto different targets you have to manually turn off Lock On by pressing the R2 button and then lock on again with the R2, which can be very annoying when facing groups of enemies. Aside from attacking, dodging and using your shields you aren't given many options in combat either. The only strategy comes in deciding what psychic powers would be best suited for your situation, which is not terribly involving. It would've been awesome if you were able to combine your psychic powers for combos, such as using D-Felon to grab your enemies and then blast them with Red or Bustanor before they hit the ground. Don't get me wrong though, combat in Galerians: ASH is an enjoyable experience, and given the length of the game it doesn't get repetitive at all, but one can easily see where there could've been improvements if Enterbrain had a little more time to work on it.

One major problem with Galerians: ASH is the lack of any innovative design when it comes to the puzzles scattered throughout the game. Here's a quick quiz for you: if you had the ability to create earth-shattered shockwaves, highly powered energy blasts and limited telekinesis, what the hell are you doing looking for a damn card to enter a locked door? With the type of powers that Rion has, this game is just begging for situations where you will have to use your powers to solve a puzzle, yet they never come. Instead we get stuck with the traditional "find this key, use this switch, activate this generator" gameplay that was tired and wornout three years ago.

Graphically Galerians: ASH is a solid game with a few surprises. The lighting effects on all of Rion's powers are especially cool (especially his Breakaron), and the game has a cool mesh of organic and technological that makes it slightly different from other futuristic games. The character designs are nicely done especially Rion and Ash. Both characters come off as mentally unstable creatures (which they are), while the supporting cast does a good job of filling the necessary archetypes. Parano is another favourite of mine, with his unique headgear and his perchant for knives. Technically the game isn't going to impress you, but it does make up for it with unique designs. But while the CG movies do a very good job of telling the backstory to the game as well as advancing current storylines, I can't help but feel that these movies could've been done back in '97. Likewise the music and sound effects aren't too spectacular. In fact, I can't remember if there was anything that stood out on the Galerians' score. I'm sure I would've remembered it if it were good or bad.

I realize that it may seem that I hated Galerians: ASH, but that's definitely not the case. Given the amount of time I've put into the game there are a lot of "could've, should've" quirks with the game that I noticed while playing through it. In the end I had to ask myself despite the flaws and shortcomings the game had, did I have fun with it? You bet I did. An enjoyable game with a strong story, awesome attacks and cool special effects, Galerians: ASH can easily fill the void for anyone looking for a decent action/adventure game to keep them occupied for at least a couple of weeks.