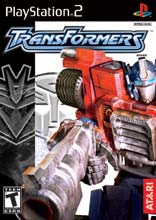 If you grew up in the Eighties and have yet to deny your childhood, or if you're just a lame teen Hot Topic shill, you know Transformers is a hot commodity right now. There's been a swath of re-releases of the older TV show on DVD; two new (and terrible) shows on Cartoon Network; a re-release of older toys; new makes and models of toys, varying from older Transformer characters to newer ones; and let's not forget the piles of tasteless T-shirts, patches, sweatbands, and the like. It all makes you think, "Good grief, I'm in the Eighties again. And this time . . . it's cool to be a nerd?!"

It only makes sense that a video game comes from all this madness, and Atari is pleased to deliver. Make no mistake, this isn't just a shameless cash run on a licensed property - it's a shameless cash run on a licensed property done right.

Atari's Melbourne House division put together the first Transformers game we can be proud to play. It's full of action, explosions, the largest transforming multi-tiered boss battle ever, and it crams in more extras, goodies, and surprises than you'll know what to do with.

For anyone not in the know: Transformers is based on the cartoon's mind-numbingly easy plot of Autobots (the good guys) versus Decepticons (bad guys). In the game, as in the show it's based off of, Transformers: Armada, this titanic battle can only be won by those who hold the most Mini-Cons: tiny little bots that power up any Transformer that wields them. Or in short, think Pokémon meets your favorite old cartoon.

What this translates into game-wise is a heavy combat, mission-based foray where you complete tasks, collect Mini-Cons, and scour vast environments for every last tucked-away goodie. Starting off, you can only choose your Autobot and dive right into enemy territory, but further on you can add Mini-Cons to increase attributes, gain abilities, or improve weapons. Some of the Mini-Cons - such as a glider model - are essential to getting through the game, whereas others give you an advantage against overwhelming odds. The Mini-Con power-up model is simple enough and gives plenty of incentive to explore each level looking for the next addition to your armament.

The whole Mini-Con element would be lost if the gameplay were off, or if the levels were uninviting, but Transformers offers a pace and control that are quite satisfying. Dual analog works as both look and movement, and the four shoulder buttons control shooting, jumping, and any Mini-Con enhancements. It's an awkward concept if you were expecting more of a platformer take to the controls, but imagine Halo with gigantic robots and it makes much more sense. Then there's the one-button transform, which is a sight to behold. Nothing feels better than laying waste to a group of baddies, transforming in mid-run, mowing down the remnants as a big-rig, and flying out of that transformation to pour fire down on the next regiment of foes. The flow between vehicle and bot is beautiful and far from a gimmick. Some areas will require the speed of four wheels, whilst other sections will call on the care (and firepower) of bipedal movement.

The levels are vast and vary in terrain as you go. From rolling hills to Aztec temples of the Amazon to snow drifts and ice caps in the Arctic, Transformers puts all of your Autobot's skills to use. Expect a lot of driving, running, shooting, dodging, and climbing - all in the first level! It would be a different story if the areas were uninteresting or dragged on, but just as you're lulled into a sense of safety another group of enemies ambushes you or a cliff just happens to sneak up on you. What the game excels at is keeping you on your toes, and even when a mission is complete, there are always extras to hunt for and new Decepticon patrols on the watch.

While it succeeds in gameplay and pace, the game suffers from visual and aural redundancy. The graphics, sporting awe-inspiring lighting effects and detailed Autobot models, aren't saved from the repetitive feel of it all. The Amazon looks the same no matter where you go, and you have to play more than one mission in these forests. Same goes for the music. It offers no real saving grace - generic techno-rock repeats over and over and . . .well, you get the idea. Not to mention the enemies follow the same generic "models" from level to level, throwing in one new problem to deal with every level or so. Plus the Autobots themselves don't offer much diversity. There are three to start, and no hidden characters to be found. The action is fast and frantic and fun, but it feels like fighting in the Arctic is just the same as the Amazon. Just with more snow. And fewer trees.

What saves Transformers and makes it "done right" are the well-suited action that never lets up and a replay value that goes through the roof if you're the collecting type. Old TV PSAs ( ". . . and knowing is half the battle"), artwork from the game, and manuals from original toys are just a minor sample of what can be found. Put that in with the Mini-Con collecting and the enjoyable (and frequent) fighting, and not even the monotonous feel can keep the game down. Definitely worth a look for action fans, and a must-have for fans of the show. Relieve your youth in 128-bit!