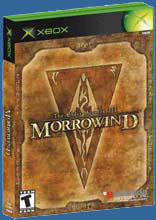 I'm part of 5% of the population of personal computer owners that own a Mac. Had a bad PC experience with a title called 7th Guest and a PS/1 and never looked back. I took my abuse and kept chugging along. Imagine how I felt about PC role-playing games.

At the same time, Japanese-themed RPGs were music to my ears. Adol, Ys, Phantasy Star, Chrono Trigger, anime, big eyes, orchestrated music, adolescent lead male characters with a chip on their shoulder and cutesy female counterparts to die for. Save the world by battling monsters ridiculously larger and much more powerful than you while painfully earning experience points to survive.

Along comes a console based on PC architecture from a man (rhymes with "Bates" - as in Norman) who would dominate the entire planet with his products and become the richest man on earth.

Yeah, you can say that Elder Scrolls III: Morrowind had three strikes against it before the green machine that would house it was even turned on. PC console. PC RPG. Yuck. Then, a funny thing happened; I turned the Xbox on and...

It wasn't all that special at first. After a few lengthy load times and some of the usual stuff of being the last one able to do something to save the planet, I started walking towards a building to create my character under the somewhat cleverly disguised ruse of having to have my paperwork checked before I could enter the village.

Hmm. 21 classes. Major and minor attributes, which ranged from specific weapons (Long Sword, Axe, Spear, and many others) and armor (Light, Medium, Heavy) to magic abilities, which encompassed healing arts, destruction, conjuration, and a host of others. Specific character traits were also separated: speechcraft (the ability to talk to others), mercantile, stealth, strength, endurance, and many more. Wait a minute. What's this? Good god. The ability to improve each specific skill separately?!?

Clearly, this was something different. This wasn't an RPG - this was an environment. A place that rewarded the use of particular skills and didn't reward you for not using them. Advancing levels was no longer simply a matter of killing monsters for experience points. You can pay for training to improve. You can use the skill to improve or if you're lucky, you can read to improve. You must improve major and minor skills by a sum total of 10 to proceed to a new level.

Of course, I picked up much of this later in the game. My initial thoughts were that the graphics were a bit bland as I wandered around. The encounters were cordial for the most part in both the towns and villages. Some villagers had much more to say than others did. Some said nothing at all. Then I noticed a little number that equated to how enamored people were with me. Generally, the higher the number, the more they had to say. And that number could change if you taunted them or gave them praise. Imagine that, you can influence the surroundings to your benefit by either being nice or being nasty. Morrowind, however, wasn't done there when it came to innovation or surprises.

I happened into a room and noticed a tome on a desk. I flipped through the pages and read fourteen pages of a short story. I did this twenty or thirty times and there were many more opportunities to read fascinating subplots that pertained to the entirety of the game. Wow, I thought, this must've taken a Herculean effort to not only compose scores of original tales but also intertwine each with the culture and environment that composes Morrowind. I've played the game on and off for months and I don't think I've yet covered half of what there is to see and do. There are some cities that you could spend weeks in just wandering around and exploring or talking to characters. There are some environments that you'll find yourself returning to again and again. You can join a Thieves Guild, a Fighters Guild, a Mages Guild, and many others. Sometimes their instructions conflict with one another and you're forced to choose or find another chapter from which to get instructions. There are hidden caves to explore that you'll only find by chance, hidden fortresses and hideouts far underground.

Morrowind, to some extent, defies description. If you think that the 100+ hours that you spent on Dragon Warrior 7 is some kind of accomplishment, then you're in for a rude awakening that that amount of time is amateurish. In Morrowind you can be exactly what you want to be - thief, rogue, bandit, fighter, knight, mage - and you can have whatever attitude you want about it. Be a killer or a saint. Your reputation will reflect your character and the NPC's that you encounter that are aware of your reputation will also act accordingly. If you don't feel compelled to perform a particular quest or action, then don't. There are multitudes of options and paths you can traverse or ignore. One of Morrowind's greatest features is that you don't have to do anything .

Morrowind has mountains, seas, oceans, islands, deserts, sandstorms, rain, snow, and everything else that you'd expect on a large continent. Different races, different cultures, different architecture - the sheer expanse that the environment encompasses will astound you, as will the game. I can honestly say that in my 25 years (yeah, 25 years) of gaming that I have never encountered an animal such as this. While it's not beautiful to behold, it is beautiful to be a part of. There are many aspects of this title that I don't want to delve into - much of Morrowind's appeal is all of the things that you don't expect from a console or any other type of RPG that you encounter along the way.

Bottom Line: A bona fide must have for Xbox that might separate you from the outside world for weeks at a time. Go to your local supermarket and buy plenty of chips and beverages containing caffeine and put the answering machine on. You won't be leaving the house for quite some time. If ever.