Odyssey 4... and 5?!
2018-10-28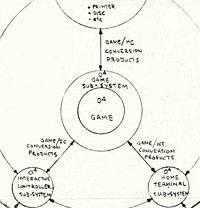 As we know, the follow-up console to the Odyssey², the Odyssey3 Command Center, was ultimately cancelled in the United States – although a version of it did come out in Europe as the Videopac G7400+. But did you know that an "Odyssey 4" was in the planning stages as well, and even an "Odyssey 5" was considered as a future product? Rafael Cardoso alerted me to some fascinating engineering documents from "Papa Intellivision" Dr. David P. Chandler, who led the development of the Mattel Intellivision system from its conceptual stage all the way through release. Dr. Chandler sadly passed away in 2011, but many of his engineering notes and documents have been preserved on PapaIntellivision.com and mirrored on Archive.org.
Of particular note to Odyssey² fans are notes from early 1983 meetings between Mattel and North American Philips where future products from both companies were discussed. Included in the notes are numerous references to "Odyssey 4", which was proposed as an expandable system. A diagram labeled "O4 System Interfaces" depicts a series of expansion units, with the "O4 Game" at the center. Other systems attached to it include a Home Computing Sub-System which would support standard PC operations like discs and printers, a Home Terminal Sub-System that would connect to external services like Videotex or Dow Jones, and an Interactive Controller Sub-System that included peripheral devices like laserdisc players or cable downloads. An "O5 System" (presumably meaning Odyssey 5) interface is shown surrounding the core O4 product.
This is an amazing piece of information and reveals a possible future to Odyssey that wasn't widely known before. I plan to study Chandler's notes for a more in-depth analysis later, but a few points jumped out to me after just a quick read. First, these meetings happened in early 1983, just before the Odyssey3 project was cancelled. (The O2 Timeline shows that the cancellation announcement was made in June 1983). Second, the expandable system shown in the diagram sounds a lot like the home computer system that Philips programmer Randy Green worked on after the Probe 2000 games division shut down. The Videotex integration is interesting, since the cases of European G7200 consoles are essentially modified Minitel terminals – which connected to Videotex. And lastly, the whole enterprise seems reminiscent of the Philips CD-i, which began early development in 1984. Could it be that the CD-i, after a fashion, IS the Odyssey 4? There's probably not enough evidence to definitively say that yet, but who knows what further research might uncover? Thanks a lot to Rafael for pointing this out!
Prepare for Blast Off... to Moon Town!
2018-10-28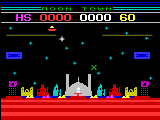 Odyssey² and Videopac homebrew programmer Rafael Cardoso is up to it again! His next release channels the arcade classic Missile Command as well as Imagic's console release Atlantis. The aliens from Rafael's earlier release Mars Menace are back in Moon Town! The human survivors from the first game have set up a colony on the Moon. But the Martian menace won't allow the colony to live in peace. It's your job to protect it from the invaders.
Moon Town! will be available in both Odyssey²- and Videopac-style packaging, and will have a limited cartridge release. You can reserve your copy at the Videopac.nl forums.
Can You Survive the LASER BLITZ?
2018-05-20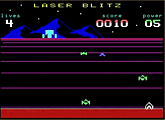 Odyssey and Videopac homebrew designer Rafael Cardoso has announced his latest release: LASER BLITZ! In each level of this shoot'em-up that takes visual inspiration from the console classic Beamrider, you have to destroy the Titan robot at the top of the screen. To bring down the Titan, you must accumulate enough energy to launch a missile. The enemy attacks start with green, then yellow, then pink and finally blue fleets, each one more powerful than the other.
The game is being released in a limited run of 50 units, 25 done in the U.S. Odyssey² style, and 25 in the UK Videopac style. The release date is the end of this month, May 31. Reserve your copy over at the Videopac.nl Forums.
New Turtles Remake Released!
2018-04-29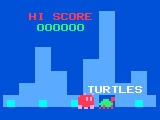 In celebration of the 35th anniversary of the launch of the Odyssey² video game in Brazil, a new TOWER TURTLES game has been made available. Released on April 14, it is a remake of TURTLES that brings new challenges for the turtle and its babies!!!
TOWER TURTLES was designed and developed over two years by Luciano B B A Ferreira and released by Retronic. The developer calls it "a birthday present for the Odyssey in Brazil."
It is available in two versions: Portuguese (Odyssey) and English (Odyssey²).
Have fun!!!
Things that "Boo" and Things that "Boom"
2017-12-10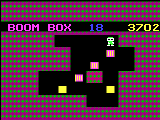 Rafael Cardoso and Videopac Is @live are at it again with two new releases! In the straightforwardly-named HAUNTED WOODS, your archer navigates a ghost-infested forest to rescue the lovely Princess Bia. Meanwhile, BOOM BOX may sound like the awesome cassette deck you hoisted on your shoulders in the '80s, but it's actually an Odyssey take on the classic box-pushing puzzle game Sokoban. Push the boxes carefully or everything will be blown sky high!
A gameplay video for HAUNTED WOODS can be seen here and one for BOOM BOX is located here. Both are being sold through the Videopac.nl forums, and are limited to runs of 100 cartridges each, with 50 produced in the Odyssey² style and 50 in Videopac fashion. Up for a princess-rescuing adventure? Order HAUNTED WOODS here. If box-pushing is more you speed, get BOOM BOX here.