Boxes
No Box data available.
Carts
No Cartridge data available.
Screens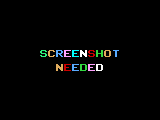 In 2011, Robbert Jansen, administrator of the Videopac.nl forum, was contacted by a programmer who developed Videopac games in the early 1980s. The developer gifted Robbert with several unreleased prototypes, one of which was labeled
Terrahawks
. This prototype, developed in Europe, turned out to be a completely different game than the
Terrahawks
that was actually released in Europe – a retitled version of the American-developed
Attack of the Timelord
. It's unknown if the unreleased
Terrahawks
prototype was passed over in favor of the
Timelord
release, or if it was meant to be a sequel. A sequel to
Terrahawks
was mentioned in a French catalog, so this is a possibility, but nothing is certain. The unreleased
Terrahawks
, while more similar in tone to the TV series it's named for, is more difficult than
Timelord
and Philips could have been less certain of its success.
In 2013, Classic Consoles Center created a cartridge reproduction of the prototype game, titling it
Terrahawks: The Second Assault
and assigning it Videopac #70.
Thanks to
Classic Consoles Center
for this information.
Related Links
Equivalent Games
R values indicate rarity (R:1 = Most Common, R:10 = Most Rare)
---
New Search