Early K.C. Munchkin Prototypes!

Around 2003, David Winter (curator of the great Pong-focused website Pong-Story) discovered some very early prototypes of the game that would become K.C. Munchkin. Significantly, the main character is not a munchkin yet – but a circular yellowish figure with a wedge-shaped mouth. Sound familar? David put up a web page describing the protos but it's been offline for years. Now, he gave me permission to re-publish it. Take a look!
Extra! Read All About It!
2021-02-21

Hot off the presses! I'm pleased to announce a brand new area of the site: the Odyssey² Newspaper Archives, an index of O2 content that you might have seen in your daily paper decades ago. Although the Internet hasn't fully killed off the medium yet, newspapers are nowhere near the media powerhouses they once were. Back in the Odyssey²'s heyday, the daily paper was a major source of information and news for people across the world. Dig through an archive of newsprint from the early '80s and you'll likely find advertisements, sales listings, and maybe even the occasional article about our favorite console. I've been combing through some online archives for a while and saving up digital clippings, which I've placed into a kind of scrapbook under the site's Library section. So grab a cup of coffee and your morning bagel and start reading!
The content currently in the Newspaper Archives only scratches the surface – I still have dozens of advertisements to add, and there are more online archives I've yet to sift through. I'm sure I'm not the only one doing this. If you have been saving newspaper clippings on your own that you'd like to share, please contact me.
Can You Escape the FROZEN FORT?
2021-02-21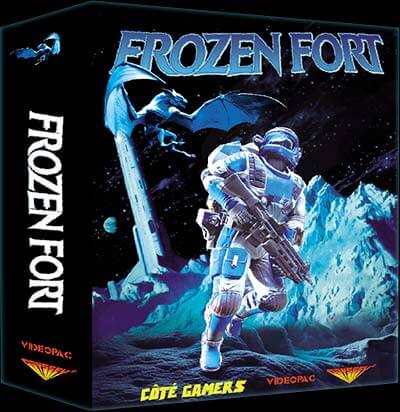 The newest Odyssey²/Videopac homebrew is truly an international effort! Designed by Rafael Cardoso of Brazil, Frozen Fort is being published by Côté Gamers of France with the help of Marc Verraes from Belgium. Plus, it's set on an asteroid, so does that make it interplanetary as well? Well, maybe not, but its story is intriguing to say the least:
After years of searching, Spencer Styles has finally managed to complete his father's quest: to find the mysterious asteroid of the ancients that all the legends of the cosmos speak of. Located at the edge of the GNZ-11 galaxy, in an as yet unexplored solar system, the asteroid can only be reached when it temporarily escapes from a swarm of millions of its fellow companions, which happens only once every ten years... the ancients hid a terrible secret... but to access it, it will be necessary to gather seven artifacts. Where are they? What do they look like? No one knows yet...and maybe no one will ever find out!
Soon you'll be able to don Spencer Styles' spacesuit and solve the mystery yourself! Frozen Fort is now available for pre-order at Côté Gamers, a French group producing collector's editions of homebrew games for classic systems. Frozen Fort is their first O2/Videopac effort, and like their releases for other systems, it will come in a "big box" (4 × 19 × 4cm) supported by internal foam wedges. Included in it will be the cart and manual, some index cards from their encyclopedia of video games, a 3D-printed certificate of authenticity with your name, and a full-color, 46-page bilingual (English and French) leaflet about the making of of the game! The game costs €45 and will be released at the end of March. Watch this forum thread for more information.
NOTE: If you read this in time, try to catch Rafael along with others from the Odyssey Brasil group on Sunday, Feb. 21, for a live stream on RetroGamer Brasil's YouTube channel. It's happening at 9:30 p.m. UTC (in the USA, that's 10:30 a.m. EST, 1:30 p.m. PST). I believe the stream will be in Portuguese, but it should be fun. They are even giving away a copy of Floresta Assombrada, the Brazilian version of Haunted Woods!
Return to Haunted Woods, Brazil Style!
2020-12-13
Odyssey Brasil is preparing to relaunch some homebrews in the Brazilan style, with Portuguese titles, new packaging and extras – they are really going all out! First up is Haunted Woods, which will receive the Portuguese title Floresta Assombrada. The set will include: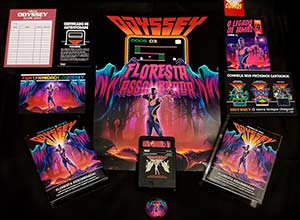 Acetate case packaging
Numbered Case (American Standard)
Numbered Cartridge (NEW, exclusive Odyssey Brasil version)
Numbered Certificate of Authenticity
Manual in Portuguese
Rules in English
ScorePad
Storybook with story of the game (Portuguese – Coming soon in English on the Experiência Odyssey website)
Odyssey Tales Page Marker
Haunted Forest/Floresta Assombrada button
Poster (420mm × 297mm)
Postcard (Pre-Sale Exclusive – First 50 copies)
If you're interested, send "HELLO" to https://wa.me/p/3353382318120952/551150832487
Expect to see more such rereleases coming from Odyssey Brasil!
The Odyssey Adventure Continues!
2020-09-20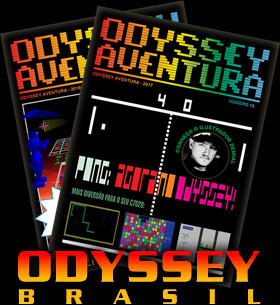 Exciting work is being done in South America! Odyssey Brasil is a group of passionate Odyssey fans headed by homebrew author Rafael Cardoso, Experiência Odyssey webmaster Ricardo Silva, and Márcio of the Facebook group Odyssey – O Videogame da Philips among other devotees of the system. Together, they are working to relaunch Odyssey Adventure magazine in Brazil!
If you read original issues of Odyssey2 Adventure (Odyssey Aventura in Brazil), you'll know that back in the day, Philips treated Odyssey fandom like a social club, with the magazine as its official publication. It was a fun way to provide a sense of community to all Odyssey fans as they read all the latest news about upcoming releases and events. Odyssey Brasil is aiming to recapture those glory days by creating NEW issues of Odyssey Aventura. With a constant stream of new homebrews, ROM hacks and repros, the Odyssey community is thriving once again. It seems only right for new issues of the classic magazine to report on all this activity.
Issue #9 of Odyssey Aventura, which picked up where the original eight issues from the '80s left off, was already published by Rafael some time ago. Issue #10, which profiles some older homebrews as well as the artist ZeMiaL who has provided amazing artwork for some recent releases, is coming soon. Both digital and print versions will be available. The content will be in Portuguese, although plans for an English version are being considered. Watch Experiência Odyssey for news. Announcements will also be posted on this site.
The 50-Foot-Tall Stalk of Celery!
2020-09-20
Homebrew developer Chris Read has just released a new Odyssey² game, with possibly the greatest title of any video game, anywhere: The 50-Foot-Tall Stalk of Celery! I won't try to describe it myself, and instead just post the publisher's description: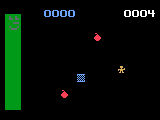 You are Rodney, friend of the 50-foot tall stalk of Celery.

Mr. Celery has a problem: It seems the vegetarians want to chomp, chew, and digest him!

As Rodney, you can help fight back! How? Well, Mr. Celery has invented a Vegetarian Killing Machine (VKM for short).

Rodney can control the VKM. Vegetarian men are running amok! Use the VKM to destroy them. How many vegetarians can you defeat?

Oh, one more thing: the vegetarians are aware of you and Mr. Celery's plans. They are hurling bombs at you!

Avoid the bombs! If you get hit by a bomb, it's all over for Mr. Celery!
With a story like that, how can you not want to play it? Cartridges and manuals are now available for purchase from publisher 2600 Connection for $25 plus shipping.