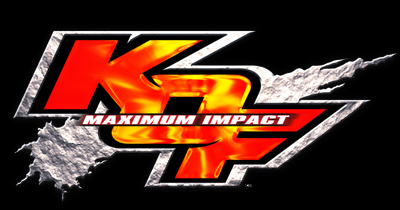 Click here for the trailer (MPEG, 15.6MB, 1:52, 352x240 - no gameplay footage).
You can't talk about a King of Fighters game without mentioning the series, and you can't talk about the series without mentioning the legendary Neo·Geo hardware. For thirteen years, SNK's combination arcade workhorse and home console dream machine has been home to some of the most celebrated 2D fighters in existence. Forays into 3D and other SNK systems came and went, and the company itself died and rose again, but all along – every year between 1991 and 2003, inclusive – there have been pixel-built Neo·Geo fighters.
With King of Fighters: Maximum Impact, the veteran developer is breaking with tradition on two fronts. Though games like Fatal Fury: Wild Ambition and Samurai Shodown 64 came along years before, Maximum Impact is the first 3D entry in the flagship King of Fighters series. More importantly, this KOF will never seen the inside of an SNK machine. No, this game was developed specifically for the PlayStation 2. (We will now pause for several minutes as the Neo elite wail and gnash their teeth.)
The story falls a little way's outside the traditional portrayal of the King of Fighters Tournament. It centers not on the event, but on a heated turf war between rival gangs in Southtown. Though Terry Bogard, Kyo Kusanagi, and at least a dozen other favorites are returning, the main conflict lies between warring street gang factions, with the KOF participants getting involved in order to save the city and the integrity of the tournament. There are twenty-four fighters in all, with at least six all-new entries to the series (we don't know yet if the four hidden characters are something old, something new, something cloned, or a little of each).
The heroes this time around, brothers Alba and Soiree, have a Ryo-and-Robert (Art of Fighting) dynamic in that they are each working toward a fight with the big crime lord, but unlike the earlier Southtown saviors, they practice distinct styles.
SNK Playmore promises to build extensively on the old move lists with new combos, four different jump moves per character, air-launch Knock Back Attacks, and more. Believe me, you will be hearing a lot more about this game, good or bad, between now and its fall release.