Take a look at some of the great vendor and exhibitor booths this year: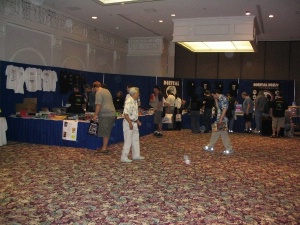 Just inside the entrance was the huge Digital Press booth, with tons of vintage games, game reference books, and other merchandise for sale. Attendees also enjoyed their lounge area show at far right, where you could kick back with a game on classic consoles.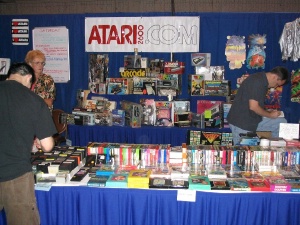 The Atari2600.com booth looked like a gaming retail shelf right out of the early '80's.
B & C Computer Visions had stacks of Atari games available. Jaguar LIVES!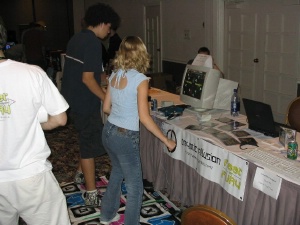 The Cryptic Allusion booth let gamers unleash their Feet of Fury.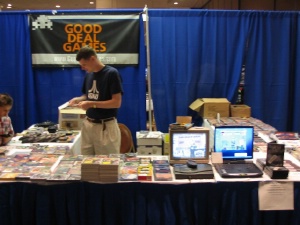 Good Deal Games uses all the proceeds from their game sales to finance the release of new titles for classic systems.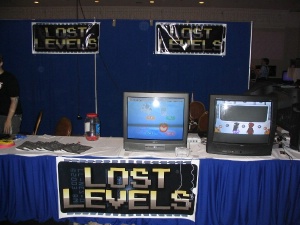 The Lost Levels booth had many unreleased or rare titles for classic consoles on display and ready to play. Titles shown included Propeller Arena for Sega Dreamcast, and Mr. Gimmick, Drac's Night Out, Legend of the Blob Bros. 2, and California Raisins for the NES.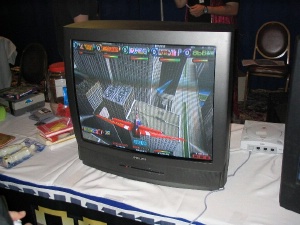 A close-up on Sega-AM2's Propeller Arena for Dreamcast. The game was cancelled just weeks before its scheduled 2001 release in consideration of the September 11th tragedy.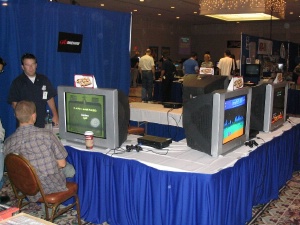 The Midway booth was previewing a playable version of their upcoming multi-platform release, Midway Arcade Treasures.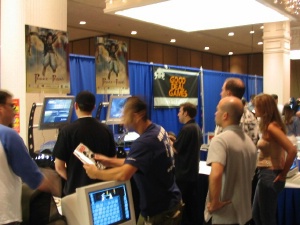 Ubi-Soft showed off a playable PS2 demo of their upcoming Prince of Persia title, a re-envisioning of the long-running PC puzzle game series. It's looking very promising and has progressed nicely since it was featured earlier this year at E3.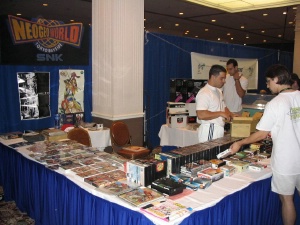 The NEO GEO Freaks booth featured many rare titles for the enduring SNK console.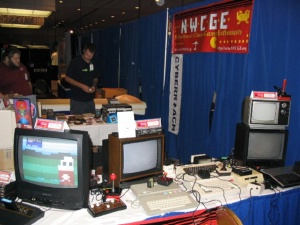 Attendees could play several classic systems at The Northwest Classic Game Enthusiasts booth.
Packrat Video Games had lots of classic games available at their booth, and you could even try them out before buying! Of particular interest was their custom table and lamp made entirely out of Atari 2600 Combat cartridges (shown at right).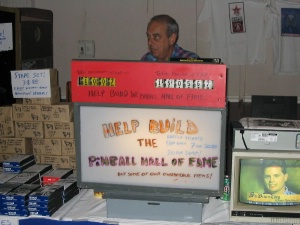 What?!? You mean there's not ALREADY a pinball Hall of Fame? It's a worthy cause!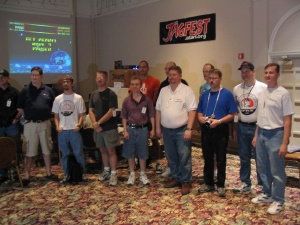 Atari Jaguar enthusiasts and programmers unite at the JagFest booth. The game projected on the back wall is Protector, Songbird Productions' recent Defender-inspired title for the Atari Jaguar.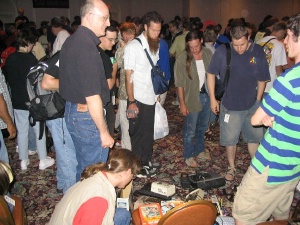 The CGE Swap Meet began after the close of the first day's exhibition at 5:00pm Saturday. Step right up and make an offer, but don't step on anything!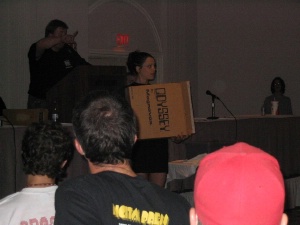 At 6:00pm, it was time for the official auction to start--featuring tons of rare games, consoles, and free beer (to get those bids flowing). This brand new Odyssey console and set of six games didn't quite meet its $400 reserve, despite lots of interest from the crowd.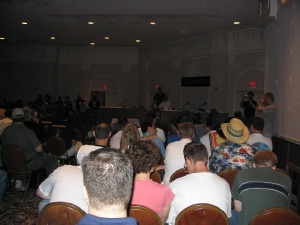 Atari founder and "Godfather of Video Games" Nolan Bushnell closed out CGE with a fascinating keynote speech on Sunday afternoon. The candid anecdotes he shared about the wild early days of Atari could make for a bestselling tell-all book.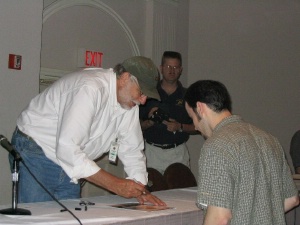 Afterwards, Mr. Bushnell signed autographs and posed for pictures with the fans. It was a once-in-a-lifetime moment for in attendence... Mr. Bushnell is to Atari and classic videogames as Shigeru Miyamoto is to Nintendo and the modern-day video game industry.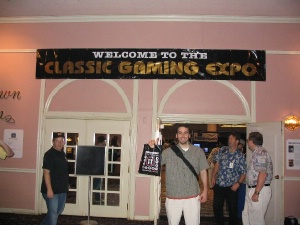 And so another great Expo comes to a close... See you next year at CGE 2K4!