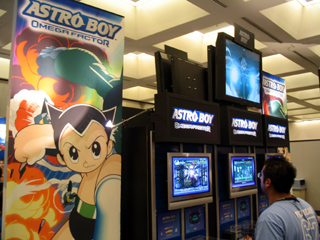 Astro Boy: Omega Factor for Game Boy Advance is more fun than
a lot of games on more powerful hardware . . . Sega's PS2 Astro Boy title, for instance
Can you remember the last time a Game Boy version of a game was better than the full-fledged console version?
Sega's Hitmaker has teamed up with the legendary 2D gurus at Treasure to bring Astro Boy: Omega Factor to the GBA. Together they produced a rollicking shooter that more than does the source material justice. If ever there were a hearing on the importance of gameplay over graphics in video games, the case of Sega's two upcoming Astro Boy titles would be Exhibit A. Despite being on a handheld with a fraction of the power, Omega Factor trumps Sonic Team's Astro Boy for PlayStation 2 in every way imaginable. Polygons would just get in the way of the furious old-school action on this cartridge!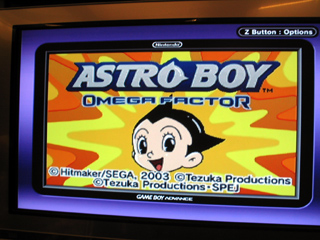 Don't let the cartoony look fool you - this is one kick-ass GBA sidescroller
Four diverse stages were playable in the Omega Factor E3 demo, each one with a slightly different style of play, but all of them imaginative and enjoyable. The action often looks like traditional 2D sidescroller fare, with Astro Boy blasting his foes from the left side of the screen. But as with most Treasure games, there's a flair to the controls and an immediacy to the shoot'-em-up gameplay that pulls you in right away. Graphics are colorful and attractive, sporting some of the best animation seen on the Game Boy Advance.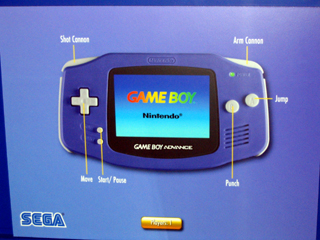 The controls are simple: B fires off a steady laser beam (or punches while Astro's on the ground), A jumps, and the left and right shoulder triggers kick in the two special power-up weapons: the shot cannon and arm cannon. The cannons burn up super power points, but the amount of times you can use them before running out is pretty generous. Temporary invincibility is also gained while using the shot cannon, so in effect it's a type of the traditional shooter's smart bomb. Rounding out the offensive abilities is the dash attack, done by pressing A + B. Things get even deeper when you string punches and super moves together for combos, which will inflict greater damage on opponents and add point bonuses to the score.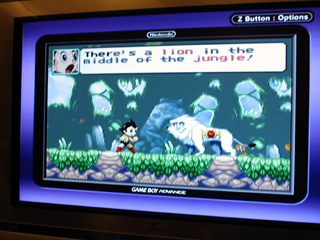 The boss encounters in Omega Factor are as inventive and numerous as you'd expect from a Treasure game
Flying levels consist of a mix of intense boss fights and waves of smaller enemy patterns. Level 2-1 opens with a classic horizontal shooter setup: patterns of baddies cruising headlong at Astro as he soars across a blue sky. The twist is that as long as you continue to hold the B button down, the finger beam will shoot out a continuous laser. Rather than tapping it to fire as fast as possible, you want to lean on B and sweep Astro Boy rhythmically across the screen from top to bottom. Foes will get mowed down as they rush in with ever-increasing speed.
Now, about that emphasis on boss battles! In one jungle stage, Astro comes across a lion, who promptly turns into a robot. The robot-lion then runs off and one of the weirder mid-boss battles begins: a bout with a rabbit, horse, and duck riding in a big tire. Equally odd is a fight with an "artificial sun" boss that takes up more than half of the screen. The orange blob soon sprouts tentacles after taking damage and becomes even larger as you pour on the shots. Liberal use of the two super cannons is strongly recommended!
Omega Factor isn't all pure sideiscrolling shooter, though. The gameplay comes down to earth for equal parts of Mega Man-style stages, such as one where Astro takes on an swarm of killer bees in the city. Other demo levels found our hero cruising aboard a moving elevator platform as enemies and bosses jumped on to hitch a ride, blasting spiders in a cobweb-covered lair, or creeping through the dark with only a small spotlight to guide his way.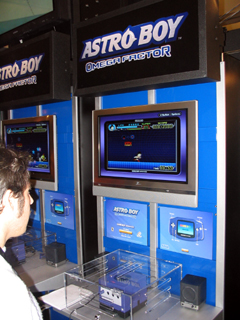 Omega Factor is equal parts horizontal shooter and Mega Man-style action

There's a "One more try" addictive quality to this game that will hook you in from the first minute; the action is immediately satisfying and the sprite graphics are clean and appealing. Best of all, the game remains easy to control in spite of all the various attacks and styles of gameplay. And with Astro's generously long life bar, you'll never feel like a death was unpreventable. Even on Normal mode, the difficulty seems just about right, or even a tad forgiving considering that it's a Treasure game.

Shooter fans and old-school action gamers should pick up Omega Factor as soon as it hits the U.S. in August. I recommend playing it on the Game Boy Player for a blast back to the glory days of shooters on the Super Nintendo and Sega Genesis. As for Sega's other Astro Boy title on PS2 . . . what Astro Boy title on PS2?

Movie: This boss is one "sun" of a bitch! Astro's arm cannon attack ought to level the playing field. (AVI, 10.9MB, 640x480, 0:14)

Movie: Astro Boy gives these giant bees a sting of his own with the dash attack. (AVI, 4.2MB, 640x480, 0:06)