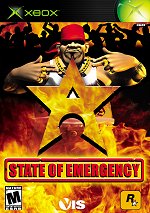 When State of Emergency made it's debut on the PS2, I couldn't help but immediately think of the 16-bit classic Smash TV. In some areas, one can consider the scope and appeal very similar, though our review masterfully expresses the distinctions and then some.
Now one year later, Rockstar is bringing its adrenaline action title to the Xbox. Since that time, the developers have gone back and adjusted the engine substantially from top to bottom. Among the new features exclusive to the Xbox edition are a sharper graphic engine, boasting a high-res textures. Plus, a personal favorite (which I am sure is yours too, thumbs up to Rockstar): you can rip your own CDs to create custom soundtracks while you're out brawling and hurting folks on the streets.
And remember, let's keep it on the virtual plane and not for whatever reasons get influenced to try that for real, mmkay?
The multiplayer feature should make the Xbox edition twice as enjoyable compared to the original PS2 version. Grab a friend, or even go as far as to get up to four players in on the action. Set up a Deathmach, haul your ass in the Survivor mode, Chaos, or Last Clone Standing (what?) Note: The engine runs at 30fps, so don't expect the blazing speed that's available in the single-player mode which runs at 60. In addition, the Revolution mode has been totally reworked, giving this year's edition more diversity. If that weren't enough, VIS has thrown in an additional 14 character-specific missions. Clearly, the developers went and did their homework and made some solid, significant upgrades.
State of Emergency of course retains all of the same power-ups, including weapon power-ups, helpers, infinite ammo, and much, much more. I would have loved to see some special additions made just for the Xbox (and perhaps they're in there and just need to be discovered). SOE shows lots or promise (and Nick may be forced to run out and pick this one up when it ships). You can bet we'll keeping an eye on this one (followed by a full hands-on review) when mayhem takes control of the Xbox later this month.
Features:
It's a riot - a total free-for-all where you have to beat up everything and everyone in order to make your way through the game.
118 diverse and entertaining missions range from protection to punishment.
Over 250 people on screen at once - including Corporation enforcers, ruthless gangs and innocent civilians. You'll have to act strategically to not harm the civilians and to defeat your enemies.
Choose from one of five rebels, each with different strengths and weaknesses, each with their own underlying motives for toppling the Corporation.
Deep selection of hand-to-hand fighting moves, including deadly combinations to master, back attacks, special attacks to free yourself from a crowd, grab attacks, and dash attacks. The beatings continue right down to the ground with foot stomp attacks and punches.
Tons of super-destructive weapons help you cause mayhem on the streets of Capitol City. The full arsenal includes a pistol, Uzi, AK47, M16, Flame Thrower, Rocket Launcher, Molotov Cocktail, Tazer, and Pepper Spray.
Four enormous and fully interactive environments include the Mall, Chinatown, the East Side, and Corporation Central.
Completely interactive environments let you smash up your surroundings, pick up environmental objects and interact with any of the characters displayed on screen.
Whether it is Corporation death squads or ruthless gangs, prepare to fight a lot of enemies at one time.
Absolute mayhem prevails as hundreds of people fill the screen! The citizens of Capitol City have individual reactions to the events around them, some will fight while others cower in fear.
Watch yourself - Corporation Enforcers prowl the streets looking to stop trouble and are ready to use any and all means necessary to do so.