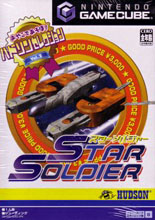 Star Soldier on GameCube is, to the best of my knowledge, a straight redo of an old NES game. Well, I've never actually played the game it's based on, and for that matter I don't even have the N64 US Sequel Star Soldier: Vanishing Earth, so this is going to be a nostalgia-free opinion on the merits of a Japanese import-only budgetware trip down somebody else's memory lane.

Star Soldier is a vertical shooter in an older style. There's no bullet hell, and in fact not a whole lot of bullets from things that aren't bosses or mini bosses, at least by today's standards. Instead, the game is happy to fill the screen with waves of enemies, and the central scoring mechanism is clearing off the waves as fast as possible for a good point bonus. Faster clearing of the enemy wave gets not only a larger bonus but frequently an extra wave of tougher enemies behind them that you wouldn't have seen if you hadn't been quick. It adds a nice touch of randomness to the proceedings, something that current-day shooters could use a bit more of.

Another fun thing about the enemies is that, when you stop and think about them, they make almost no sense whatsoever. You've got blue dumbbells that travel down the screen in a way that reminds me of a slinky on stairs, you've got orange circle-things that travel at high speed from the top to the bottom of the screen, the other orange circles that go into a formation in the middle of the screen, begging you to shoot them, green wrenches, green butterflies, a giant android head mini boss that appears once on all levels (and if you nail him before his halves connect you get a huge point bonus), a normal ship boss on one level, and a large crab boss on another. Thematically it's a mess, but the game isn't about thematic consistency. It's about dealing with two simultaneous waves of enemies that move in very different patterns, going for the point bonuses on both of them at once while avoiding the odd bullet from a ground target, and collecting point bonuses off of other ground targets.

This game is littered (almost literally) with point bonus opportunities. In addition to the enemy wave, there are also small green circles on the ground you can destroy for a small bonus, but usually there are enough of them in one place to make it worth the getting. There are also hidden square targets with, for some reason, a giant Z on them. The first one you get on a life is worth 500 points, the second 1000, the third 4000, etc. Memorizing where they are and not dying can net you 80,000 points or more in one go. In addition you'll find hidden dollar symbols for 1000 apiece, and even the odd 1-up square. You find the square ground targets by shooting them, and they're invisible until they take a few hits. On the negative side they do soak up shots intended for other targets, but that's the price you pay for the high-scoring lifestyle.

The final ground targets are your main weapon power-up. You start off with one single forward shot, and eventually power it up to a 5-way spread in a pentagonal pattern. As a bonus for powering up all the way you also get three orbs circling your ship, each one soaking up a bullet's worth of fire. Crash into an enemy and it's a death, but it's nice to have a little stray fire insurance handy. Unfortunately for the player, though, once you've taken a hit your shot powers down from 5-way pentagonal to three-way spread and one reverse; to twin front, one reverse; to dead-as-a-doornail. Aiding your efforts to avoid those pesky bullets is your secondary weapon, a short-range plasma spear thing. It shoots out straight ahead and is a bit wider than the ship, takes out all bullets, and does a number on the enemies, especially the bosses. You can use it an unlimited number of times, but takes about a three-second charge to use again. Also, other than the shot power squares which you can shoot normally, it's the only way to get the ground bonus items. I found it a well-designed secondary, balancing power to risk quite nicely.

In addition to the standard story mode (story - once upon a time there was one you and a million them over a bunch of levels, until you shot them all and won) there are two timed modes: 2 Minutes and 5 Minutes. You get infinite lives in that period of time to score as high as possible, and it makes a great addition to the standard game. Don't die (losing a few seconds and all power-ups) and kill fast (earning you extra waves of enemies) and watch the high scores roll in. 2 Minutes is relatively easy, but 5 Minutes pours on the enemies and doesn't let up. Both 2 and 5 Minutes use the same basic level, but the difficulty and amount of enemies is drastically different. A nice touch in this extra is that if you're game isn't going where you want you can restart in about two seconds, literally. It's an addictive and well designed extra, and I find myself playing these modes almost as much as the regular game.

Star Soldier isn't a perfect game by any means, though. Graphics are serviceable but little else, although honestly this didn't bug me in the slightest. My big flaw is with the shot system. You can hold down A for rapid fire, and for the longest time that's how I played. Then I discovered that when you hit A, the first shot was extra powerful, with the other shots being about half strength. (Japanese game + Japanese manual = the odd missed gameplay subtlety here and there) Prepare to work on that rapid-fire button pressing technique, and welcome to the wonderful world of Carpal Tunnel. It may seem a small thing but my 2 and 5 Minutes scores almost doubled once I switched over to rapid button pressing rather than just holding down the A button, but after an hour of play my hands weren't happy with me at all. Finally, sound effects are, let's say, subtle. "Underwhelming" wouldn't be wrong either, but most of the music and sound in the game is merely forgettable rather than bad, so I'll let it go.

Overall, Star Soldier isn't the best shooter around but it's certainly one worth picking up. I had, and continue to have, a good time with it, even if it isn't the prettiest of deepest shooter around. It's fun, it's solid, and it's a nifty throwback to the shooters of the NES days. Though not without fault, it does more than enough right to justify the import.