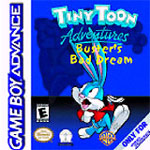 A dead license and a relatively unknown developer team up to deliver a game that is too hard for its seemingly intended audience. Yet somehow, for those competent action gamers who can get past the look of the characters and the insanely cheesy story, a very fun and solid beat-em-up awaits. Thank the gods, because it is been a long time since this genre has gotten a new addition that rises above the status of pure mediocrity.
Tiny Toons: Buster's Bad Dream greets you with an introduction story that seems childish even next to the Tiny Toons TV show. Montana Max has blasted Buster Bunny with a Dream Ray in order to try and control Buster's dreams. However, the majority of the rest of the Tiny Toons cast, being chased by Elmyra, accidentally gets in the way and becomes trapped inside Buster's head. So Buster is off to chase Montana Max down to get everyone permanently back out of his head. I say permanently because it seems Buster is graced with the ability to call one of them out of his head at will for some help, be it adding attacks or healing him.
Funky story aside, the helper ability is very nice and structures how many combos get setup. Each of the different helpers (seven in all) has a different ability, and some can be powered up by using a power meter. Babs is one of the more direct attacking helpers, firing off a tennis ball which can also be aimed up or down or even be powered up to launch a ball twice the size as the regular one. Dizzy spins in place to allow upwards combos, Hampton tosses out food to heal, Sneezerů well, sneezes, and so on. One of my favorites is Shirley, one of the few that can only be activated by using up a power meter, who creates a shadow double of Buster that follows closely behind allowing you to deal out twice the hits to enemies as long as it lasts. The usage of the helpers must be timed well, especially later on, because they can be hit by enemies when out in the open and they have their own life bar. If it drops to nothing, you lose your helper, and they are quite necessary to survival.
The power meter I was talking about above works much like a super bar in the Street Fighter series. As you deal out damage, it increases the bar at the top of the screen and when it fills you get another power meter. You start out with three full bars and can build to a maximum of nine. Buster has two different attacks that can be done with them for overpowering enemies and linking combos; the first, performed by a down to forward motion plus attack, is a dash with a shopping cart that deals out damage to the enemies in front of him. The second, by pressing down twice plus attack, has him using a jackhammer, attacking all enemies on the ground. Should you end up in certain bad situations, these are invaluable to not getting hurt, allowing you to bypass some of the normally cheap hits a few of the enemies can dish out.
However, getting past the extras the game uses for attacking, the regular attacking is basic but can be fun, creating different types of combos based on where your enemies are. TT:BBD uses a very interesting method of creating group combos, which I can only think of encountering elsewhere when using magic in Guardian Heroes, which is that when one enemy that is hurt touches or collides with another enemy, the damage gets transferred to all parties. This can build quickly when enemies bunch together, injuring five enemies at once and then knocking them across the screen into more enemies causing further injury. Knowing enemy positions will determine how you choose your combos, as you may want to simply perform a strong two-hit combo in order to knock over some long range enemies quickly or perform an uppercut at the end of a combo so as to bring down any airborne creatures. All of them combos are simple in execution and can be linked with the special attacks, but their quickness is essential for you to truly stand a chance with the masses of enemies the game will throw at you.
When you start, your first enemies are small snakes, both the weakest enemies of the game and the worst in design. All the other creatures you fight look like they belong in a Tiny Toons episode (or videogame), but the snakes just look like they don't belong, a throwaway design tossed in for cannon fodder. However, even the lowly bats appear more in tune with the surroundings and the panthers look great, later enemies all retaining a Warner Bros. cartoon look and feel. Unfortunately, the variety of enemies doesn't change often enough with the backdrops (you are still fighting forest creatures inside a castle), but almost all of them are wonderfully animated. The developers toss in a bit of variety by bringing in the classic color swap for more powerful enemies, but the colors signify a different change then simply strength; the red enemies can not be juggled. As you attack them, damage will be transferred like normal though the red creatures themselves won't slow or bounce with your hits, forcing a slight change in strategy. As you progress, you'll have to change even more, as the game proceeds to toss larger and larger amounts of enemies at you from all sides, and also provides enemies that are actually bigger in size. No new sprites were used for the big guys; it is simply an expanded version of the smaller enemy, so there are quite a few chunky sprites at times. This is probably due to the cartridge size, though I must say I didn't care when I was playing.
The nice thing about all this is the game seems almost perfectly balanced. Many areas start off hard and others will destroy you upon entering them, but learning the enemies and juggle techniques allows you to eventually blow through levels without even getting hit. The initial difficulty is hard considering what this game is based off of - I can't see too many kids who might think it will be quick romp getting very far, possibly not even past the first boss. I personally do not mind the license (although the exclusion of Gogo is almost unforgivable), and the difficulty is a perfect uphill challenge showing off what you have learned. As you get better, the game will reflect that in your skills by seeming much easier; what I once thought was a cheap hit I found ways of avoiding, it is all about making the enemies hurt themselves more then you. When I tried playing through the early stages again, it was far too easy considering how much my abilities had advanced from playing the later levels, just like it should be. A direct assault must be handled carefully as the enemies have many ways of hurting you from all sides, a nice change in this genre that normally relies on direct assault and nothing else. This prompted a major change in the way I approached this game and I found that the further I went the more fun it became. While early on I thought none of it was very interesting and was not very impressed, by the time I was in the third stage I was having a blast and couldn't stop myself!
Not to say it is all happy roses and sunshine. The game does feature a few bad areas. Backgrounds are merely decent; each is a flat picture that does not move and many of them aren't too interesting. Granted, so much is going on in the foreground during battles and it is all animated so nicely you will not even notice most of the time, but they are still lackluster. The jumping control is not the greatest either. You have a limited amount of control over your direction in mid-air and can increase your jump by double-tapping in mid-air (which will also give you a running start once you touch the ground), but once you pass a certain point or if you attack you lose control. There are a few jumping puzzles that are twice as frustrating as they should be because of this, along with the employing of one of my most hated videogame tactics in those areas; unlimited respawning enemies. I hate that sort of thing to death, but luckily you will not have to deal with it very long. Finally, a block button would've helped a lot for some areas, or at least the ability to duck. No defense at all seems like an entire aspect just got neglected.
Considering that this game is made by Treasure, usually known for games that are boss-fests, there are surprisingly few bosses in this game, which is setup more like a traditional side-scrolling game then their usual fare. The bosses are not very impressive in size or visual design either, but their setups and ideas are perfectly in character. They also feature probably the best use of regular enemies into a boss' strategy that I've ever seen in a game. Most games do that sort of thing just to be annoying and make a halfway decent boss hard, but it actually works here and never got on my nerves like it normally does. This in turn deals with the odd way the game presents regular enemies. Due to so many "unjugglables" having an advantage in attacking, you are usually given cannon fodder enemies that the developers would know could not have a chance at hurting you and are there solely to provide weapons for you to use against the larger enemies. This also helps during the boss battles as enemies can be beaten into the bosses for tons of extra hits, allowing what once was slow progress to become a quick thrashing.
The music is usually cartoon-cheery and always happy, never slowing down, and going well with the atmosphere. Most of it is pretty forgetful, though a track or two got stuck in my head for a few minutes after turning the game off. The sound effects are also perfect in their feel for the action, the little thwacks and charging noises sound very old-school videogame but go well with the cartoon look. There are no voices samples, even for the special attacks, which is kind of a shame though not detracting.
A wonderfully balanced game with tons of action, this is a great game for those looking for a new beat-'em-up that's at least marginally different from what's come before. Some of the helpers are not very good in the later levels and a deeper combo engine would have added to the game, but those are the only things I can find "wrong" with the gameplay. The license is sure to turn away those who would love it the most and will probably bring in plenty who won't be able to love it like it should be, but I hope at least some people can see past the cartoon exterior to the tasty chewy center.