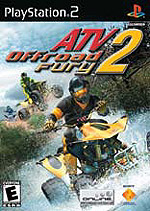 Back in 2000, when the PS2 made its debut, there werenít a lot of quality games to choose from. Sure, shooter fans had Timesplitters, sports fans had Madden, and fighting-game fans had DOA2: Hardcore, but there wasnít anything new aside from Timesplitters. Enter ATV Offroad Fury, a small time game developed by Rainbow Studios that somehow caught the attention of the half million people who bought a PS2 that year. Now Rainbow Studios is back with ATV Offroad Fury 2, and while it may look a lot like its predecessor, it certainly makes up for that in improvements to its gameplay.

First, let's get the biggest negatives out of the way. Offroad Fury 2 falters ever-so-slightly in the graphics department. Despite the improvements in the character models, the game does look very similar to the first game, which might turn some people off. While I realize that plain-looking graphics come with creating a game thatís supposed to mimic real life in some fashion, it wouldíve been nice to have made the costumes of the riders more varied the tracks more lively than they are right now. Sadly, the soundtrack is a lot worse than in the first game, which featured the likes of the Stone Temple Pilots and Soundgarden. Now weíre stuck with the typical punk rock garbage that has infested so many other extreme-sports games, although the Jurassic 5 track does make it a little less painful to play the game with the music on.

Now that weíve talked about the few flaws, letís get down to business. Racing games are all about momentum, whether it be a mindset or when in an actual race. In Offroad Fury 2, momentum is a huge part of the game. In fact, the only way to win a race is to build this momentum and sustain it through the course of a race. You can control your ATVís momentum by pressing back or forth on the analog stick at any time during a race. When you hold back on the analog stick, your rider will load up the suspension in their ATV, and when they push forward, all of that suspension is released. This is vital when you need to clear jumps, as the right amount of force is needed to properly clear rhythm sections, which are a series of inclines that need to be cleared with a particular rhythm. By loading up your suspension before the first jump, you can dictate how fast you will be able to traverse these sections. Not preparing for rhythm sections will result in you hitting the inclines of successive surfaces after the first jump, and overestimating the jumps will result in your rider not catching the decline of the jump, resulting in loss of potential speed. In either case you can lose valuable speed and time against opponents who are trying to do the exact same thing you are.

Of course, any racing game nowadays wouldnít be incomplete without a couple of stunts to pull off while youíre hanging in the air, and ATV Offroad Fury 2 doesnít disappoint. However, what impresses me most about the game is how well the AI opponents react in the same way you and other human players would. They often make mistakes in their jumps, and you wonít see any of that "rubberband" AI that many other racing games incorporate. Then again, they donít need that kind of assistance, because itís entirely possible for them to capitalize on your (and other racers') mistakes and get the win at the end.

The game offers up the same race modes the first ATV Offroad Fury, such as circuits, waypoint races and supercross, races, but adds four mini games into the mix, including ATV Soccer (is it mandatory for every mini game to be based on soccer?). However, these features are not available in online play, which is a major strike.

Only the standard race and freestyle modes (4 players max) are playable online, but Sony makes up for this oversight by having online play accessible through i.link, Lan or Internet connection. And for the most part, online play in Offroad Fury 2 is just like SOCOM: while you may experience some minor hiccups when joining or playing a game, online is where the meat of the game is. You wonít find a more enjoyable online racing game on any console. Making a new game and joining games are easy as pie with the simple interface, and while Moto GP for the Xbox is great, nothing beats the feeling of making the perfect jump and landing square on a rival racerís head to make to the finish line first. You can also customize both your ATV and your rider down to the color of your goggles and the color frame of your ATV, giving your ride a more personal look which can be shown off when you race online. Itís a nice little touch to the online experience, especially because you can sometimes point out a racer just by looking at the color of their rider and their ATV instead of saying ďHey, itís s0nyphan1344!Ē

While it might be the only online racer on the PS2 right now, other titles are going to have a hard time topping it. Sure, itís not as pretty or as popular like Gran Turismo 3, but itís a hell of a lot of fun to play, and requires just as much technique as Polyphonyís simulation racer, only itís far more enjoyable. If Sony can get the mini games online and add a few more cool modes to try in offline and online play, the next installment of this fine series is going to be even better.