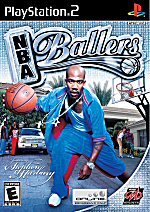 If you ever wondered what would happen if you were to mix NBA Street, MTV Cribs, and the coin-op classic NBA Jam together - well, it might end up something similar to NBA Ballers. Midway's newest b-ball iteration is perfect for those who literally just want to pick up and play. No need to concern yourself with the complexities of the sport. Such knowledge will be a waste here. If you know to take the rock to the court and can pull of some moves to humiliate the competition, you'll do just fine. Remember all those times where you used to hear that it's all about the moves? Well, you'll need them here, because when it's time to do your thing on the courts, image is everything.

Want to earn the fame, prestige, and money of an NBA Baller? Better work on that stutter-step, kid.

Ballers delivers as much fun as any existing arcade basketball game can, capturing the alluring lifestyle of an NBA player. For starters, MC Supernatural's color commentary is off the hook. There's no question, he's the spirtual succesor to the original NBA Jam announcer. You simply can't help but smile the first time you shove an opponent, prompting Supes' to respond with amusing one-liners like "This ain't Blitz; we're playin' basketball!" In addition, the in-game animations and attention to detail truly take the cake. It's just a taste of the solid production values showcased throughout the entire package that are so impressive, they surpass the caliber of any arcade basketball game to date. Look out, folks, Midway's got its groove back.

Gamers can select from contemporary and old-school basketball legends including such players as cover star Stephon Marbury, Kobe Bryant, Gary Payton, Scottie Pippen, Wilt Chamberlain, Magic Johnson, and many more. But hold up a sec, player. Don't think for a moment that you'll be able to snatch up your NBA favorites on the fly without showing off some skills. You'll start out with a modest selection of twenty-four players, but if you want more, be prepared to log some serious play time unlocking your all-time favorites. (That is of course, unless you don't go off looking for cheat codes, you softie).

Before the action begins, make a mental note of the house rules, which will vary often in the Career (Rags to Riches) and Tournament modes. Essentially, the match-ups are a one-on-one affair on the courts, but every so often, you may end up having to deal with two opponents at once. To win one of the default three rounds, a player must be the first to score eleven points or earn the most points before time expires. In some instances, you'll be at the mercy of a 5-second shot clock or it will simply come down to flaunting your moves to impress the spectators. Ideally, Ballers is easy to jump into if you're familiar with NBA Jam or NBA Street; however, you'll discover there are more advanced moves and style featured in this b-ball title than in both of the other games combined.

Offensively, players can choose from one of thirty moves by selecting the Square button to execute a unique juke move. There are also several other moves you'll want to take advantage of that fall under the category "Act a Fool." These include insane moves like the Robotron (executed by pressing R1, R2, and L2 simultaneously with the right analog stick). Variety is essential if you expect to rack up the points, particuarly during Tournament and Career Modes. To spice things up, you can mix up your moves by holding the L2 button, then pressing the Circle button, triggering a Max Payne-esque "Bullet Time" effect while your player performs his move. Essentially, it's just another way to give your combos a little bit more flair. You might be thinking that it's something that doesn't suit a basketball game, but trust us when we say that it's pretty badass and amusing.

On the defensive end, your moves essentially range from shoving the opponent to intercepting a pass attempt made between your opponent and a player on the sidelines (when there's one available). Just don't get too carried away with the fouls, or you'll end up giving away free points to your opponent.

The game's biggest draw is its ability to allow players to create a fictional character - similar to NBA Street 2's Create a Legend mode. Features from facial hair, complexion, and body type, right down to shoe color can be customized. Once you've distributed the attributes, it's time to test your player's abilities on the court. At first, your skills are going to be pretty weak as a bunch of generic Ballers will proceed to dunk and trash you before you can say "Boomshakalaka."

Fortunately, you'll soon learn a few new moves on your own and that's where the TV show angle comes in. You probably wondered what that introduction sequence with MC Supernatural was all about, huh? It's basically like this: Ballers is actually about a reality television show looking for the next basketball sensation (psst, that could be YOU!). This is where the adventure begins. Rags to Riches is the true meat and potatoes and is where the true addiction lies. As you advance through the ranks, you'll be rewarded with more cash, which in turn can be used to purchase houses, cars, . . . ladies. It's everything you could ever hope for, being a big upcoming player like yourself. Eventually, the mode starts taking a life of its own, feeling a lot more like an RPG almost, and less like a jam session on the courts.

Structurally, Ballers offers a relatively high degree of flexibility and replay value, offering an extensive selection of moves, players, and of secrets tucked away. (Don't worry, the trademark Big Head mode is here in full effect). The production values are some of the best showcased by a Midway title since MLB Slugfest. Unquestionably, this past year was well spent and it's pretty evident from the moment you power up the game that Midway put forth a great deal of effort to deliver the most polished game possible. And on a quick note, the music, though somewhat low-key, will have you bopping all over the place - that is, if you can appreciate rap music. Props to DJ Rocky Rock . . . can someone get me the official soundtrack, please?

Our only complaint is that Ballers should've tossed in some actual trash talking amongst the players. Though to be honest, Supernatural does enough of that on his own. It's a minor quibble that won't diminish your enjoyment in any way. With over sixty NBA players to choose from and a bevy of unlockable content ranging from character outfits to full-motion video clips, Ballers takes replay value to the next level. And even after you've evolved to the caliber of a Michael Jordan or Jason Kidd in the single-player mode, don't pass up the endless opportunities to school the competition online. Overall, if you're looking for impressive product simply on the fun factor alone, we can't think of a better game worth spending time playing with.