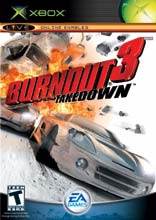 The Burnout series - a longtime favorite for me - has finally returned, and it does so while switching its focus with a grace so smooth it puts other companies' offerings to shame. Not just a simple update, Burnout 3: Takedown continues the legacy of offering a totally different experience while managing to not hurt what made it so great in the first place.

This time around, the crash-intensive series switches gears and is all about the multiplayer, particularly online, and it manages to almost constantly excel. But a changed focus doesn't mean that single-player has been neglected. It still takes a good twenty hours just to complete the primary World Tour mode and unlock all the cars.

The U.S.A., Europe, and India are all represented with roads customized for driving into oncoming traffic, smashing opponents into walls, and drifting at high speeds whenever possible in an attempt to fill the precious Burn meter. For the newcomers, that translates into boosting the car's speed and is the lifeblood of doing well in Burnout. Activating it distorts the screen like it always has, but now as the Burn meter is used up there's an added sound of flames in place of increasing the new so-poorly-fitting-that-a-custom-soundtrack-is-required music like it previously did.

Boosting will eventually bring everyone to crashing, which in turn brings up one of the highlights of the series: the crash physics. With every passing game, Criterion gets better and better at simulating over-the-top wrecks, and Takedown is definitely a work of incredible art. Windows shatter, cars tear apart, wheels fly off, and engines are compacted as vehicles embrace in a violent dance of twisted steel. It gets even better in Crash mode, where on top of all the intentional destruction come Crashbreakers - power-ups that can be either picked up or earned that allow the driven vehicle to detonate itself for increased damage. Combine that with the fact that tanker trucks can now finally be blown up - in a delightful fashion that's almost subtle - and we easily have the most explosive Burnout yet.

Everything, however, is not all rosy and shiny, as Burnout 3 does have some scattered faults. Let's go ahead and get them out of the way.

The two most prominent (because these are the only two that really affect the play experience) are the terrible rubberband AI and the glare on one of tracks. In Point of Impact, the AI generally kept close behind and crashing would only drop the player a place or two, allowing an easy catch-up. In Takedown, however, the AI sticks cars together in such a closely knit group with everyone traveling so fast that a single crash can drop the player to last place with no hope of ever catching up. The very point of rubberband AI is to match the skill level of the player, so having it both cheat to stick with the player and then allowing no leeway for mistakes is like a double whammy of lazy design that can render driving an entire race pointless. Now there's also glare to deal with on a couple of courses, and one in particular has reflections off the concrete so powerful that entire 18-wheelers are engulfed in a blinding whiteness until mere feet away. It's only one portion of one track, but it also renders that part of the track purely luck-based and thus very undesirable to race on.

Really, that's about it for the bad parts. There are still a few smaller issues here and there, like how only two viewing angles are available - something that really hurts play when you're using the extremely large vehicles and it's impossible to see over them. The surround sound is also not as crisp as it was in the prior game. While I could easily tell how far away and on what side an approaching car was in Point of Impact, in Takedown I can barely tell anything besides having the general knowledge that a car is behind me. A couple of the requirements for the Euro Racer are based purely on luck, the Crash mode courses all start to blend together since there really aren't enough tracks to support 100 unique locations, and the cars are differentiated more through paint job than handling.

On the other hand, with 100 different crash locations you certainly can't complain about there not being enough to destroy, and the car similarities also mean that the multiplayer is well balanced for each class.

After all, the multiplayer is what this game was designed for, something that shines through every added detail. The titular feature of takedowns is the new major enhancement, reducing the amount of Burn meter gained through driving stupid and giving ridiculous amounts for pounding into your opponents or even increasing its size when you destroy the other players.