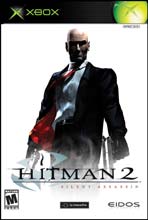 The debut of Hideo Kojima's Metal Gear franchise established a benchmark on the NES and became the unprecedented icon for the term "tactical espionage". It is without a doubt, the exemplary model by which games of the past, present, and future (we'll save the Splinter Cell debate for another time) would be measured. However, Hitman 2 is anything but a clone. Stealth and action, trademark elements of the MGS2 franchise are sprinkled throughout Eidos' newest installment starring the elite gunman Agent 47. Aside from the few press releases I read that provided general details, I was still rather uncertain how the gameplay and execution would fare. In the end, I didn't care. All I knew was that you got to run around and practically kill people indiscriminately.

Essentially, players will be dispatched throughout various regions in the world, locating designated targets and and picking them off. A "hit" if you will. Though the premise is pretty straightforward (if even mundane on occassion), part of the fun factor thrives from completing your objectives in an inconspicuous fashion.

Fortunately, the game's challenge is somewhat scalable (you can configure the difficulty setting based upon your individual skill level) and the gameplay is relatively diverse (more on that later). Though to be honest, unless you possess substantial patience, the entire experience is bound to end up being methodical, or even frustrating. These elements are all too familiar for fans of the original title. Silent Assassin offers a greater arc challenging experienced players. Enemies now possess a heightened sense of awareness, comparable to the Genome Soldiers in Metal Gear Solid. In essence, this means 47 can't easily run past enemies lest you find yourself full of bullets. Thus, the majority of the time, you'll have to watch your pace and move about briskly so as not to draw attention to yourself.

For those not in the know, here's where the game's key feature comes into play. The ideal method in achieving a successful hit requires players to eliminate certain enemies and assume their identities. You'll immediately realize (and appreciate) the significance of this element in the first level, "Anathema." Here you'll be presented with three possible entry points, each which can be accessed by assuming the identity of a character which corresponds to each area. The opening sequence in which your objectives are outlined by your employer, aptly named the Agency, will place emphasis upon the mailman (the default character of choice for this particular mission).

Figuring out the ideal disguise for a specific area or situation is actually more of a trial-and-error process due to the fact the use of various disguises will allow 47 to easily access certain areas with ease. Thus, assuming the identity as the mailman can easily pass through the front gate (without his guns by the way) but will immediately draw attention if he's spotted in sensitive regions within the mansion. Although it's not entirely mandatory, stealth is the ideal course of action, as opposed to resorting to your weapons, which should be utilized as a last resort.

Oddly enough, Hitman 2 offers players an extensive range of variables which allow no two players to complete the game in the same manner. Each can employ their own unique style and methods. Although the disguises are the linchpin to your success, it's also rather lenient in allowing you to complete each level in 47's original form. You'll just need to keep a close eye on the Threat Meter displayed at the top left-hand corner of the screen. Should this gauge ever turn red and shift erratically - consider this a potential risk that you'll be running for your life.

While twenty levels may not seem a lot, Hitman 2 is anything but simplistic and it's very unlikely you'll complete it in one sitting. In fact, I wouldn't even be surprised if you'd have to consult some online guide (there's several online by the way, including one at IGN, hint, hint). However, aside from the diversity outlined above, there aren't too many features that make the game worth playing a second or third time around. Add to that the fact you're actually expected to complete each mission primarily through the use of stealth (and that's considerably difficult in itself, thanks to the tweaked field of vision possessed by your enemies).

Nevertheless, the entire experience is very enjoyable. I haven't been this impressed with an Eidos title in a long time (yes, that would even include the Tomb Raider series).

Graphically, Hitman 2 moves very well, featuring a solid real-time engine. There's a great deal of detail among the various locales, enemies, and such. Aside from the items you pick up however, there's not too much with which you can interact (aside from the keyholes which you'll look through to monitor activity within the next room). For players concerned about the distinctions, pros and cons among each platform: The Xbox without a doubt is the superior console version, although it's superceded by the PC (for obvious reasons).

I also enjoyed the music, scored by the Budapest Radio Symphony Orchestra. My only quip is that the soundtrack is repetitive, offering at most - three distinct tracks during the actual gameplay. Its unfortunate there wasn't a wider selection, the game rightfully demands it.

Since the last quarter, the market has been graced with a moderate presence of espionage/stealth-oriented games (namely Metal Gear Solid 2: Substance and Splinter Cell).Hitman 2 lies in between. Exceptionally methodical, marginally epic in scope, and an absolute blast and challenge to play from start tof finish. Gamers who've been searching for a unique deviation from the typical action format should definitely consider giving this game a shot.