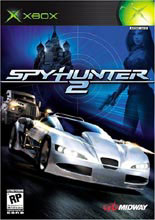 It's unfortunate Spy Hunter 2 didn't turn out as I hoped. After the success of the original, it became evident to Angel Studios that there was still untapped potential to be explored. Preliminary E3 impressions and recent marketing videos I've glimpsed led me to believe that it would end up a winner; offering players a variety of cool, high-tech weapons, new challenges and multiplayer modes. But despite their ambitious efforts to deliver an explosive sequel, Spy Hunter 2 left me more disappointed than expected.

Your objectives feel like a hodge-podge of themes derived from the quintessential action flicks. The diabolical NOSTRA is once again up to no good in its quest to dominate the world, calling upon the aid of International Espionage Services' (IES) best operative, Alec Sects to stop them in their tracks. Only this time, he's not alone. Joined by a new mysterious female operative (Agent Duvelle), a supporting character to the story which players will soon discover is more than meets the eye. In addition, the sequel also reveals new background information as to the true orgin behind Sects among other unexpected twists.

Essentially the gameplay retains the same run-and-gun engine as players are issued various objectives before the start of each campaign. Aside from the typical pyrotechnics bound to occur on the road, your missions will vary from safely escorting cargo, diplomats, or destroying designated terrorist targets. Best of all, each level offers players the ability to choose their own path akin to the classic arcade design leading to a deadly encounters with eight Nostra/Phoenix boss enemies.

Mission: Impossible?

With NOSTRA's organization being bolder and tougher than ever, the IES (International Espionage Services) has developed the G-1855 Interceptor, equipped with the latest technology and a variety of new transformations including a 4x4 and a sleek snowmobile. Though if this were real life, these upgrades would seem all for naught since NOSTRA's foes as a whole appear to have little difficulty in cutting your vehicle down to scrap metal. Even as you gradually acquire new, powerful weapons, the enemy factor remains formidable (and frustrating), minimizing the rewards for your continued progression throughout the game. Frankly, the challenge factor seems a bit too high, compelling you to toss your controller (and possibly the game disc with it) out the window. Thankfully, there's a multiplayer option allow you and a friend to complete the 15 mission together. Though if that doesn't hold your interests, there's also a two-player deathmatch mode aptly named "Spy Hunt" that's bound to offer a few thrills when the single player does otherwise.

Spy deterrent

From a gameplay standpoint, I could take or leave Spy Hunter 2. The driving mechanics feels too awkward for my tastes. I've always felt like I was driving a rally race car (even more so when the 4WD mode was activated). Why tinker with a good thing when the handling was perfect in the original installment? Graphically, there's a variety of cool particle effects, and the level designs are exceptionally impressive, but it's nothing short of anything you've seen on the Xbox do before. While the framerate remains smooth at 60fps, the CG certainly could've been a lot better. You'll immediately realize this glaring flaw during the game's introductory sequence. Take a look at Final Fantasy X2's Yuna and then compare her movement and style to Agent Duvelle. There's no contest…I am sure Angel Studios can do better, right?

To its credit, there's a cool variety of video segments featuring the sexy musical artist, Vanessa Carlton discussing her work on Spy Hunter 2 featuring the song "Dark Carnival", and then some. More relevant to avid fans of the series, the game also includes a look back on the history of Spy Hunter from its classic arcade roots to the latest 3D adventure. Even the multiplayer was an nice plus, but its still not enough to break this title from being moderately fun at best.

Future hunts

I am not sure if the industry is simply running out of ideas or perhaps its assumed that an established franchise will convincingly sell by its namesake alone. Hopefully a third installment will be considered in the near future to rectify some of the minor flaws. As for now, it's safe to say that Spy Hunter 2 won't net many accolades.