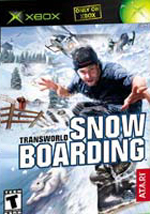 It seems like the Xbox is a haven for snowboarding games. With ports of SSX Tricky and Dark Summit, not to mention the system-exclusive Amped and the inevitable sequels to all three titles, this little sub-genre has a lot of competition for any newcomer to topple to be considered the best. Infogrames has stepped up to the challenge with their newest snowboarding game that features the Transworld license, appropriately named Transworld Snowboarding.

Much like other action-sports titles, Transworld Snowboarding is mission-based. Also par for the course, the objectives in all of the sixteen levels in the game are pretty similar, such as grinding a particular rail or performing a certain move. Universal objectives include attaining a certain score in a level as well as making the Transworld Snowboarding Magazine cover. Making the cover is a lot like showing off for the cameramen in Amped, and you must perform a trick that nets you a certain amount of points in front of the photographers. Whatís odd about this particular goal is that at the end of each run in Transworld Tour, you will still get the magazine cover shot no matter what, and the only way to see if you met the goal for the level is to check your status afterwards. The other goals arenít as tedious as other games, but they seem very tired nonetheless. The only objective I actually enjoyed pursuing was to perform a drop of so many feet down, since it gave me a reason to bust out some fun jumps in many of the levels.

Transworld Tour has five different types of courses: Boarder Rally, Backcountry, Half Pipe, Slopestyle and Straight Jump. Slopestyle and Backcountry levels are your typical, wideopen arenas that have a lot of hidden secrets. Slopestyle courses are more or less downhill courses while Backcountry courses allow for more exploration. Boarder Rally courses are actually races against live competition, and the goal is to get to the bottom of the course first. There are obviously certain goals to meet in Boarder Rally, but they seem to take a backseat to actually winning a race. Straight Jump levels consist of a short slope followed with a quarter half pipe at the end. These levels literally last a minute and quite frankly the objectives you need to fully complete this level seem pretty absurd. The other modes in the game include a free ride mode as well as a single session. The multiplayer is a little lacking, with only two types of courses available for play (Slopestyle and Boarder Rally). Itís odd that Infogrames wouldnít put any effort into this mode, since the main attraction for a lot of these games is playing them with friends. No Live support hurts this title as well.

The control layout in Transworld is easily one of the best since Tony Hawk pioneered its system a couple of years back. The left analog stick is used to move your boarder around while the right analog stick allows you to perform moves (you can perform additional moves by pressing down the analog stick and then executing a move). The A button allows you to jump while the X button acts as a turbo boost, which is represented by a human heart at the bottom of the screen. Every time you successfully land a trick, this little icon glows brighter and brighter. The trick themselves are pretty easy to execute, but all of the diagonal moves can be a real pain to pull off, especially if you need to use them to finish a level objective. Whether itís the fault of the Xbox controller or of the game I wouldnít know, but I do know that if you want to pull off a specific trick youíll need to be very precise.

Graphically, Transworld Snowboarding barely contends with its competition, lacking the visual flair of SSX and the technical prowess of Amped . The character models look like they couldíve been done on the Dreamcast and the courses themselves arenít designed very well; not much is going on in the background, even in populated courses. This is even more disappointing because the framerate can actually drop at times in both single-player and multiplayer games. Running on the most powerful console on the market today, Transworld Snowboarding does a very poor job of showing off the systemís capabilities. Likewise, the sound is pretty mediocre as well, featuring a soundtrack of no-name punk rockers that seem to be the rage with fans of the sport. Thankfully the game supports custom soundtracks, which lets all the music that I loathe in this game fade into a short, but painful memory.

If youíre looking for a cool snowboarding game to show off to your friends, get SSX Tricky or Amped. While Transworld Snowboarding is not a terrible game by any stretch of the imagination, it simply canít compete with the two top games in the genre. Let's hope Infogrames attempts to inject some new life into this title, as itís in dire need of it.