The annual Classic Game Expo (CGE) in Las Vegas could be called the "anti-E3" of gaming conventions: the focus is on gaming's Golden Age back in the 1970's and '80's, instead of on the latest and greatest releases for today's consoles. In fact, there's hardly an Xbox, GameCube, or PS2 to be seen inside the convention hall... This is the territory of the Atari 2600, the Intellivision, Colecovision, Vectrex, and early arcade cabinets. Most of the new games being passionately discussed here are usually homebrew cartridges or independently-made games for vintage systems. CGE is always a good time because you get to see the early games that made the videogame industry what it is today -- and they're still a blast to play!
Here's our photographic tour through the many highlights of this year's CGE: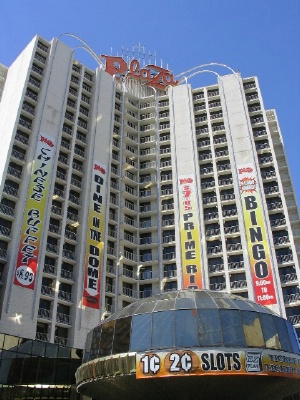 The 2003 Classic Game Expo took place August 9th & 10th at Jackie Gaughan's Union Plaza Hotel in beautiful downtown Las Vegas.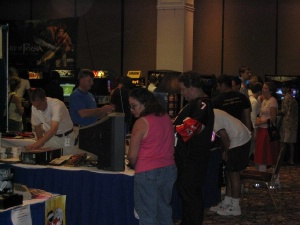 Inside, a plethora of classic video game vendors, exhibitors, arcade games awaited attendees.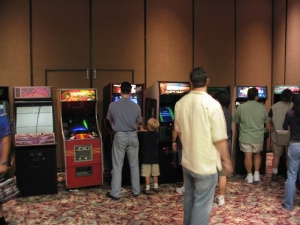 Over 50 arcade units were at the show this year. No quarters required--save them for the casino slots!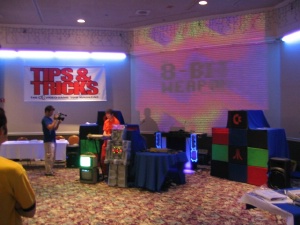 Gamers could get their groove on to the techno stylings of 8-Bit Weapon, who blasted out videogame inspired grooves throughout the show.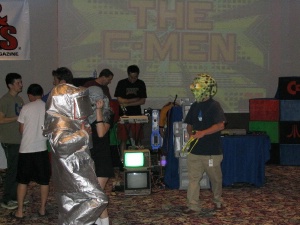 Other video game inspired music acts also performed, such as The C-Men. Did I really hear the girl in the astronaut costume rap about how Midway's arcade game Joust was "making her moist"?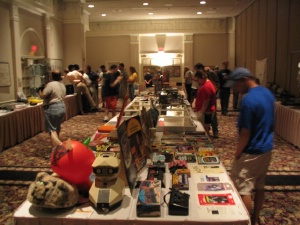 The Classic Game Museum was on display again this year, and better than ever! The Smithsonian pales in comparison.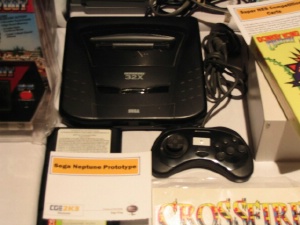 This is an actual working prototype of the Sega Neptune that was on display in the museum. The unreleased console would have combined Genesis and Sega 32x capabilities.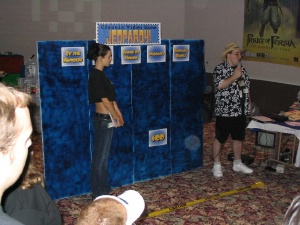 The world's foremost video gaming authorities could put their knowledge to the test at Classic Video Game Jeopardy.
Videogame champions were honored at this year's CGE. That's about as close as I'll ever get to making the list!