Continued from Page 1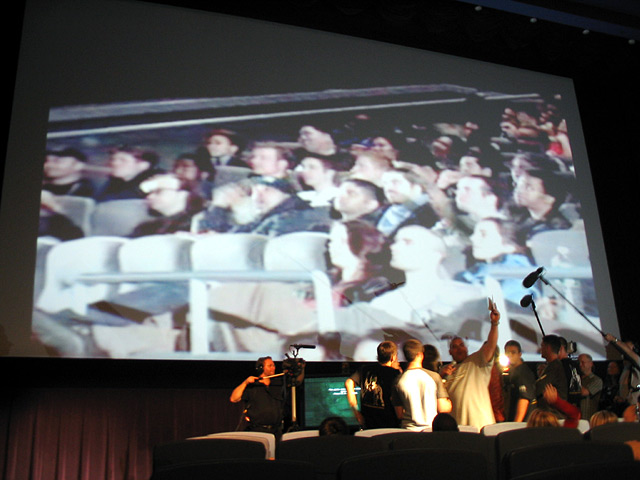 The L.A. audience taunts New York after beating them in the first round.
Between rounds, there were plenty of giveaways to keep the audience involved. Joe Grande raffled off a series of choice door prizes from Ubisoft's promotional partners . Attendees with matching entry tickets got to take home top of the line nVidia graphics cards, a P900 Sony Ericsson phone (valued at $600), and a deluxe Kenwood 7.1 surround sound system.
Now for a mercenary, it's all about search-and-destroy. The goal is to prevent the spies from decontaminating all sectors within the time limit. This is more straightforward first-person shooter fare, but the twist is that you're up against an extremely elusive enemy who doesn't really want to fight back--they just want to get away. What seemed at first a simple task of eradicating the spies soon took on greater depth, as protecting the targets and anticipating escape routes became important parts of a winning strategy. For instance, a well-placed laser mine can booby-trap a key area (like the ND133 targets) so that you don't necessarily have to find a specific spy to kill him. In order to track down the slippery spies and defend the neutralization targets, it was necessary to use all the tools at disposal.
Motion tracking vision is the best way to find a spy in the dark.
Though mercenaries don't have the night-vision of a spy, they do have motion detector vision, which helps a lot in finding a foe creeping through the darkness. This red filter looks a bit like an infrared heat sensor, but it works differently. As soon as something moves within your field of vision, a green box appears around it for a limited time. In a way, it's the next best thing to night-vision in that enables you to see in the darkness, as long as what you're looking at is moving. Spies can still get around it by getting out of sight and then staying still for a second, or by disabling it with a chaff grenade or flash bang. Above all, a mercenary's best friend is still the trusty assault rifle. A good sustained burst of fire will put a spy down for the count, forcing him to lose precious time and respawn futher away from the target point.
As L.A.'s mercenaries set out on the hunt for round two, an audience member yelled, "Camp out at the targets!" It seemed like good advice; how could the spies get to the ND133's if a mercenary was already there, assault rifle in hand? But it turned out to be tougher than it looked. The spies' superior speed means that they can often reach a target point before a pursuing mercenary. Plus, spies have night-vision on their side - they can sneak by unnoticed, only feet away from a merc who's unable to see into the darkness. This also makes mercenaries more susceptible to spy traps and proximity mines hidden in the dark.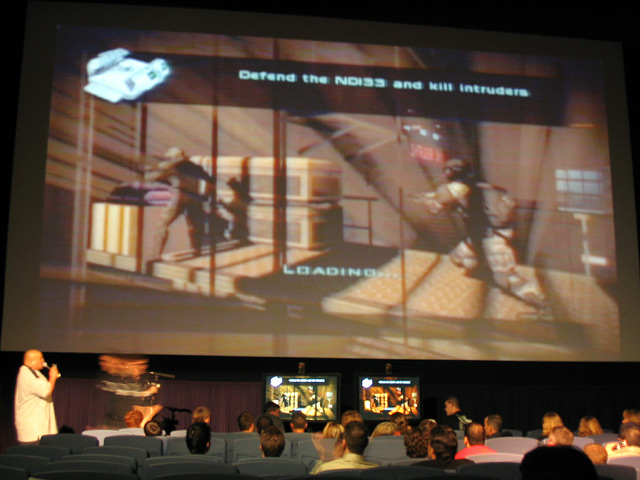 Playing as a mercenary in Neutralization combat is tougher than it looks.
Although one L.A. player racked up an impressive five kills during the second round, it wasn't enough to hold the New York spies back from neutralizing the warehouse with a couple of minutes to spare. Too often a mercenary would get hit by a tazer or even fall prey to a dreaded neck snap, in which case they were taken out of the game for an extended time, while the screen went black with the word "SLEEPING" in bright orange. How humiliating. New York had gotten their revenge and evened the score at 1 to 1.
The third round was much like a repeat of the first, as L.A. reassumed the role of the spies, though with a lot tougher opposition from the mercenaries of New York this time around. Players seemed to be learning from the earlier rounds and there was more conflict, with L.A.'s spies barely scraping past the stage in the final few seconds of the time limit. The crowd erupted with applause at the last-minute victory. At this point, it appeared that the spies had a distinct advantage over the mercenaries . . . whichever team played as them had won so far. The combination of their speed, low visibility, and effective use of the tazer, flash bang, chaff grenade, and neck snap had mercenaries frustrated.
Enter L.A.'s "Ringers." These two higly skilled players had the confidence of lead beta testers, and as the players for both remaining rounds, the pressure on them was intense. L.A. was up a win and only needed one more to pull off the victory over New York. But would they be good enough to manage the first and only win for a mercenary team?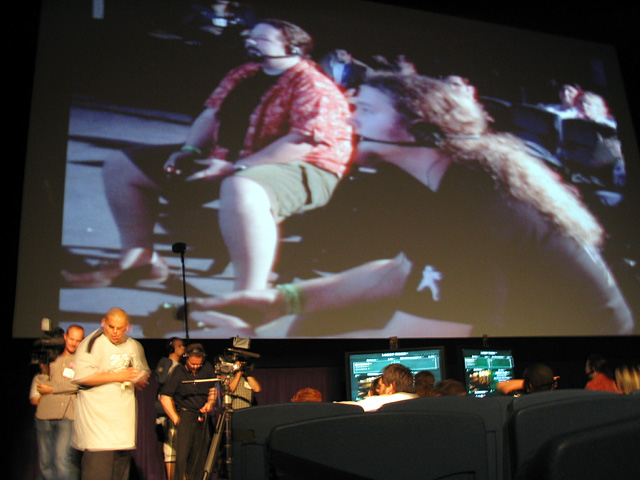 The "ringers" cleaned house and brought L.A. up from a narrow margin of victory to total domination.
In a word: Hell yes. These pros used motion tracking vision expertly, booby-trapped almost every ND133 with mines to slow down the spies, evaded many a neck-snapping attempt, shot spies dead at close range numerous times, and held New York off just long enough to win the round. Cue a huge round of cheering applause and the obligatory West Side trash-talking explosion in the auditorium. Now that the L.A. players had won the fourth round to go up 3-1 over New York, the contest should have been over according to the best-of-five rules. Yet Joe Grande said that there was one more bonus round left for L.A. to prove itself and defend its crown, which was probably just an excuse to draw out the exhibition. No one seemed to mind though, as Pandora Tomorrow's Live mode had proved to be constantly entertaining, for the spectators as well as the players.
The fifth round was a foregone conclusion as L.A.'s ringers had an even easier run of things as spies, and used advanced techniques like shutting off corridor doors behind themselves to prevent mercenaries from following, throwing sticky cameras into target areas from protected locations (like vents) to check for hidden mines, shooting booby traps out of their way in target areas, and remotely gassing mercenaries that attempted to camp out near the ND133 points.
This was the most lopsided round of them all.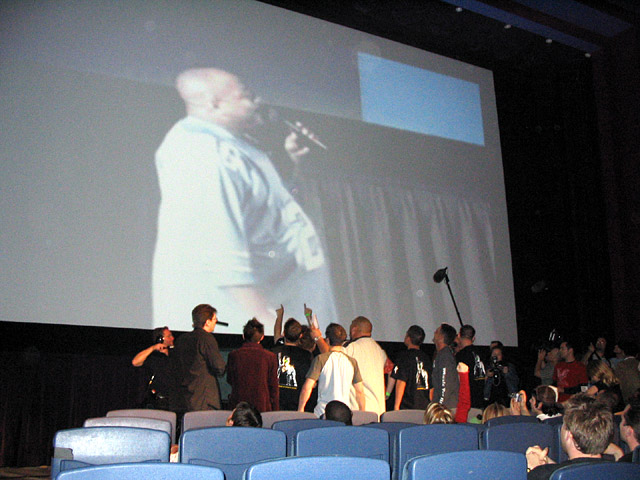 Mr. Cee humbly concedes after L.A. triumphs over New York.
When the dust had settled, L.A. won the contest by a wide margin of 4 rounds to 1.
Though both Grande and Mr. Cee encouraged the crowds to show good sportsmanship and "give it up for each other," there was a healthy dose of taunting along with the cheering and applause. As promised, on their way out every guest got the spoils of war: a parting giftbag including a Splinter Cell T-shirt, a Kenwood T-shirt, two copies of the Apartment 26 "Music for the Massive" CD, a can of Sobe No Fear energy drink, a Splinter Cell: Pandora Tomorrow watch (just like Sam wears in the game), and a subscription card redeemable for two free months of Xbox Live. Not too shabby! Don't feel bad for the New Yorkers though; I'm sure they ended up getting a consolation gift bag too.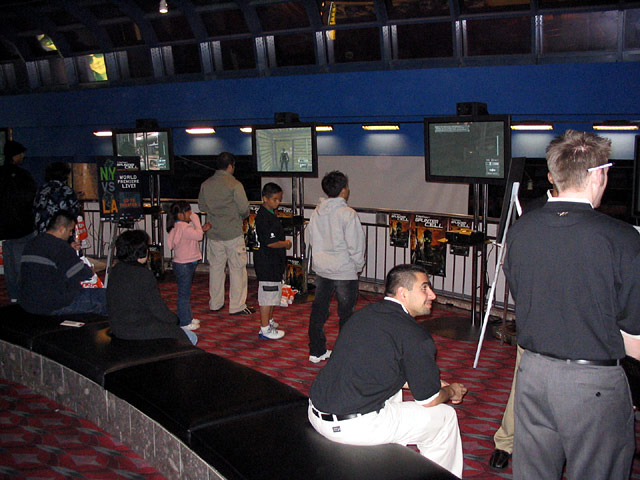 Afterwards, attendees could go back upstairs to hang out in the demo area and play some more of Pandora Tomorrow's single-player game. As the night drew to a close, a few guests even put to use some stealth tactics of their own:
sneaking into the theaters for a free movie!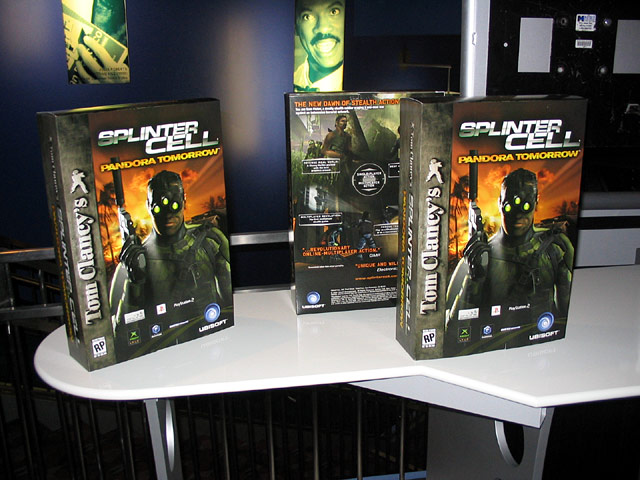 "Pandora's Boxart"? You can spy Tom Clancy's Splinter Cell: Pandora Tomorrow in stores now.
Back to Page One