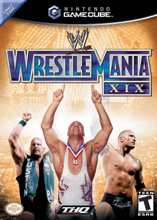 If you've read our review on Wrestlemania X8 last year, it ended by stating that while the game was not as good as people were expecting, THQ and developer Yukes had developed a good foundation on which to build upon for future titles. Let's face it folks, Rome wasn't built in one day, and although gamers are spending $50 a pop for these games, there aren't many publishers out there who will get it right every single time. Having said that, has THQ stuck gold this time around with Wrestlemania XIX? For the most part yes, but it didn't come without stumbling a bit.
WMXIX builds upon the engine of WMX8, with a button dedicated to striking and grappling respectively, and an intuitive reversal system. In order to reverse grapples, you'll need to press the L trigger, while the R trigger reverses strikes. Pressing both at the same time will allow you to reverse special moves. The reversal system in WMXIX is vastly improved over last year's edition. Not only can you reverse moves, but you can also counter the reversals themselves. The amount of animation that needed to go into this is staggering obviously, but it creates a better flowing game in the end. In one situation with a match between Goldberg and the Undertaker, Goldberg was able to reverse an Irish Whip attempt by the Undertaker into a clothesline, only to have the Undertaker reverse that into a small package pin. Of course, new players may be somewhat intimidated by what you can pull off in the game. Luckily for them the game gives you visual cues on what triggers you need to press to reverse a move, which is a big help considering how fast you need to be. Several other features have been added to the gameplay, including the ability to drag opponents across the ring to prevent rope breaks. Location-specific damage is now present, making it possible to weaken an opponent, so that they move slower and are more prone to submissions. Unlike No Mercy, your regular attacks will cause legitimate injuries to your opponent, and not only submission moves. This raises the realism factor (in a game about wrestling?) up a notch, since wrestlers who aren't exactly shoot fighters can attack specific parts of the body.
Two of the big problems from WMX8 have been addressed here, namely the pacing and the minimal moveset that every wrestler had. WMXIX now has different grapples determined by strength. While weak grapple moves are executed in the same manner as in WMX8, heavy grapples are more akin to Aki's wrestling games such as No Mercy, where you would have to hold down the grapple button and then press another button to execute your move. This inclusion pretty much doubles the amount of moves you can do in the game, which is a welcomed change from the wondrous 5 move affairs that you could have in WMX8. Another change to the game is how matches flow; no longer is the game marred with wrestlers being able to rise to their feet after being hit with several special moves in a row. The series is a lot better now that once a wrestler takes control of a match, they can dictate the pace... until their opponent changes the momentum. Another slight change that was made to improve the gameplay was the fact that the wrestlers have been shrunk slightly, giving players more room to navigate during matches. Compared to THQ's other wrestling games, Wrestlemania XIX actually feels like you're in a match against the very best in the industry. In a lot of ways you could say that this title is the spiritual successor to Aki's No Mercy.
Of course, what would a wrestling game be without a season mode of some sort? Well, it would be called Wrestlemania XIX. Passing over the traditional season mode that most wrestling games today have, THQ decided to add in a unique experience called Revenge Mode. Simply put, Revenge is Wrestlemania XIX's story mode, in which you control a WWE superstar who has just been stripped of the title and thrown out by Mr. McMahon. Your only chance to get revenge and return to the WWE lies in the hands of Stephanie McMahon. She has come up with a plan to take over the WWE but will need your help. She hires you as a renegade superstar to hit Vince where it hurts the most - in the wallet. If you can make Wrestlemania XIX a financial nightmare for Vince then he will be forced to sell the company to Stephanie. It's a hokey plot any way you look at it, but the result is something that's distinct, but at the same time it leaves gamers wanting more. The big problem with Revenge mode isn't that it's out of place, it's the fact that unlike a traditional season mode, it ends far too quickly for anyone to bother with it. More akin to a beat-em-up title, Revenge mode can take someone about 2 days to finish, whereas a season mode such as the one in WWE Raw 2 is infinite. The good thing is that multiplayer is a lot more enjoyable in Revenge mode, as you can compete against three other players in party-style events such as throwing each other off buildings or collecting as many briefcases as possible. Sure, it's not going to replace a good ol' wrestling match, but it's a nice diversion from the norm.
Other than Revenge mode, there's barely anything here to keep most gamers occupied. A simple King of the Ring tournament mode really isn't enough for fans of wrestling, but the Create A Superstar mode is definitely an improvement from last year's edition. As in previous CAW modes, you have the ability to not only put together a wrestler's moveset but their appearance as well. This time around the CAW mode has expanded greatly, allowing you to create your own decals for accessories such as masks and also creating a custom entrance for your wrestler. The amount of detail that has gone into the entrance editor is staggering, since you can control not only the music and videos used, but the lighting and camera angles as well. In fact, you could probably spend a good amount of time fiddling with the dozens of camera angles that the game provides you with. The only stickler here is that you can't preview a specific part of your entrance to make sure you got it just right. Instead, you'll have to start from the very beginning and fast forward to the desired segment. It's a little annoying when you want to view something right at the end of your entrance, but it's nothing to make a big fuss over.
Although the wrestlers themselves have been shrunk down in size, there's no denying that WMXIX is one great looking game. Every wrestler is modeled right down to the last detail. Hell, they even have The Rock's new tattoo in the game. The game still runs smoothly with four wrestlers, one ref and two commentators (why can't I hit them?) in the arena, although I would've liked it a lot more if they scrapped the ref and commentators and threw in three or four more wrestlers in there. The biggest plus when it comes to the visuals is the amount of animation each wrestler has. Because of the updated reversal system, there was the need to create more situation specific animation for the game; luckily Yukes was up to the task in this department, as the game just flows perfectly. Give a couple of controllers to two seasoned gamers and watch them have matches reminiscent of the real thing. What really disappoints me with the graphics is the lack of oomph when it comes to the pyrotechnics. It's scary when you consider that none of the THQ wrestling games have been able to accomplish what Wrestlemania 2000 did on the N64 in terms of explosions. Another minor problem is the short cutscenes whenever a wrestler starts bleeding or is injured in a specific location. This actually disrupts the pinning predicament at times, and really throws off the pacing of the match whenever you have more than two wrestlers in the ring at the same time. I was hoping for an option to turn this feature off, but alas none exists.
Like WMX8, a lot of the theme songs in the game have been omitted for one reason or another. At the very least songs that are either instrumentals of the current themes or are older theme songs replace the themes that are not in the game. Other than this little issue, the music and sound effects work well, despite their generic existence.
Out of all the THQ wrestlers that were scheduled for release this year, Wrestlemania XIX had the highest hopes for me to be a great game. Despite the lack of a season mode that would've increased its longevity, Wrestlemania XIX does very little wrong, and a lot of things right. If THQ puts in a little more work and throws in a season mode as well as improvements to the game engine, there is no doubt that the Wrestlemania series could become their flagship wrestling series over Smackdown. Recommended to any GameCube wrestling fan.