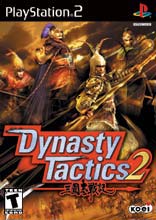 Koei released Dynasty Tactics with little fanfare in 2002 and it quickly became a popular choice for many lost souls searching for another alternative in a genre with little to choose from on the Playstation 2. Based on the similar subject matter as its popular Romance of the Three Kingdoms series, you'll see many familiar faces in Dynasty Tactics 2 if you've played those games: Liu Bei, Lu Bu, Cao Cao, Sun Quan, Zhang Fei and many others that are rich in myth and legend and loosely based on historical fact. Dynasty Tactics 2 is less of a sequel than it is an update to its predecessor. The same characters are present, as is much of the same story in a similar time line. You can, however, play as Lu Bu in this title and there are a few changes to game play that make it a different animal than its storied predecessor. This review is intended to be read by those that have played its older brother, if you haven't you can find that review here.

Dynasty Tactics 2 is intensely combo heavy - almost to a fault. Wherein the combos served as a vehicle in the first to help you escape difficulty and manufacture victory with clever combinations, it wasn't essential to winning each scenario as much as it is in the sequel. Here, you can "chain" combos together (via a strategist's command) for officers, using one or more of their abilities, on a single turn preceding any other combos that might be generated. For example, you can have Zhang Fei use Raid, Repel, Charge, and Awe II in succession, on the same turn as a "Combo IV" (in and of itself) and that can subsequently be added to the usual combos that were present in the first Dynasty Tactics.

While some might welcome this as an added feature, it comes off as complete overkill and wholly unnecessary. As was the case with the first, you can watch your combos unfurl, which is somewhat rewarding, but that doesn't make up for the fact that one officer can single-handedly change the outcome of an entire scenario with one clever combo. Similarly, the two tactics "pit" and "taunt", among the most powerful in the entire game because of their ability to draw an opposing commander to the proverbial lion's den, remain as a glaring weakness wherein one tactic can turn the fate of an entire scenario. Similarly, there are units that have the ability to confuse multiple units that surround them (such as "Awe", "Ambush", and "Awe II") and this can quickly serve to frustrate your advances, but those powers are far less annoying than those mentioned previously.

There are other noticeable differences between this and its forefather. Among them, tactics now have a success rate, which improves with experience or improves with each successive tactic that preceded it. The more complicated or powerful the tactic, the lower its success rate will be. You'll be able to "talk" to villagers and mystics in between battles, although this quickly becomes an exercise in button mashing to get through the same dialog that you've seen multiple times. Occasionally, you'll be granted an item or an improved ability, but you'll see the same advice over and over again and it becomes a necessary evil to cycle through the responses to get what you want. Also of note, there are now three difficulty levels to choose from (the original didn't have any) and you'll be able to make catapults and arbalests far earlier in the game and you'll be able to move them and fire in the same round. Even these have tactics now...

Among the largest new features of the game are the sheer number of tactics that are now available (double that of the first game) and the fact that you can control the path of each officer and the tactics that are chosen. At the beginning of each turn you can go to the barracks where you have a certain number of points that are earned in your battles (specifically by defeating enemy officers). With these you can "purchase" specific tactics which are more or less expensive depending on your officers aptitude and abilities in a specific area (War, Leadership, and Intelligence) and these are now directly under your control. This offers a much greater level of control and preparation for the player than before. Of course, you can still arm the tactics in your order of preference and not use whatever you'd prefer not to.

Another notable addition is the "prize" conditions where if you do something, such as complete a certain amount of combos or capture the enemy commander in a set amount of turns, it will result in a great reward (usually an item) for your officers. Usually, this is a nice bonus incentive and a challenge to rise up to, though the level of difficulty isn't terribly hard. One problem with Tactics' scenarios is that if you take down an enemy commander to quickly and don't vanquish all of the officers at their disposal, you lose valuable points that can be used later to purchase tactics. Rewarding a commander for keeping the enemy commander alive longer so you can slay his officers doesn't seem particularly right or realistic and feels unnatural. Have you ever heard of a commander being ordered to not win so quickly? I thought not.

Which brings us back full circle to what Dynasty Tactics 2 really is - Dynasty Tactics Revisited would be a more suitable title for this. Sure, there are added features and more tactics, combos, and playable characters, but in the end this feels like a game that you've played before that's got a few minor tweaks and enhancements that don't necessarily make it better than the first, just a little different. The story is basically the same, even though the particular battle scenarios are different. You'll see Cao Cao lose his army again at Chi Bi and Liu Bei battle on with sworn brothers Guan Yu and Zhang Fei. Of course, for strategist starved gamers this is still a worthwhile investment because of the lack of choices available for the genre and it's also a wise choice for anyone that might have missed the first. For the casual fan who has played the first, however, I'd recommend moving along and perhaps consider something along the lines of Culdcept.