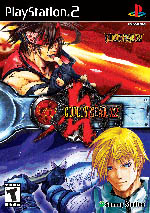 Much like any company that dominates a market (re: Nintendo in the 8-bit era), when you donít have any competition to deal with, your efforts become less and less impressive. This has happened with 2D fighters especially, since Capcom and SNK have more or less taken up the entire market for themselves. Luckily these companies now have some competition to deal with. With Sammy Studios and Arc Systems' latest title, Guilty Gear X2 (a.k.a. Guilty Gear XX in Japan and in the arcades), Capcom fighters wonít be the only choice gamers have when it comes to 2D fighters.

The first thing youíll notice about the game is the gorgeous high-res graphics that redefine what a 2D game should look like. Thereís no question about it: Guilty Gear X2 is by far the best-looking 2D game ever created and raises the standard for all other 2D games in development. Whatís even more impressive about GGX2ís graphics is the amount of detail given to all twenty characters in the game. You can see all sorts of hidden easter eggs in many special moves, such as the image of a face when Millia executes her Bad Moon attack. The quality of animation hasnít dramatically changed, but it seems that the four new characters in the game have a little more animation than the rest of the cast, giving them more fluidity in their moves. This is especially true for Slayer and I-No, who move so gracefully with every attack that the rest of the cast looks like broken puppets. While there are only a couple of new backgrounds, the old ones have gotten a facelift with new animations and colors (such as the Colony level with the transparent ghosts floating in the background), giving all of the older backgrounds a fresh new look for seasoned vets of the series. What impressed me most about GGX2ís visuals is how fast they actually load once you have selected your charactes. The arcade version of the game took anywhere from 5 - 8 seconds to load, but now itís nearly instantaneous. Itís clear that Sammy took extra care in making sure this game was as good as it can be.

While the graphics are undeniably beautiful, the soundtrack may not be for many gamers. I personally enjoy the heavy rock tunes and the announcer bellowing ďHeaven or Hell! Duel One, Letís Rock!Ē but I can see how many people would pass the tunes off as generic and bland. However, the music certainly fits the fast and chaotic atmosphere of the game. GGX2 also features plenty of voiceovers in-game and as part of cutscenes during Story Mode. Some of the voices are actually different in certain places (mainly with Sol) but the quality of the voice acting in the game is astounding. Those hoping for English voiceovers will be disappointed in the Japanese-only dialogue, but if you check out the Guilty Gear anime movie in the game, Iím sure youíll be happy that the developers didnít include English voice actors.

But the game's bells and whistles didnít make this one of the most played arcade titles in Japan for the past year. The basic foundation of the series has stayed relatively the same, but there have been several additions. The first addition is the inclusion of a new button dedicated to Dust attacks as well as several other moves. On the ground, the Dust attack can be used as a slow-moving launch attack or as a sweep. In the air, Dust attacks usually result in an automatic knockdown and can lead to some potentially devastating combos. Dust attacks are also used in Burst attacks, a totally new feature that allows you to knock back your opponent in several situations. You can use a Burst whether you are standing or being attacked. Now, donít get this confused with combo breakers that appeared in other fighting games, beginning with Killer Instinct. There are most definitely combos in GGX2, but the Burst feature allows you to escape certain situations where you are being attacked. The great thing about Burst attacks is that they cannot be abused at all. Each character has a Burst meter that fills up gradually according to how often you get attacked and how much life you have left (the closer you are to dying, the faster it builds up), but generally youíll only be able to pull off one or two Burst attacks each round.

Another new feature in GGX2 is stagger moves. The concept behind those is much like in Virtua Fighter 4: certain attacks will stun an opponent for a period of time, and an icon with a joystick going back and forth will appear over his head. During this time, repeatedly move the joystick around while pressing on every button to recover from the stagger before your opponent can take advantage of it. The last new addition is False Roman Cancels, which are a variation of the original Roman Cancels found in GGX. Roman Cancels are techniques that allow you to eliminate the recovery time for your special attacks but require precise timing in order to pull them off. Intensive practice in learning when to use Roman Cancels is an absolute necessity if you want to get anywhere in GGX2. The rest of the system is the same as in the original. Faultless Defense allows you to block attacks without losing life at the cost of your super meter (known as Tension) or your life meter. Instant Kills are flashy (but extremely risky) moves that can be activated by entering IK mode and then performing the necessary motion. This comes at an expensive cost, for if you happen to miss your Instant Kill, you are left with no Tension at all and become extremely vulnerable to any setup for the rest of the round. All of these new features complement GGXís core competencies, in that itís a game soley for those who like to attack. If you want to turtle or run away like a little girl, I suggest playing something else. Every special attack is used to change the momentum of the fight to your favor so you can have your opportunity to rush your opponent down. While this bias towards a offensive mindset will probably be hated by some players, it makes for an exciting, fast-paced game.

Four new characters enter the fray in GGX2: Slayer, Bridget, Zappa, and I-No. Slayer is an inhuman warrior with the ability to attack with extreme precision and speed, while Bridget is the exact opposite, opting to use his (yes, his) vast array of toys to lock you down and slowly chip away at your life. I-No serves as the gameís end boss and is also a lethal threat both in the air and in the ground, possessing an extemely confusing dash that allows her to fly up and over you to cross you up and serve the pain. Finally, Zappa may be one of the most complex characters ever in a 2D fighter. Possessed by an unearthly spirit, Zappa has the ability to summon several characters to his aid and use them to attack opponents. The catch here is that the spirits heís able to summon are completely random, so you need to learn how to fight with all of them in order to keep up. There are three other characters in the game that act as the traditional hidden characters, but those who have followed the series since the beginning will realize that they arenít exactly new characters, but rather remixes of older characters from previous games.

Aside from the new characters there are so many additions to the home version of GGX2 that it will keep any player occupied for months on end. First are the standard modes such as Arcade, Versus, Survival, and Training. Nothing too exciting, right? It gets better though, much better. First up is Story mode, which allows you to choose your character and then go through the entire story of GGX2 with him. Each character has multiple story paths along with cutscenes and a short synopsis at the beginning. In many situations youíll have special conditions to your fight. In some instances you actually have to lose battles in order to take a different path, or you might have to use an Instant Kill on someone for another path. Medal of Millionaire mode is actually the same as Medal Mode from GGX, only itís come into its own this time around. Itís basically a mode for those who want to achieve a high score in a fighting game. Gallery Mode includes the opening movie as well as the special Guilty Gear anime found with GGX Plus in Japan, but you can also open up special galleries for Story, Arcade, and Mission Modes.

Speaking of Mission Mode, this is where the true challenge of this game lies. It contains fifty missions with predetermined characters and special conditions and restrictions. If you ever thought that fighting games were just too easy for you, this is the game that will knock you flat on your ass and have you begging for forgiveness. There are several missions that will require you to meet objectives that will definitely take you more than a couple of tries to complete. One mission is to survive an onslaught from Dizzy for sixty seconds with one point of life left, while another mission has you up against an opponent who has one point of life left, but the only way to defeat him is with a combo of fifteen hits or greater. Yet another mission has you dealing damage only with Dead Angle Attacks. Many of these missions are extremely hard to complete, but they do serve the purpose of getting you to know all of the characters and to learn the system of GGX2, and they do a fine job on both accounts.

Simply put, this is about as perfect as a fighting game can get. Sure, there will obviously be people who donít like aspects of the game (such as the sound or the off-the-wall character designs), but itís purely personal preference. Fundamentally GGX2ís engine has been tweaked and polished over several installments and seems more complete than ever before. The only things missing in this game are online play and an extensive tutorial mode. For a game as complex as this one, a training mode on the level of Virtua Fighter 4 would have gone a long way in ensuring that people who do pick up this game on a whim arenít completely lost and are able to appreciate some of the finer points. In the end Guilty Gear X2 is going to be the one title that will make Capcom, Namco, SNK, and Tecmo wake up and take notice: thereís a new player in town, so watch your back!